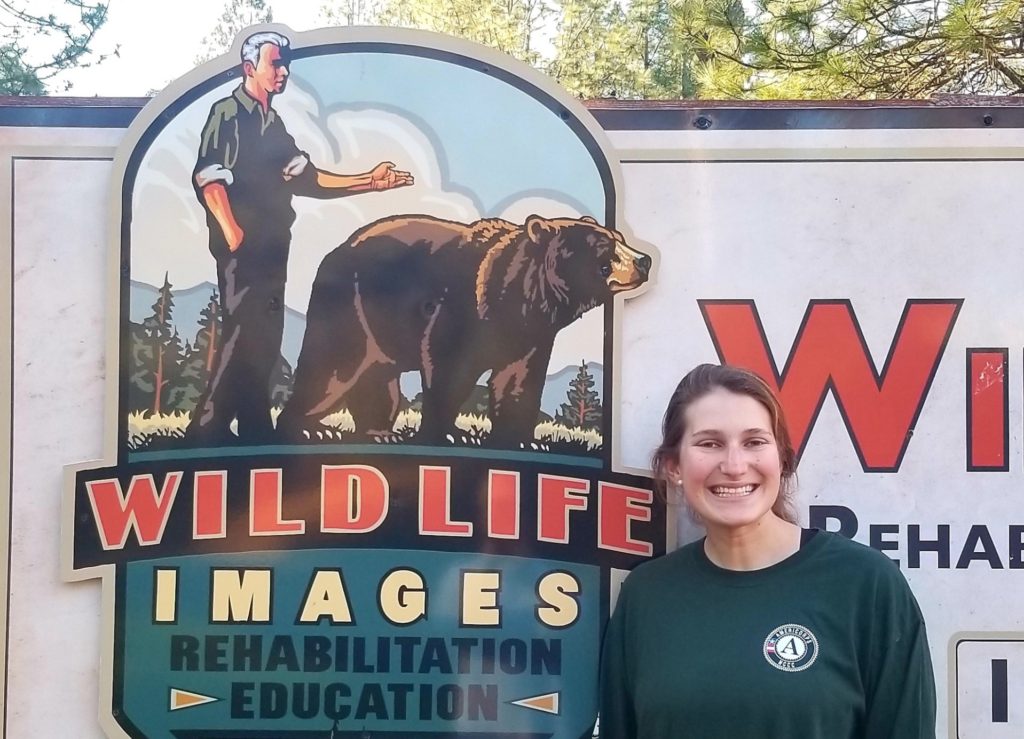 PHOTO: AmericCorps Team Leader Amy Singer in Grants Pass.
At just 23 years old, Amy Singer is one of the younger team leaders for AmeriCorps National Civilian Community Corps.
She has led her team as they mentored and interacted with 435 students in Sacramento. They removed invasive species and planted 5,000 trees and native plants in Portland's Johnson Creek watershed. Now the team is in Grants Pass until April 12 helping to restore animal enclosures and create firebreaks at the Wildlife Images Rehabilitation and Education Center.
The wildlife center takes in injured or abandoned animals. They treat and release about 1,000 animals annually. Some animals, such as birds that are unable to fly well enough to hunt, remain at the center and become animal ambassadors to educate the public.
After another training session in Sacramento, the team deploy for one or two more projects in the Pacific region before completing their 10-month service program in July.
Amy also has managed a $10,000 budget to feed, transport and house the eight young adults she is responsible for as a team leader. Feeding nine people on $300/week has made her very fond of Winco. Though team members are all 18-24, most team leaders in NCCC are 26 or 27.
But Amy was already well steeped in community service and leadership before she signed up for NCCC. Growing up in Baltimore, MD, in a Reform congregation and attending a Conservative Jewish Day School from pre-K through eighth grade, she learned tikkun olam early on. In high school she was active in NCSY, and at college she was very involved in Hillel. At the University of Virginia, she served as the student representative to the Hillel board her junior and senior years. She led alternative spring break and other service projects, and by her senior year she was training trip leaders.
"I realized the idea of tikkun olam was not just to help others," she says. "I realized it's also reciprocal. You yourself are learning and improving through your service work."
So when she applied for NCCC, she applied to lead a team.
One thing she has learned in NCCC is how to be flexible. "You need to roll with the punches," she says. "It's intense. You live, work, eat and travel together."
She is still passionate about service. After her 11-month leadership commitment ends in July, she is considering another year of service.
"I'm considering disaster management, maybe a program through FEMA, or maybe I'll go back to the East Coast and do policy work focused on youth and young people."
Wherever she goes, the community is sure to benefit from the experience and passion of this accomplished young woman.