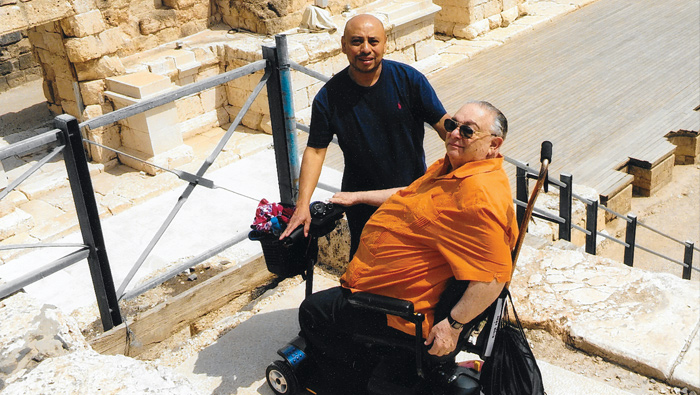 Shelly Petcher, 80, can't walk very far. He has a nifty chair in his apartment at the Rose Schnitzer Manor in Portland; not only is it comfy, his portable desk slides right up to it so he can go online, sort through his vast assortment of photos and keep in touch with friends. The chair even lifts him upright when he wants to stand. Shelly zips all around the manor on a motorized scooter so he can serve on committees and participate in the programming. He goes outside every day as well as out to shop and visit friends and family, as his scooter folds up and fits in a car trunk.
He is also a globe trottin', travellin' man who just returned from two weeks in Japan, thank you very much. He and his wife (z'l) traveled a lot together, and when she passed away five years ago he decided that he just wasn't ready to give that up despite being alone and being physically challenged. To his delight, he has found companies around the world that organize tours catering to people like himself who need extra help because they walk slowly or rely on a wheelchair or a scooter. Because he needs daily help with personal tasks, he also found Julian Andres, a certified nursing assistant who uses his time off from work to travel with Shelly as his aide and his companion. Together – in the last five years – they have gone to Alaska, the Baltic countries, Scandinavia and Russia, as well as on several cruises. They are going to New Orleans early this winter.
"I like London because I love the theater, but I really like to go places that are not at all like home," Shelly explains. "I love to experience new things and meet new people. I like to see their customs. I like to try new foods." He and Julian eat everything put in front of them, even in Japan … except, he says, the sushi. "It's the same thing we have here!" Why bother?
Shelly maintains there is no place in the world that you cannot go if you plan ahead. (He has been to Mt. Fuji, for heaven's sake, but it was so foggy he didn't get to see it. A return trip? I wouldn't be surprised.) Because many countries do not mandate that businesses accommodate people with disabilities as we do in the United States, Shelly suggests you arrange tours and transportation in advance if you use a wheelchair or a scooter. Some hotels are more accessible than others. Some cities are hilly and cobblestoned; some restaurants have stairs but no elevator. Clearly, however, these are not barriers to someone as determined as Shelly is, and he advises that none of us should let them stop us either.
To that end, Shelly is inviting the community to join him on a spring 2016 trip to Israel designed to be a fun, educational and inspirational experience, both for those who need help getting around and those who can manage without assistance. It is a return trip for him: his first trip to Israel was last spring. "I was never interested in going to Israel until I moved to the Rose Schnitzer Manor. It sort of evolved: there is so much Yiddishkeit here that it made me want to go."
He found a company called Israel4All that specializes in tours for people with mobility issues. After a lot of back and forth with Eli Meiri, the owner of Israel4All, who is also its tour guide, Shelly figured it was a trip he could handle. Eli has a comfortable Mercedes bus that can accommodate up to 15 people, depending on how many of them have chairs or scooters. (Many able-bodied people also choose Eli's tours.) The hotels are all four star, breakfast and dinner are provided every day, and they go just about everywhere. Eli himself is an interesting man and a superb tour guide. His style is to ask questions as well as provide answers, and he contributes both facts and insights into his tours. "He's a sabra who served in the Israeli Army in the tank corps, now in his early 50s, and he speaks excellent English," Shelly says. "He is accommodating and caring and is always there if you want to talk or need help."
Shelly had a fabulous time, and he urges anyone who has never been to Israel, especially those who thought it was beyond their capabilities, to consider the spring 2016 trip. "Here is a chance to see something and do something you didn't think you could do," he says.
"Hey! I made it to the top of Masada!" Shelly clearly believes that you can, too.
Liz Rabiner Lippoff is a marketing consultant, freelance writer and community volunteer. LizRL@rabiner.com