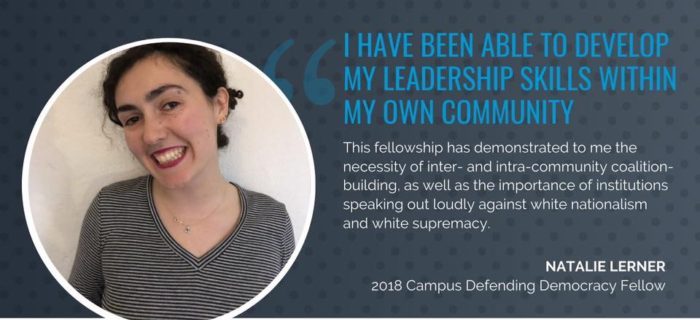 Havurah Shalom is hosting an interactive workshop on white nationalism and anti-Semitism 7-9 pm, Thursday, Dec. 20.
Over the past two years, there has been a marked rise in the presence of visible white nationalism in the United States. Since the 2016 elections, Oregon has had the highest increase in reported hate crimes of any state in the nation.
In announcing the workshop, Havurah noted "While white nationalism can take many forms, one thing remains consistent: Much of the ethos of the movement is rooted in anti-Semitism. Come learn about the relationship between anti-Semitism and white nationalism and how the Jewish community can join with other communities in order to counter this dangerous form of hate."
The workshop will be led by Havurah member Natalie Lerner, a Western States Center Defending Democracy Fellow. "This fellowship has demonstrated to me the necessity of inter- and intra-community coalition-building, as well as the importance of institutions speaking out loudly against white nationalism and white supremacy," says Natalie a 2018 Campus Defending Democracy Fellow.
Based in the Pacific Northwest and Mountain States, Western States Center works nationwide to strengthen inclusive democracy so that all people can live, love and work free from fear. According to its website, westernstatescenter.org, WSC builds organizing capacity of often-marginalized communities, provides leadership development to support social movements and leaders, and works to help communities respond to social movements that exploit bigotry and intolerance.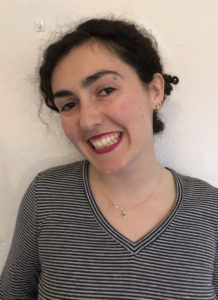 Natalie grew up in Portland, as a member of Havurah Shalom, where her father, Ken, is now a co-president. She is interested in a broad swath of justice-based work, especially health equity, immigration justice, anti-gentrification and interfaith collaboration. Natalie is also invested in living her life Jewishly and in building radical, loving Jewish community wherever she goes.
Natalie's organizing started in high school, working on youth justice with the Portland-based Momentum Alliance, and since then she has interned a number of times at the ACLU of Oregon, particularly focusing on communications, immigration work and police accountability through their legal observer programs. Currently, she is an organizer with the Rhode Island-based Alliance to Mobilize Our Resistance, a grassroots coalition building a care network to resist interpersonal and state-sponsored violence in Rhode Island. Natalie is a recent graduate of Brown University, where she studied ethnic studies and Latin American studies. She hopes to continue to combine her organizing experience and her academic background to effectively learn about and push back against white nationalism in all of its forms.
No prior knowledge is required to attend this workshop. The event is sponsored by Havurah's Tikkun Olam Committee. Light refreshments will be served! For more information, email info@havurahshalom.org.  RSVP to tinyurl.com/12-20-AntiSem.