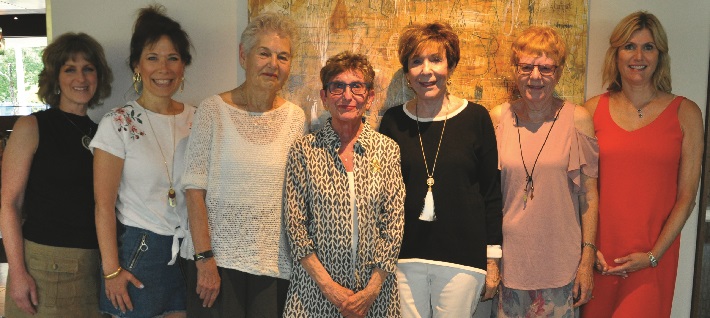 PHOTO: Women's Giving Circle members, from left: Wendy Kahn, Felicia Rosenthal, Lora Meyer, Faye Samuels, Helene Cogen, Judy Freeman, Joyce Mendelsohn and (not pictured) Mia Birk, Kathy Davis Weiner, Sharon Ungerleider. Photo by Deborah Moon
"Everyone brings their own perspectives. We don't all come from the same page, but through meaningful discussion, we land on the same page."
~ Felicia Rosenthal
This month the Women's Giving Circle begins its third year of enriching the community while empowering women as leaders, funders and decision makers.
In their second funding cycle, which ended in May, the 10 women gave grants totaling $16,435 to six projects or organizations. The first year the circle had awarded five projects for $12,480. During both years, the women selected grantees based on the impact they would have in the Oregon and Southwest Washington community in the areas of social justice, women and girls, and Jewish continuity.
"It feels like we can really make a difference, particularly for those organizations or projects that don't have a lot of other resources," says member Felicia Rosenthal.
For instance, this year the women funded an inclusion coordinator for B'nai B'rith Camp, a new Women's Resource Center at Mikvah Shoshana and a new program at Portland Jewish Academy to allow middle schoolers to address homelessness by preparing and serving meals at a women's shelter. They also provided two grants to continue Oregon Hillel Rosh Chodesh programs they had funded the creation of last year at the University of Oregon and Oregon State University. The also funded a new NCSY leadership program for young women that follows a successful program for parents of teen daughters, which they funded last year.
Women have joined the group for a range of reasons.
As she became an empty nester, Wendy Kahn joined a group forming the circle in order to meet new women and find new meaning in her Jewish life. Soon after those initial planning meetings, she was hired as director of women's philanthropy for the Jewish Federation of Greater Portland and became the staff member for the group; she has continued as a member, as well.
Judy Freeman joined last year because "My friend Faye Samuels told me it would be a good thing to do – and my friend Faye was right."
"We are a community," says Faye, who has been active in federation for a number of years. "I thought this would be an interesting way to learn more about community organizations I didn't know. It's worked … and I've made new friends."
Helene Cogen "joined by mail." She knew she was going to move from Florida to Portland, and she wanted to get involved with the community and federation. "I had not been involved in this kind of philanthropy before. It is very meaningful. I was marginally involved in federation in Miami, but it is a larger Jewish community and there is not really the opportunity to become as intimately involved as it is here."
Each member of the Circle makes a donation to federation's annual campaign and an additional gift to the Giving Circle. By pooling their gifts, the women are able to make substantial, targeted gifts that have an impact on projects. Each woman brings different interests and backgrounds to the discussions on which grants to fund. This year the Circle received 11 grant requests and funded six.
"We are such a mixed group – forever local, new arrivals, all ages," says Felicia. "Everyone brings their own perspectives. We don't all come from the same page, but through meaningful discussion, we land on the same page."
Though they are not actively recruiting new members, the group would welcome women interested in joining the Circle when they resume meeting later this month. For more information, contact Wendy at wendy@jewishportland.org or 503-892-3015.