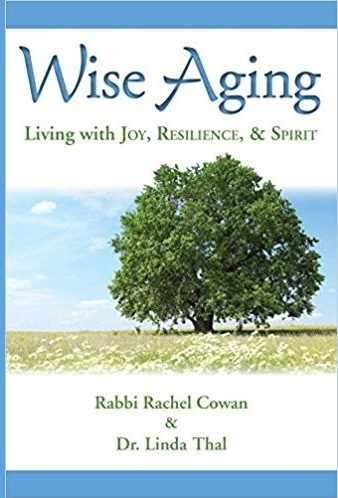 In June, Jewish Family & Child Service will launch the Wise Aging program, based on the book Wise Aging, Living with Joy, Resilience and Spirit.
"Wise Aging is unlike any other program or self-help book," says JFCS Senior Outreach Clinician David Molko, who completed the training program and led a pilot group in Portland. "This program uses many modalities and draws on the wisdom of Judaism and other religions to offer a different approach to aging."
David says participants gain internal and external resources to enhance their aging experience. Through mindfulness and contemplative practices such as text study, journaling, meditation and chanting, participants can explore internal resources. External support comes from small peer groups, where adults 55+ can share the angst of dealing with aging parents, the challenges and rewards of retirement, and the potential for many years of healthy living and learning.
In the pilot program he led, David says he was inspired by participants' comments. "It is comforting to know other people are going through similar circumstances, and it is reassuring to know you are not in the process alone," he says.
The program consists of a facilitated peer group of 10-12 people meeting on a regular basis for about nine session. Facilitators complete training with IJS Wise Aging trainers to prepare to lead groups.
"The Holzman Foundation is underwriting the Portland Wise Aging Training," says JFCS Interim Director Ruth Scott. "It's a gift to the community, as the training will provide the community with a group of facilitator teams anchored with area synagogues and organizations."
JFCS incoming president Larry Holzman, the son of Irwin and Renee Holzman, who founded the family foundation in 1990, says he heard about the Wise Aging program when the JFCS board discussed bringing it to Oregon.
"As I was listening, it reminded me of the Melton (Adult Mini-School) Program our family underwrote many years ago," says Larry. "Structurally it's not the same. But the concept of adult interaction, in this case for health and wellness rather than (Melton's) education focus, brings us to a better place connected with others."
Larry pitched the concept to his family foundation and says his mother was incredible as she "asked the right questions and strategized" as she had for so many organizations before. The family agreed it was a great opportunity to reach into the community and help people through this stage of life with a support system.
"They can do it better by doing it together," says Larry.
For information on facilitator training or joining a Wise Aging group in June, contact Ruth Scott at 503-226-7079, ext. 113, or RScott@jfcs-portland.org.
LEARN MORE AT:
Celebrate Our Caring Community Brunch
Featuring Wise Aging co-author Linda Thal and Rabbi Joshua Stampfer
MAY 19, 2019
10 -10:30 am
ART for TASK/Tikvah Silent Auction
The silent auction includes art ranging from paintings and drawings to textiles and jewelry. Funds raised will support the TASK/Tikvah disabilities services for children and adults.
Free Mimosa Bar in the MJCC Lobby Sponsored by Larry Holzman
Art for TASK/Tikvah Silent Auction Sponsor: Harold & Arlene Schnitzer Family Fund of OJCF / Arlene Schnitzer & Jordan Schnitzer
10:30 am-Noon
Brunch MJCC Ballroom
'Wise Aging' with co-author, Linda Thal. Wise Aging provides a guided path for those who want to discover new resources for living their later years with spirit, resilience and wisdom.
Some "Words of Wisdom" by Guest of Honor: Rabbi Joshua Stampfer.
Brunch Presenting Sponsor: Larry Holzman and The Holzman Foundation
jfcs-portland.org/giving/2019-brunch