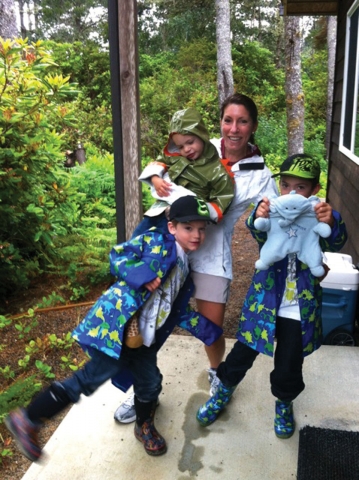 Felicia Cohen was born in Maryland and raised in an Orthodox home in Hollywood, FL, where there was a large, thriving Jewish community. She went to Jewish day school and the family walked to their Sephardic synagogue. Oregon, never mind Grants Pass, was not on her radar screen.
Felicia's father was a businessman and mom stayed home with the kids, but they wanted more for Felicia and her siblings. So her parents were very serious about the children's education.
"My dad always said, 'If I die and the only thing I leave you is an education, I would have left you a treasure,'" Felicia remembers. She was the first person in her family to graduate from college and went on to become a physician, an OB/GYN specialist.
Logic would say she was destined to be a big-city, east-coast doctor, but when a recruiter approached Felicia about a position with Women's Health Center of Southern Oregon, she said yes. Life in a small town, she reasoned, would allow her to be the kind of doctor she always wanted to be. She was right.
For starters, it allows her to get to know her patients better. She loves her patients, and her full schedule would indicate that the feeling is mutual.
"The physician/patient relationship is important to me, to be able to follow a woman throughout her lifespan. I like to take care of people, and the small town feel suits me," she says.
Women's Health Center also has a strong patient education component, which gives the providers more time to interact with the patients. The menopause workshops are a good example. "Menopause is easy for some women, but for others it's a real struggle. Here they learn what's normal, what their options are. It's often hard for women to talk about it, but when a group of 10 women get together, they can open up. For them, it's therapeutic."
Giving back is also important to Felicia and is consistent with the goals of Women's Health Center. "We are a for-profit practice," she says, "but we all give back." She sits on several nonprofit boards and attends as many functions as she can. She also volunteers her time at The Mission, a homeless shelter that partners with a center for victims of domestic violence. Felicia has an arrangement with the doctor there: if a woman there without insurance needs urgent care, Felicia will help her.
Felicia would like to do even more, but she is also a busy wife and the mother of three children ages 7, 5 and 2½. She and her husband, David Smith, want to make sure their children get the guidance and support they need so they can live fulfilling lives.
"I want the whole world open to them," she says. Her husband is a writer and stay-at-home dad to help make that happen.
Felicia and David work hard to instill in their kids a Jewish identity, not an easy task in Grants Pass. They belong to Temple Emek Shalom, 45 minutes away in Ashland, so that means a lot of time on I-5 for Hebrew school and Sunday school. For Felicia and David, though, the home is the heart of their Jewish identity. Maybe make that – the kitchen is the heart.
"One of the ways my mom showed her love was through food," Felicia says. "I can overlook a lot for a good meal."
Fortunately, she doesn't have to. One of the requirements she stipulated when seeking a husband on Match.com was she wanted a chef. And she got one! "We have Shabbat dinner every Friday night," she says. Her husband bakes challah and makes dinner. He also does most of the cooking for the Passover seder and the other holidays they always celebrate at home.
"I want my kids to wake up every morning vibrant, alive and happy. I want them to be able to live their dreams." For Felicia, that dream is her small town with people who care and air that smells of pine trees and fresh challah.
"In Miami," she says, "you're one of a million people. It's easy to get lost in the crowd." She doesn't ever get lost in Grants Pass.
Liz Rabiner Lippoff is a Portland freelance writer and a medical marketing specialist at Liz, ink: www.LizInk.biz. She bakes challah, too.