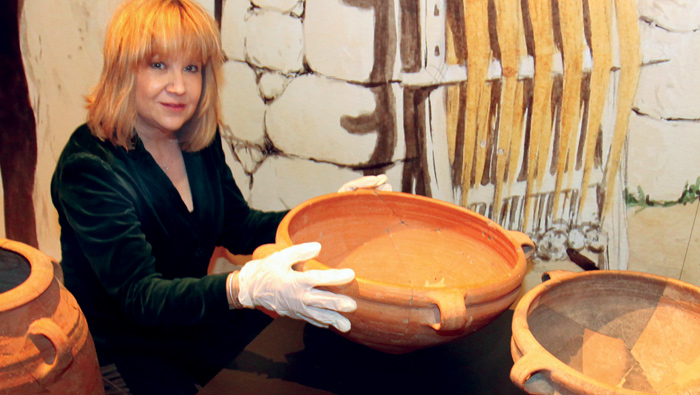 Risa Levitt Kohn is going to have to talk fast when she comes to Portland March 13 to speak on "Eve, Feminism and the Jewish Feminist Movement" at this year's Women's Day of Jewish Learning.
A professor of Hebrew Bible and Judaism at San Diego State University, Risa has a lot to say about Eve. She presented a 14-week "All About Eve" course at a California JCC. In Portland, she'll be consolidating that information into about two hours.
"As someone who teaches the Hebrew Bible in a public university, I am always struck by what people think they know about a text versus all the layers that have been added over the centuries," says Risa.
What many students think they know about the biblical story is often more a reflection of rabbinic midrash, Christian teachings and stories that have added layers to the original story over many centuries.
"I find it interesting to look at preconceptions and what people think happened and how people characterize Eve," she says. "Then we can take apart the text and see what it really says … look at what the rabbis said about Eve … and look at the trajectory into the modern feminist movement."
She says that the rabbis writing the Mishna lived in a period of time where gender identity and lines were drawn much differently than in ancient Israel and modern culture.
She says early rabbis were very interested in the two different stories in Genesis of how the first woman was created. The rabbis postulated the existence of Lilith as one of those creations. While the rabbinic literature on Lilith is "not positive," Risa says "Lilith has been reclaimed by the Jewish feminist movement with very positive traits."
Following Risa's keynote address from 10 to 11:15 am, participants will be able to choose one of three hour-long workshops. Laurie Fendel will lead "Eve in Art," Sylvia Frankel will discuss "The Evolving Role of Women in the Modern Orthodox Movement" and Rabbi Eve Posen will lead "Eve: The Mother of All Mothers."
Afterward, participants will reconvene for a concluding session with Risa from 12:40 to 1:30 pm.