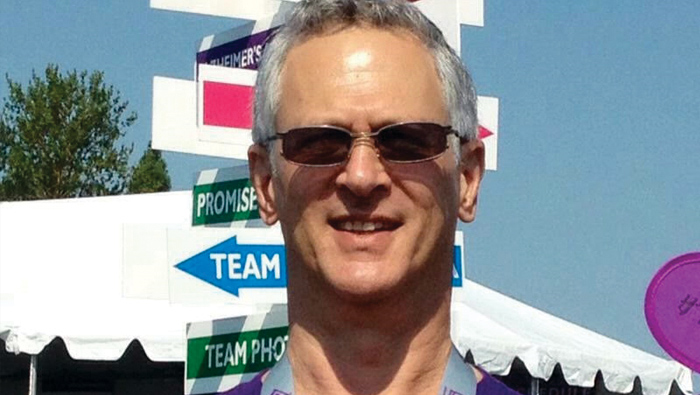 Portlander Bill Cohen is a grand champion fundraiser dedicated to ending the disease that stole his mother's memory, creativity and, ultimately, her life.
Sheila Cohen Springer, z"l, was an artist, teacher and printmaker all her life. When Hurricane Katrina struck, she lost both her house in Biloxi, MS, and her health.
"The trauma tipped her over, severely exacerbating the symptoms of early dementia she'd been experiencing," Bill says. Springer lived with a sister on the East Coast for a couple of years then moved to Cedar Sinai Park in Portland – first to Rose Schnitzer Manor and later to a memory-care unit at Robison Jewish Health Center.
During the years she lived at CSP, Bill participated in an Alzheimer's Association support group, initially as a participant and later as the facilitator. He still works full time as a policy analyst at the Oregon Department of Motor Vehicles, but now he also volunteers for the local chapter of the Alzheimer's Association helping with programs, policy and advocacy.
Following his mother's death in 2013, he started a team to participate in the annual Walk to End Alzheimer's. He returns to the walk for the third time as co-captain of his walk team, this year called "Team Sheila, Terri and Jim." He added the names of Terri and Jim to the team name since the two have walked with his team for the past two years as they deal with early onset Alzheimer's.
"It affects so many of us," says Bill, noting that with the population aging, the disease is afflicting more people every year so that virtually everyone has a friend, relative or co-worker suffering from the disease or serving as a caregiver for someone who is. "And costs are exploding. We need a cure and treatment soon."
Bill has been sharing his mother's story as he walks to honor her memory. Each year his team has been in the top 20 teams in terms of both funds raised and team participants.
"The walk is such an easy and gratifying way to make a difference and give back and help find a cure – it's not just memory loss," says Bill, inviting others to join him walking Sept. 11 at Portland International Raceway or to donate online. "Other diseases like breast cancer and heart disease have made such progress; that's what we need to do for Alzheimer's."
This year Bill became a member of the Grand Champions Club, which recognizes those who raise $1,000 or more toward their own personal Walk to End Alzheimer's fundraising goal.
As of early August, Bill had raised nearly $1,500, with 18 people donating on his fundraising page (act.alz.org/goto/Bill_Team_Sheila_Terri_Jim_2016). Bill also created a weekly fundraiser: "I bake healthy, tasty blueberry muffins and sell them at work. I put them out and say here is a suggested donation to support the cause."
"I am committed to raising awareness and funds to support Alzheimer's care and for research, and I am asking for your support," writes Bill on his web page. "Together, we can become an unstoppable force against this devastating disease."
2016 Walks to End Alzheimer's
Portland Sept. 11
Bend Sept. 17
Alband Sept. 18
Medford Sept. 24
Roseburg Sept. 25
Eugene Oct. 9
For more information, visit alz.org/walk