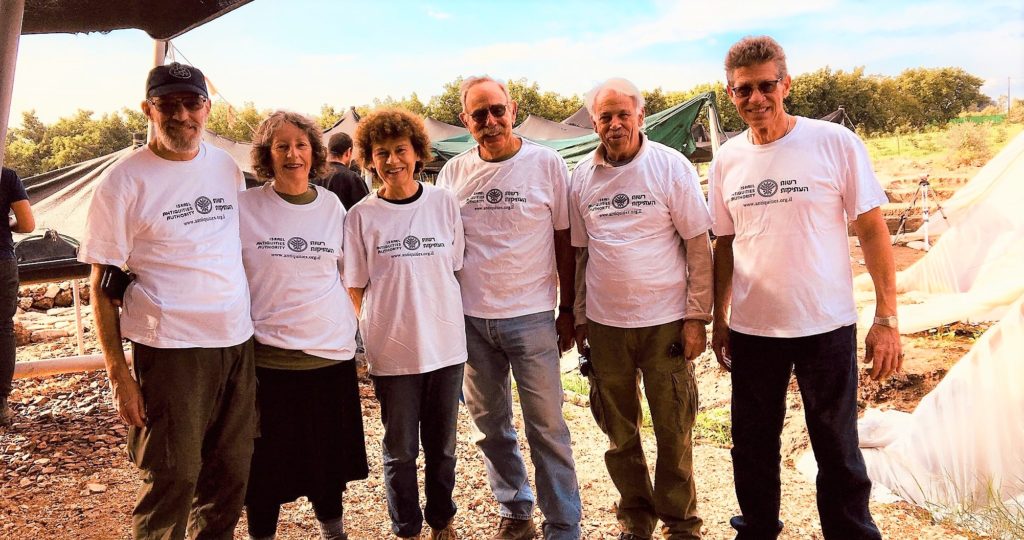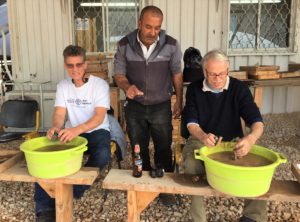 PHOTOS: Above, Volunteers for Israel archaeologists at Tel Assar. At right, volunteers William Tilson (left) and Steve Plotkin (right) cleaning archeological findings at Tel Assar. Photos courtesy of Volunteers for Israel
Volunteers for Israel has announced 2019 dates for its enhanced, all-inclusive volunteer service programs which are open to the general public. Americans can support Israel and volunteer on an active defense (IDF) base, participate on a premier archaeological dig and experience breathtaking private touring to places off the usual tourist grid.
VFI-PLUS ARCHAEOLOGY (Sept. 8-21, 2019) brings volunteers to a defense base and an active archaeological dig site manned by an international team and supervised by Tel Aviv University. The program begins with one-week volunteer service on a defense base followed by two-days of private guided touring, then five-days volunteering, learning and working at the biblical City of David archaeological site in Old Jerusalem, and two more days of guided touring. This 14-day all-inclusive program is designed for both new and veteran volunteers.
Adjacent to Old City Jerusalem, the City of David area is a world-class archaeological wonderland with biblical connections. Since 2007, this excavation has been uncovering different layers of the city's life from the Middle Ages back to ancient times.
VFI-PLUS (Oct. 25-Nov. 11) is designed for first-time volunteers and includes two weeks of service on a defense (IDF) base, working alongside active-duty soldiers, and experiencing an inside look at life in the Israeli army. The program includes eight busy days of private tours across Israel. This 17-day, all-inclusive program also welcomes veteran volunteers.
VFI-PLUS ADVANCED (Dec. 6-22) is designed for repeat travelers to Israel and offers two weeks of volunteer service on a defense (IDF) base and eight days of guided touring to unique places overlooked by most tours. This 17-day, all-inclusive program is designed for first-time as well as veteran volunteers.
These all-inclusive volunteer programs cost between $2,695 and $2,825 per person not including round-trip airfare to Tel Aviv.
For the past 37 years, VFI has partnered with the Israeli organization Sar-El to process and prepare Americans to volunteer on Israel Defense Forces bases. To learn more, visit www.vfi-usa.org.
The VFI-PLUS programs simplify and enhance the volunteer experience, delivering a unique, unforgettable learning adventure in an all-inclusive setting. Visit www.vfi-usa.org/program-options/vfi-plus.
To learn more about VFI's volunteer service programs, or to apply, please visit www.vfi-usa.org.