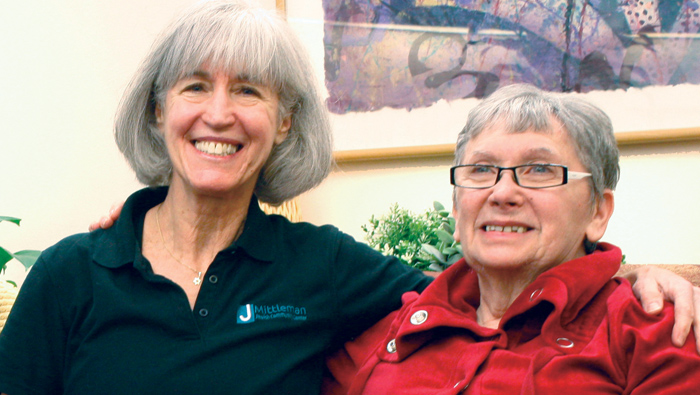 Volunteering, Robin Kirsch says, is the favorite part of her week. Once a staff worker in Adult Day Services at Cedar Sinai Park, she switched to volunteering every Tuesday and Thursday.
"It's important to have someone pay attention to the residents," she says. "As you focus, their whole mindset changes. A lot of them are lonely. Just a touch of a hand or smile makes their day."
Robin sits and chats with people in their rooms, or hunts for the perfect word search puzzles for them at the Dollar Store. In the Memory Care Unit, she reads Chicken Soup for the Soul series stories or leads sing-alongs with songs residents still recall like "Oh You Beautiful Doll." Even people who are sleeping wake up when the music starts.
"I meet the most amazing people," Robin says. "One woman named Mimi grew up in Eastern Europe and worked as a docent in a French museum. Hearing about things they've done is like reading a history book. It's my favorite part of the week."
In fact, helping out at CSP is a favorite for many Portlanders, says Campus Volunteer Manager Phoenix Barrow. "We have a diverse group (of volunteers), from middle schoolers through the retired individual. Volunteers are caring, compassionate people who want to give back to our community but also learn from our elders. We have a fantastic life enrichment team, but volunteers truly make our programming possible."
Opportunities to help are limitless, including a one-on-one match with an isolated resident who needs companionship. There's organizing and assisting with events, parties and outings to museums, plays and the ballet. Several volunteers teach classes or lead discussions, such as Eddy Shuldman's superb writing workshop or Toinette Menashe's always popular current events meet-up called Putting in Your Two Cents.
"One resident's son leads a brain fitness class using mechanical puzzles," Phoenix says. "We're hoping to organize a French class. I love when volunteers come to me with something they're passionate about that they want to share."
Charles Jaggar grew up in Portland and lives downtown near Portland State University. When he retired, he needed something to do and saw volunteering at CSP as a short-term activity. That was November 1999, and he's still coming three days each week.
"We'll take people to the ballet, and there'll be lunches out," he says, "We zip down to the beach or up to Mount Hood, and we're having our own chocolate festival. The biggest thing I do is walk around and talk to people. Everyone is so open, and everyone wants to connect.
"Especially at Robison where people are more dependent, you come to the realization that it's not about you," he says. "It's about others and what you can do to make their lives better. Because CSP is small enough, you get this intimate feeling of connecting with the residents. I see the people at Rose Schnitzer Manor and the Robison Home as my second family."
Learn more about CSP volunteer opportunities by contacting Phoenix Barrow at 503-535-4055, or phoenix.barrow@cedarsinaipark.org
or visiting cedarsinaipark.org and selecting Get Involved.