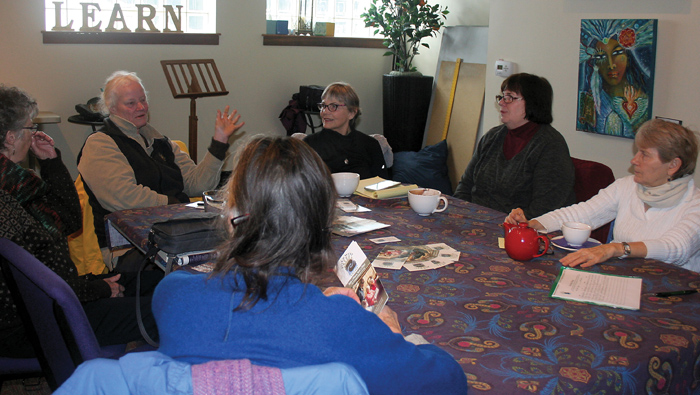 Bev Snow-Kuehn's passion is bringing people together. Retired librarian, Edith Fuller, loves bookbinding. But they and all the people who meet for coffee each week have something in common: a desire to remain in their own homes as they age.
They're part of the national Village Movement, which started in Boston a decade ago with the goal of enabling people to age at home by bringing needed services to them. Villages are nonprofit membership organizations, not real estate developments or retirement communities. They depend on grants, donations and yearly membership dues for finances and on recruiting intergenerational volunteers for services like helping seniors with shopping or transportation. Villages keep lists of vetted professionals that provide discounted home repairs. Perhaps most importantly, they build community through activities such as potlucks, educational outings and coffee clubs. More than 200 villages nationwide are open with another 150 in development according to vtvnetwork.org. Seven villages will be in the Portland Metropolitan area. They are connected under the umbrella Villages NW.
"It's knowing people to call when the power goes out," says Edith, who plans to join Southwest Portland's River West Village when it launches in October 2017. She and other potential members meet at Prosperity Pie Shoppe in Multnomah Village each week. Several of them, including Chris Robinson, a retired market research expert, work on planning committees. Bev, who owns a project management business, develops colorful brochures and materials for the group.
Anne Andler founded Villages NW and got it up and running before moving to Florida last year. With deep roots in Portland, she once served as president of Congregation P'nai Or and boasts that her son was the congregation's first b'nai mitzvah.
"I ended up in the Bay Area working for Jewish Family and Children's Services," she says. "I learned about senior services including the Village to Village Network. No place is more neighborhood-oriented than Portland, so I thought villages would already be here when I moved back. Well, not only were there no villages, nobody talked about them."
Anne soon collected interested people throughout the city. They settled on the model of a hub with spokes radiating from it. The central organization, Villages NW, gets the tax-exempt nonprofit status 501(c)3 and takes care of paperwork. Individual, self-governing villages throughout the area organize according to their unique requirements but remain connected to the hub. Each determines its own services, membership dues and activities.
To date, four area villages have launched: Viva in Beaverton, Village Without Walls serving Hillsboro and Western Washington County, Northeast PDX and Eastside Village PDX. Three more, North Star in North Portland, River West and Villages Clark County, are in development.
Anne explains the village concept with a concrete example: "Imagine you are an adult child of an aging parent," she says. "You go over and your mom says: 'Drag in my patio furniture; get the ladder and change the lightbulb; grab the pressure cooker off the top shelf; please take me to the doctor; take me shopping every week for the next 10 years.' "
Villages recruit volunteers to provide these services and often hire a few paid staff to handle paperwork. Many paying members also volunteer, but not all volunteers are paying members.  Volunteers are recruited from the broader community and are often much younger. Planners envision an intergenerational team of "neighbors helping neighbors stay neighbors."
"The purpose is to enable people to age in their own homes as long as it is reasonable," Anne says. "We research existing services and don't reinvent the wheel. Members might need someone to get groceries or show them how to order online. It's about finding the best way to solve the problem."
"As we get older we're often in passive roles," she adds. "In a village, the inmates run the asylum. Nobody will tell you to play balloon volleyball. You want a mah jongg group or you don't. We encourage members to also volunteer, because almost everyone can do something. Even if you're housebound, you can check on someone."
Mary Bedard has been involved in Eastside Village PDX since its inception. "I've made the most amazing friends," she says. That's why I stick around. It's the people."
Eastside Village PDX launched in October 2015 with the slogan, "It's not a place, it's a plan for aging in place." It offers two categories of membership – full service and social.
Full-service members pay $540/individual, $780/couple per year for access to social and educational programs, plus a set number of service calls each month for things like home help or transportation.
Social members pay $300/individual, $500/couple for access to social and educational programs, plus limited services like a temporary upgrade to full service during an illness. Volunteers who are not also members do not pay anything, of course.
"We have about 50 memberships and 30 volunteers," Mary says. "Nationwide, they find recruiting volunteers isn't usually a problem, but sometimes it's hard to keep them busy. All volunteers pass a background check and get training on how to work with seniors and the kinds of care we provide. We don't do anything medical."
Coffee meet-ups are the most popular activity. Eastside Village PDX also offers a movie group, knit night and regular potlucks. Transportation accounts for 50% of the service requests.
"Once no volunteer was available, so we suggested Ride Connection," Mary says, referring to a local nonprofit. "Sometimes members need help moving furniture or setting up a computer.  When a volunteer went out leaf raking, I asked him to note if the gutters needed cleaning. They did, but it was too high for a volunteer, so I provided referrals for professional gutter cleaners. When I went on a trip, I called for pet care and a volunteer fed my cat for five days."
Although Southwest Portland's River West won't launch until October 2017, it offers free coffee meet-ups, a walking group and other events. Sharon Marcus chaired the coordinating team in 2013 and 2014. She's lived in a Victorian in South Portland since the 1970s and taught weaving at the Oregon College of Arts and Crafts.
"It takes time to get to the point where you can offer membership and services," she says. "I was on the salon committee where we got together and discussed topics. We had a woman who sang protest songs, someone from Portland Storytellers Guild and a lecture on earthquake preparedness. I led a discussion on creativity. You meet great people who aren't satisfied to sit back and let things happen to them. They're activists and want to participate in their own future."
The Mittleman Jewish Community Center,  6651 SW Capitol Hwy.,  will host an informational meeting about River West Village on Feb. 9 at 1 pm. Contact Joan Glassel at jglassel@gmail.com for more information. Visit villagesnw.org to learn more about Villages NW. To attend a free monthly Villages 101 seminar, visit riverwestvillage.org and select calendar for details. Women's Coffee and Men's Coffee meet-ups are held at the Prosperity Pie Shoppe, 7814 SW Capitol Hwy., from 10 am to noon on Wednesdays (men) and Thursdays (women). All are invited. For more information on the Village to Village Network, visit vtvnetwork.org.
Polina Olsen is a freelance writer and author of local history books including "Portland in the 1960s, Stories from the Counterculture."