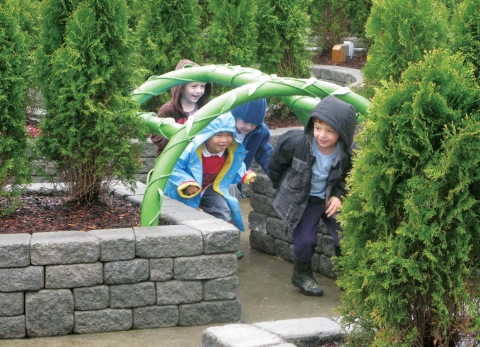 With summer around the corner, parents and kids can start gearing up for some fun local activities that they may not have tried before.
For locals and tourists alike, summer in Oregon has a magical quality. Restaurants spill onto the streets, serving fresh bread and local cuisine at sidewalk tables, kids who are almost translucent from lack of sun splash in the recently turned on fountains and dogs gallop through the newly blossomed flowers.
Summer is also the season where families can bond and spend quality time doing activities together. Here are some unique activities for Oregon families to try this summer:
Geo-Caching
Many parents find it hard to get kids outdoors when they are competing with video games, computers, iPads and TV. Geo-caching is a way for families to combine technology and outdoor fun. Geo-caching is a real-life scavenger hunt that uses GPS coordinates – much like the 150-year-old game of letterboxing, which has clues to landmarks embedded in stories. Oregon's Beavercreek is actually where the first geo-cache was created. Go to OregonGeoCaching.org and go on a geo-cache scavenger hunt with your family – plant clues, find treasures and have an adventure together.
Watch the Fish Run
Every year millions of Chinook salmon, steelhead trout and white sturgeon pass through local dams on their way to the ocean. During peak times, schools of fish swim through the Bonneville Dam as well as the Columbia and Snake Rivers. For young kids and parents alike, this is a sight not to be missed.
Fish Run Peak Times – Chinook Salmon: June to July; Coho Salmon: September; Steelhead: June; Sockeye Salmon: July; American Shad: May to August; Lamprey: June to August; For more information, visit Columbiarivergorge.info/fish.
Make Your Own Waechtersbach Plate
Summer is a great time to start new traditions. With the Waechtersbach Plate tradition one gives a specially decorated dinner plate to a family member to use when he or she has done something special or is celebrating. For example: if a child gets an "A" on a test, if it is someone's birthday or if a parent gets a promotion, he or she gets to eat dinner on the Waechtersbach Plate. It is a fun tradition to start and a great activity in the summer. You can create your own plate at a paint-your-own pottery store or take a ceramics class together.
Go to a Family-Friendly Festival
Oregon is chock-full of great fairs and festivals. These are wonderful events for kids because they often include a variety of live music, activities and food. Here are some of the festivals coming up around the state:
Rogue River Lodge Outdoor Concert Series: Saturdays throughout the summer, Rogue River Lodge, Southern Oregon, 541-878-2555
Enchanted Forest Summer Comedy Theater: Mid-June through August, Willamette Valley Region, 503-371-4242
Portland Rose Festival: Events occur through June, Portland, www.rosefestival.org
Britt Festival: June through September, Jacksonville, www.brittfest.org
Scandinavian Festival: June 22-24, Astoria, www.astoriascanfest.com
No matter which events you and your family decide to do, be sure to take advantage of the warm weather and beautiful outdoor environment Oregon has to offer.
_____________________
Zany Maze accessible to all children
Portland Children's Museum's first outdoor exhibit, Zany Maze, now is open to the public at no charge during regular museum hours. The exhibit is ADA accessible, making it available to all members of the community. Zany Maze features a labyrinth of hedges tall enough for children to feel hidden (but short enough for adults to see them), peek-a-boo windows, surprise passages and kooky topiaries. Icons from nature are hidden within for open-ended scavenger hunts, and a gentle grass hill includes a telescope dock, benches and picnic tables. The centerpiece of Zany Maze is a beautiful Music Tree, decorated with imagery from nature and bells that sing to the great outdoors. This exciting space also functions as a changeable outdoor art gallery, with art installations made by children, for children. Over the next 18 months, the museum plans to transform 46,000 square feet into a natural, inspiring, all-season exhibit for children and families. Portland Children's Museum is located in Washington Park across from Oregon Zoo; 4015 SW Canyon Road, Portland.