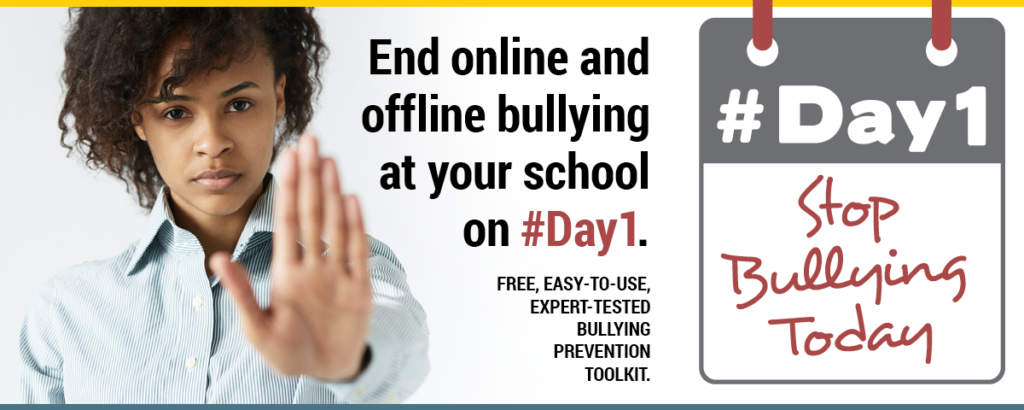 Last month, the Tyler Clementi Foundation, a prominent anti-bullying organization, launched its first #Day1 toolkit designed for synagogues and Jewish communities. #Day1 toolkit is a simple, effective, and empowering intervention to help prevent bullying before it begins. This edition of the #Day1 toolkit is specially crafted for Jewish communities; it directly addresses the ways religious language has been used to bully LGBTQ people in particular.
This resource is available online to download for free, to be used by Jewish day schools, camps, synagogues, after school programs and youth organizations. TCF looks forward to welcoming young people from across the Jewish community in America to become a part of the movement to end bullying on #Day1.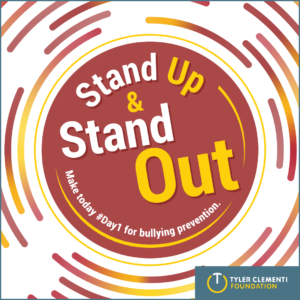 The launch of this resource is part of a national campaign to recruit 1 million people nationwide to become Upstanders who pledge to stand up to bullying whenever they see it. So far, more than 205,000 people have signed the pledge and joined the movement. In 2018, the Tyler Clementi Foundation launched the Million Upstander Movement (MUM) to mobilize 1 million people nationwide to stand up to bullying by the fall of 2020 by signing the Upstander Pledge or implementing #Day1.
"Too often, religion is used as a tool to shame and harm LGBTQ individuals, rather than welcome them with open arms," said Mitchell Gold, a member of the board of directors of the Tyler Clementi Foundation, who grew up in a Jewish home. "The Jewish community has made great progress in becoming more open and accepting of gay, lesbian, bisexual, transgender and questioning kids. But rabbis, youth leaders and camp counselors can do even more to ensure that all the young people in their community know what their faith really says about how we should treat each other. I encourage Jewish communities to use this resource and help young people see that no one should feel broken by their sexual orientation or gender identity."
Toolkits are available in English, Spanish, Arabic and Chinese, and a toolkit for Christian communities was released earlier.
"Together, with faith communities, we can take a huge step forward to end bullying, support LGBTQ individuals and cultivate a culture of kindness," said Jane Clementi, founder of the Tyler Clementi Foundation. "We are dedicated to protecting young people from all forms of bullying and prejudice inflicted on them, and our #Day1 program is the perfect set of resources and a succinct foundation upon which to build a thriving, welcoming, and supportive environment for young people."
The Tyler Clementi Foundation was founded in 2011 by the Clementi family in memory of Tyler. In addition to #Day1 and the Upstander Pledge, programs include Upstander Speaker Series, Tyler's Suite, Workplace Training and True Faith Doesn't Bully, a public education campaign that fights religious bullying. The Tyler Clementi Higher Education Anti-Harassment Act, re-introduced in Congress in 2016, would require colleges and universities receiving federal funding to prohibit harassment based on actual or perceived race, color, national origin, sex, disability, sexual orientation, gender identity or religion.
I pledge to be an Upstander:
I will stand up to bullying whether I'm at school, at home, at work, in my house of worship; whether I am speaking in the digital cyber world or out in the real world with friends, family, colleagues or teammates.
I will work to make others feel safe and included by treating them with kindness, respect and compassion.
I will not use insulting or demeaning language, slurs, gestures, facial expressions, or jokes about anyone's sexuality, size, gender, race, any kind of disability, religion, class, politics, or other differences, in person or while using technology.
If I realized I have hurt someone I will apologize.
I will remain vigilant and not be a passive audience or "bystander" to abusive actions or words.
If I see or hear behavior that perpetuates prejudice:
I will speak up! I will let others know that bullying, cruelty, and prejudice are abusive and not acceptable.
If I do not feel safe or if my intervention does not change the poor behaviors, I will tell a trusted adult or person of authority.
I will reach out to someone I know who has been the target of abusive actions or words and let this person know that this is not okay with me and ask how I can help.
If I learn in person or online that someone is feeling seriously depressed or potentially suicidal:
I will reach out and tell this person, "Your life has value and is important, no matter how you feel at the moment, and no matter what others say or think."
I will strongly encourage this person to get professional help.
28% of U.S. students in grades 6-12 have experienced bullying.1
20% of U.S. students in grades 9-12 have experienced bullying.3
9% of students in grades 6-12 experienced cyberbullying.1
15% of high school students (grades 9-12) were electronically bullied in the past year.4
55.2% of LGBT students experienced cyberbullying.5
30% of young people admit to bullying others in surveys.2
70.6% of young people say they have seen bullying in their schools.2
70.4% of school staff have seen bullying.
62% witnessed bullying two or more times in the last month and 41% witness bullying once a week or more.2