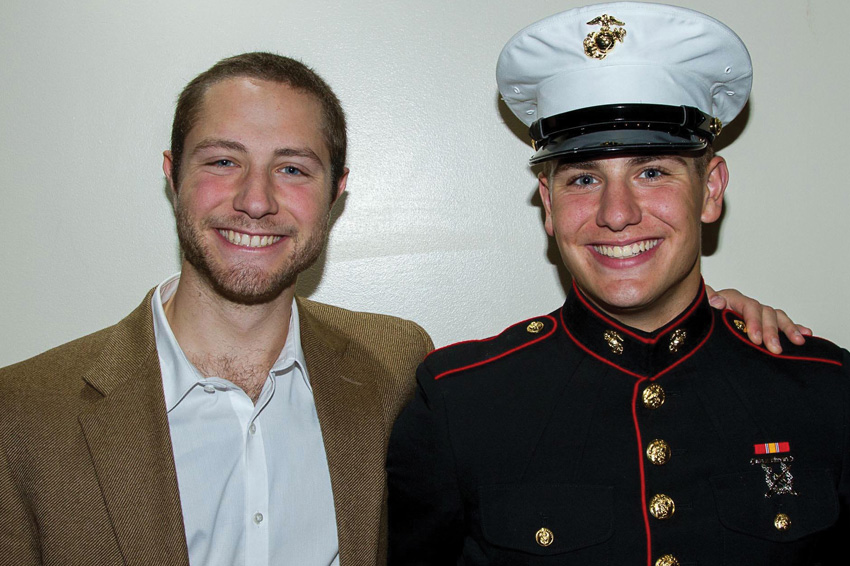 They grew up to be mensches, which is what their father hoped for. Today Ben Yablon, 21, and his brother Jonathan, 19, proudly serve their country – though it isn't the same country. After making aliyah, Ben joined the Israel Defense Forces. And Jon, who always wanted to be a United States Marine, finishes basic training this spring.
"I wanted my sons to be good people, solid and reliable," says their dad, Brian Yablon. Both he and his wife, Laurie, believe a strong Jewish background is essential toward that goal. Their sons attended Portland Jewish Academy through middle school, summered at Camp Massad (campmassad.org), a Hebrew immersion program near Montreal, and were active in NCSY (portland.ncsy.org). The family, which includes a younger son, Will, belong to Congregation Kesser Israel, and their belief in Zionism provides a lasting influence. Brian is Oregon State Chair of the American Israel Public Affairs Committee.
The brothers reunited during a visit to Portland in January. Ben and his wife, Miriam, got  leave from their IDF postings to take vacation to coincide with Jon's graduation from Marine Corps Recruit Depot San Diego, where male recruits from west of the Mississippi River complete their recruit training.
"My whole life I've been taught the importance of standing up for our people and being Jewish," Ben says.
"The variety of people in the IDF surprised me," Ben adds. "It's impossible to stereotype Israelis because there are so many types, and the army brings them into one group. But, from the religious to Bedouins, everyone knows why they're there."
Ben visited Israel several times and attended the Israel Experience at Bar Ilan University (israelxp.com) for a year after graduating high school. This is where he met Miriam, who now serves in the Israeli Air Force. The couple intends to remain in Israel and raise a family.
Meanwhile, his brother Jon's enlistment came as no surprise. "It's something he always wanted to do," Ben says. "He talked about joining the Marines before I was set on Israel."
Like Ben, Jon doesn't find the different choice of countries surprising. "My brother's home is in Israel and mine is in the United States," he says. Like Ben, Jon visited Israel several times.  "We both want to serve and protect our homes," Jon says. "The Marines is a brotherhood, like a big family. I've always known I wanted to do this with my life. It's difficult. They take a lot away to build you back up. It's the hardest but most rewarding thing I've ever done."