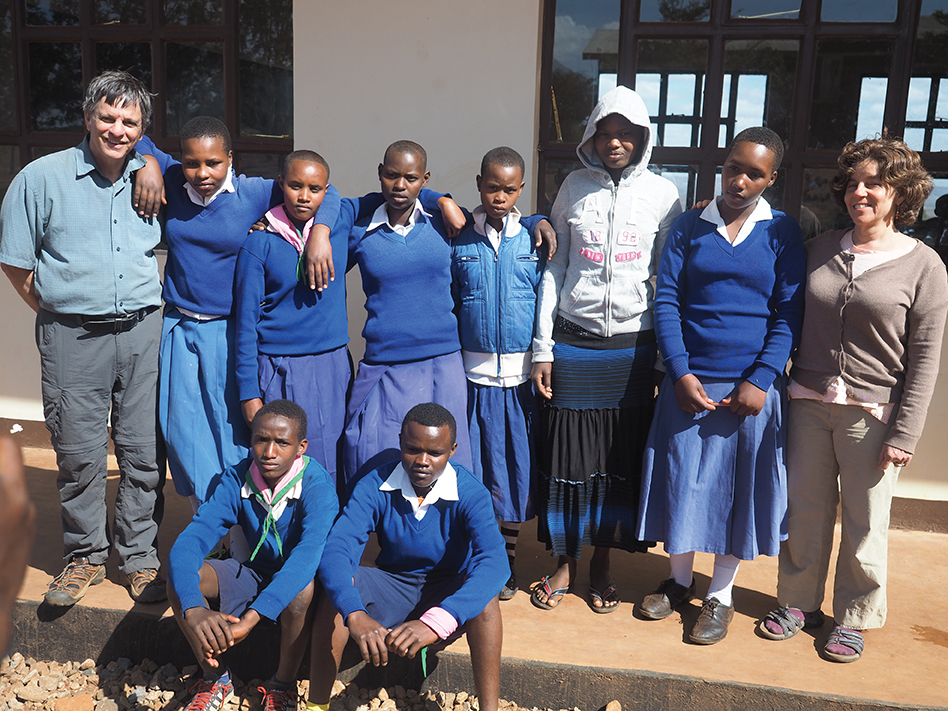 When David Newman, 63, took his son, Seth, to Tanzania for a safari and a cultural safari, they expected to be moved by the grandeur of Africa's wildlife. What David did not expect was that he would be so moved by the humans he met that he would come home to Portland and start a nonprofit to provide water, education and health care to the villagers, who are now his friends.
Rafiki Village Project is a small nonprofit making a big impact. Rafiki (friend in Swahili) is an apt name for the charity that builds relationships as much as it builds needed infrastruc­ture. David also chose the name because it has a familiar feel for Americans who know the crazy, wise elder Rafiki from "The Lion King."
David has travelled extensively since he went to Israel at age 16 to study at an ulpan. He has visited Central America, the Caribbean, India, Vietnam and Thailand. He became an RN in 1981 and then finished graduate school, becoming a nurse practitioner in 1986. He worked in Appalachia for a time.
"My plan was to work in the developing world – that was the reason I went into nursing," says David.
But life took a detour with a family to support.
"I've done a lot more consuming of the world's resources then contributing to them," laments David.
In 1996 he founded Health Plus, a wellness clinic that specializes in medical weight management and disease reversal. He and his wife, Laura Orgel, a psychologist and the board sec­retary of Rafiki Village Project, have been together for 20 years, marrying at Havurah Shalom in 2006. They have three adult children between them – Jennifer, 29; Seth, 25; and Tamarah, 22.
"Seth and I went to Tanzania with the idea of being tour­ists," says David. They signed up for a climb of Mount Meru and a safari, since Tanzania's wildlife resources are considered among the finest in the world including the famed Serengeti plains.
"Most of my travels as an adult have been as a tourist," says David. "During more recent trips, I've yearned to have a con­nection with the people."
So for their February 2016 trip, he and Seth also signed up for a cultural safari, walking through remote regions with a guide and staying in homes of local villagers, most of whom are semi-nomadic subsistence farmers.
Seth says the cultural safari was a highlight of the trip. "It was inspirational to meet these people and have them share their lives with us," says Seth. "The details of their lives are very different, but the connection made me realize a lot is the same, as well."
Walking down a dirt road one day they saw a man pushing a bicycle with a flat tire. He spoke English and told them he was a teacher at a local village and would be late that day because of the flat. David and Seth were the only tourists on the trip with guide Eberhard Haule, so they decided to follow the teacher to his school.
"The school in Gijega was in miserable shape," says David.
Over the coming days walking between villages, David had a lot of time to think and daydream.
"I did a lot of thinking about the school," he says. "I thought it wouldn't cost much to renovate the classrooms, and it would make a difference in their lives. I daydreamed about coming home and raising money to fix their school."
The cultural safari owner, Joas Kahembe, put David in touch with a California couple who about 10 years earlier had created a nonprofit called Karimu to provide funds and volunteers for projects in the Tanzanian village Dareda Kati. David talked to the couple and began the process of creating his own 501(c)3 to aid Gijega.
"I assumed the first proj­ect would be to renovate the classrooms," he says. "But it is important to get buy-in from the people you are trying to help. So we had Haule go to the village and ask what the villagers need most."
Water was the answer. The school and village had no water other than what they could carry in buckets from an untreated stream. But a public water supply was just 2½ miles away. Villagers wanted a pipe that would carry the treated water to their village and school.
"We hired a local engineer to design the project and bought the materials," says David. "The villagers did the work, digging a 2½-mile trench for the pipe."
The first project was funded in August 2016, and on Sept. 20, 2016 water was turned on at the Gijega Primary School. The pipe flows to two taps – one for the school and one for the village, which is made up of three sub-villages of about 3,000 people total.
In October 2016, David returned to Tanzania to see the project and talk to villagers about what they wanted next.
"I met with the villagers and talk­ed to the school board, parents and local politi­cians about what the community needs," he says.
Tanzania is a relatively stable nation by Afri­can standards. The multi-party democracy has mandated educa­tion through eighth grade and a health clinic for every village. But there isn't enough money to fund those mandates. The only health clinic in Dumbeta Ward – which is made up of eight vil­lages – is about 5 miles from Gijega.
"The way out of poverty is education and health care," says David. "If you take care of these two, you improve lives. Tanza­nia is doing their part. It is a success story. … The work needs financial support. We have a long list of projects we want to do."
Since his second visit in 2016, the Rafiki Village Project has renovated classrooms in one of the two school buildings, built a bathroom for the school's teachers and installed a water tower at the Dumbeta health center to store treated water – previ­ously the nurse had to wait at the village tap with a bucket.
In October of 2017 the school laid the foundation for a kitchen.
"Teachers recognized the kids were too hungry to learn," says David.
Teachers have been cooking rice and beans donated by some of the families over an outdoor fire pit, but with the new kitch­en and Rafiki funds to buy more food, they will be able to feed all the children every day at school.
Though the list of projects is long, David says he believes that $150,000 would fund them all, because the villagers make the bricks and provide the labor for all the projects.
In June of this year, Laura joined David when he returned to Tanzania. Though she had served as the secretary of Rafiki Village Project since its incorporation, she wanted to see the people and the work for herself.
"It's one thing to edit board minutes and entirely different to sit in the sun and talk to people about what their lives are like," says Laura. "It's really important to us that this is not just a charity, that this becomes a collaboration and relationship with people and the place. … We wanted to meet with people and continue the conversation of what their needs are and priori­tize things they would like help with."
With her background in research, she was able to help the teachers, school board and ward education officers set up a system to track the success of Rafiki projects. The teachers were already meticulous about keeping attendance and testing records, but now they have a system to use the statistics they collect. "We want to study how effective we are."
"I met a number of people who have become pals and Facebook friends – people who are not getting money but are interested in relationships," she says.
Since the trip she has a better understanding of why David "came back from the first trip all fired up."
"David lives and breathes the Rafiki Village Project," says Laura. "David is very humble. He's put hundreds of hours into this."
In September Havurah Shalom cosponsored a benefit con­cert for the Rafiki Village Project. In December, the congre­gation's tikkun olam committee will host a public presentation about Rafiki (see below).
"As affluent Jews we have an obligation to make other peo­ples' lives better and to fight for social and economic justice," says David. "That is why I believe in this work."
IT TAKES A VILLAGE
WHAT: Presentation by Rafiki Village Project Founder
David Newman featuring slides of water, school and health projects in small villages in Tanzania
WHEN: 2-4 pm, Dec. 10
WHERE: Havurah Shalom, 825 NW 18th Ave., Portland
INFORMATION: info@rafikivp.org or
503-248-4662 (Havurah Office)
Rafikivp.org