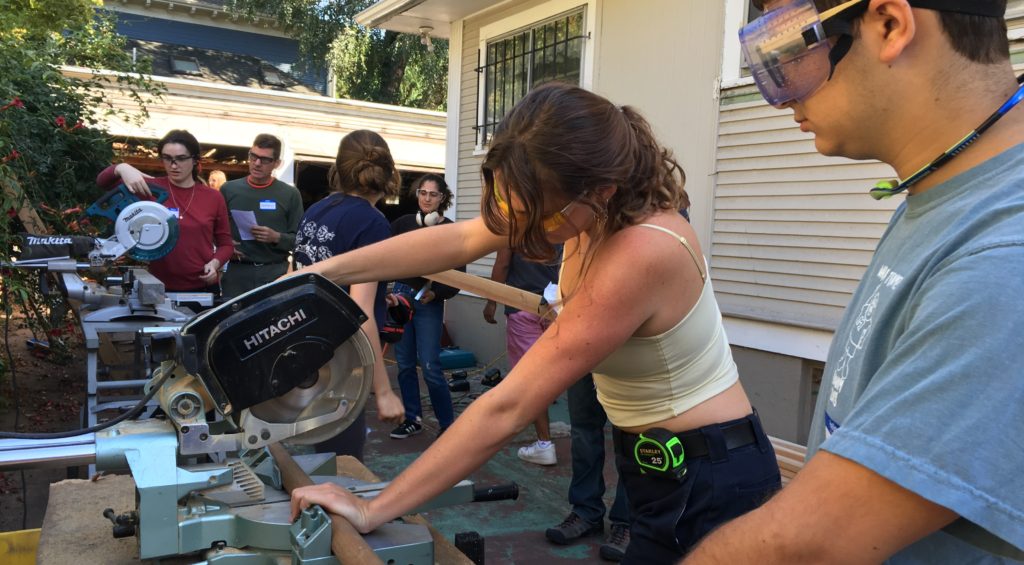 PHOTO: The fifth cohort of the Tivnu: Building Justice program arrived in Portland in late August. Upon their arrival, participants completed construction training, where they learned skills that they have used on the job site building tiny homes at Agape Village. 
In its relatively short lifetime, Portland's Tivnu: Building Justice has won the attention of two national initiatives – The Joshua Venture Group's Dual Investment Program in 2012 and UpStart's Venture Accelerator this year.
Tivnu was selected to join the 11th cohort of UpStart's Venture Accelerator to aid groundbreaking, growth-stage organizations. UpStart's Jan. 9 press release notes: "UpStart partners with the Jewish community's boldest leaders to expand the picture of Jewish life, and Cohort 11 includes nine bold ventures solving some of the Jewish community's most pressing challenges. These cutting-edge organizations were selected from a pool of more than 60 highly qualified applicants, and represent a diverse array of initiatives building the Jewish community of tomorrow."
Steve Eisenbach-Budner launched Tivnu in 2011 with one-day, hands-on social action construction projects. In 2014 Portland's Tivnu expanded to a gap year program that explores connections between Jewish life, social justice and community service. Shorter programs are available for Jewish day schools and youth groups.
Steve attributes Tivnu's successful launch to its participation in the 2012-2014 Dual Investment Program presented by Joshua Venture Group, which is now part of UpStart. Steve says the $80,000 in unrestricted funding and more than $20,000 in coaching and training from that program enabled Tivnu to expand and offer more and longer programs. (For the story of that grant, see orjewishlife.com/dueling-innovators)
"That first $100,000 investment from Joshua Venture Group really did what it was supposed to and got us off the ground," says Steve. "Now this investment (from UpStart) will help us grow and scale."
In 2018 UpStart added new features to its flagship program. Cohort 11 will be the first cohort of the new, 18-month Venture Accelerator program (previously called the National Accelerator). The nine participating organizations will have access to UpStart's substantial network, training and resources to create and enact a sustainable plan for success. Each organization will also receive up to $100,000 in unrestricted funding to accelerate its growth.
"We hope the $100,000 will enable us to hire a person, probably based in the Northeast, focused on recruitment and also to help with administrative tasks," says Steve.
The cohort met for a virtual orientation on Jan. 10. The cohort will meet four times over the 18-month program.
"The cohort experience is a valuable opportunity to learn from our peers in other programs at a similar stage in lifespan," says Steve. "We can share challenges and successes that help us grow in sustainable ways."
Steve is also excited about the 1½ hour per month personalized coaching sessions that will help Tivnu staff and board "look at the big picture and work on a strategic plan."
UpStart has provided programs in nearly two dozen communities with the entrepreneurial tools and network that trailblazing leaders need to create change across the spectrum of Jewish life. UpStart programs helped launch nearly 90 Jewish ventures and trained nearly 3,200 of the Jewish community's most inspiring leaders.
"We're thrilled to have this new cohort join the Venture Accelerator," says UpStart CEO Aaron Katler. "These nine inspiring ventures represent the broadest spectrum of how people are finding meaning and connection in Jewish life today. This cohort of leaders is solving some of the most crucial challenges facing the Jewish community, proving that Jewish life is more dynamic and diverse than ever before. We're looking forward to partnering with them on scaling their impact."
Joining Tivnu in Cohort 11 are: BaMidbar Wilderness Therapy, jGirls Magazine, Judaism Your Way, Museum of Jewish Montreal, Sacred Spaces, Sisterhood of Salaam Shalom, Tkiya and Tzedek America. You can read more about these organizations and their bold Jewish ideas at upstartlab.org/cohort-11.
 upstartlab.org | tivnu.org