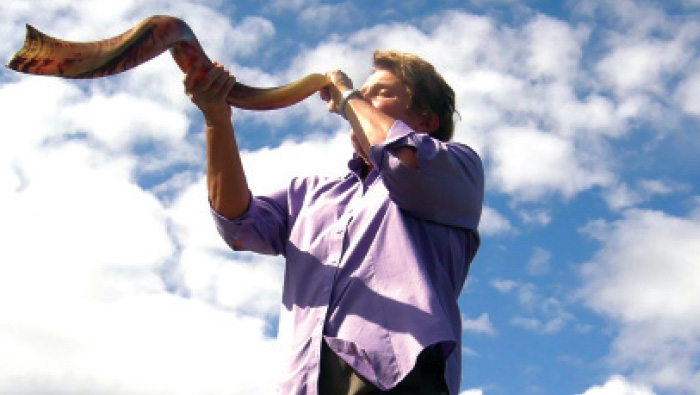 ABOVE: The sound of Joanna Booser's shofar echo across central Oregon.
The haunting sounds of the shofar have awakened people from their spiritual slumber every year since ancient times. Made from any kosher animal, but usually from ram or antelope horns, the shofar is sounded on Rosh Hashanah, and in some communities, during the month of Elul and at the end of the Yom Kippur fast. Shofar blowing consists of three basic sounds: tekiah, a long, unbroken blast; shevarim, three short, sharp notes; and teruah, a rapid series of short, sometimes staccato notes.
Here in Oregon, shofar blowers come from all religious affiliations and all walks of life. Many have sounded the shofar for years, and others have learned recently. Here are some thoughts and memories from a few heralds of our High Holidays:
Joanna Booser got her shofar from Temple Beth Tikvah's former rabbi, Glenn Ettman.
"He flew from Los Angeles to Bend once a month and brought a beautiful shofar with him," she says. "Airport security didn't know what it was, so he had to blow it to get through. Glenn taught me the calls, and I watched on YouTube. When Glenn got a full-time rabbi position and left the temple, he gave it to me.
"A flash mob is when people get together on the spur of the moment and have events. During the High Holidays, Glenn wanted a shofar flash mob on the bridge that runs across the river in our downtown shopping center. He called the calls, and I blew them up and down the river. We found all these Jewish people that were new to town. It was on the TV news.
"Our new rabbi, Johanna Hershenson, expanded the tradition. She invites all three Bend Jewish communities to bring their shofars to the bridge. She says the name of the call, I blow it as an example and everyone else follows."
~~~
Diane Chaplin became interested in her Jewish roots at around age 40. A concert cellist, she was attracted to anything musical. Today she teaches at local colleges, directs the Rose City Youth Orchestra (rosecityyouth.org) and sounds the shofar at Havurah Shalom.
"There's a tradition that you sound the shofar every day during the month of Elul," she says. "We like the opportunity to get in shape. The technique is not different than other horn instruments."
~~~
Dolfy Freinquel has blown the shofar at Temple Beth Israel in Eugene for nine years. "It's like being a conduit, producing the sounds G-d needs," he says. "During the year we drift far away. That primal sound inspires us to awaken that longing to return, to do teshuvah."
Like many, Dolfy found getting sound from the shofar was difficult at first, and consistency is never certain. "You can practice and practice, but that doesn't reflect what is going to come out in front of the congregation," he says. "Every year, I make an agreement with the divine. If sound comes out perfectly, I won't take the credit, but if things don't go well, I won't take the blame."
~~~
Liza Milliner learned to sound the shofar from Neveh Shalom virtuoso Alan Montrose (see below). "Four or five years ago, we started doing echoes," she says. "I'm one of those echoes."
Shofar blowing was always an ambition for Liza. "It was the highlight of the High Holidays, and I thought it would be cool," she says. "The first year was filled with anxiety, but each year it has improved. The hardest part is you don't know what it's going to sound like."
~~~
Alan Montrose has sounded the shofar at the Congregation Neveh Shalom's High Holidays for about 30 years. A lifelong member of the synagogue, his interest began during his bar mitzvah years.
"The cantor said if I learned my lessons, he'd teach me to blow the shofar," Alan says. "At first, I thought it was impossible. I was never a trumpet player. It was hard to make sound and hit the notes. Staccato was the biggest challenge.
"The majority of the shofars are ram's or antelope horns," Alan says. "The shorter ones are ram. The Sephardim like to flatten theirs, and the Ashkenazim usually have one curl, the natural shape. The Yemenite favor the long curly antelope.
"The cantor gave me my first shofar. Then Rabbi Stampfer decided he wanted me to blow a longer shofar and brought me back one from Israel, I think. When I went to Israel, I blew around 200 trying to find a sound that I liked. I finally found one with the best tone I ever heard in Mea She'arim. That was 22 years ago. On my last trip I picked up a few more.
"If you're going to blow the shofar, you want to do it well. The goal is a heartfelt thing. It inspires people, gets them out of their normal mindset so they focus on things that are important."
~~~
Jeffrey Olenick and his wife, Amy Shapiro, have led High Holiday services at Rose Schnitzer Manor for many years. "When you blow the shofar, you're part of a long tradition," he says. "Every year people come up and tell me how much they enjoy it.
"A true kosher shofar has no added anything; it's just a horn," he says. "The end is simply cut off and you blow into the cut-off end. The one I got in Israel originally was a ram's horn. About 20 years ago, they had a beautiful, large shofar at the MJCC gift shop. It blew easily and had a magnificent loud tone. I've used that since.
"Keep trying shofars until you find one that plays well for you. Then practice and figure out what part of your lip gives the best tone."
~~~
Howard Patterson belonged to the juggling, comedy troupe The Flying Karamazov Brothers before moving to Portland and joining Havurah Shalom.
"I happen to be an aficionado of medieval music," he says. "The cornetto or zink was a medieval instrument like the shofar. They were shaped like a horn and had holes drilled in the side so you got a more complete scale.
"The shofar is one of the oldest instruments in the world. It ties us to our early hominoid ancestry – my guess is it's pre-Homo sapiens. In Yemen, they use the horn of the greater kudu. They look great, about two feet long with a giant corkscrew horn, and they have a lower, deeper sound than a ram's horn. This is the kind I play.
"The shofar has a power older than music. It's supposed to alarm you. How can I improve my life, apologize to people I've hurt? Let the sound into your heart. Let it disturb you and vibrate your stagnancies away."
~~~
When Karen Peterson's father, Larry Kruss, could no longer sound the shofar at Kol Shalom's High Holiday services, he passed the baton to her. "He's been a trumpet player since high school and blew the shofar at services every year," she says. Karen played with his shofar as a child and even won a shofar-blowing contest at her Southern California synagogue when she was about 8.
"The hardest part is having enough breath to make the tone go up at the end and not being too nervous," she says. "When you're nervous, it sounds shaky.
"The best part is seeing the look on my dad's face."
~~~
"Every year I offer a clinic for whoever wants to learn to sound the shofar," says Rabbi Ariel Stone of Congregation Shir Tikvah.
"I needed to learn when I was in rabbinic school and serving a congregation as a student. A fellow student showed me, and we practiced like crazy. It takes some good breath. There's no mouthpiece, no help.
"I spent my first year of rabbinic school in Jerusalem and buying a shofar there was great fun. It's a process of figuring out which one you like. They can be brown or black, short or long, curved or straight. I've had several over the years. I have one (of) polished antelope as long as my arm."
~~~
Rabbi Motti Wilhelm learned to sound the shofar at Chabad of Oregon's Gan Israel day camp. "I was 9 years old," he says. "They did a shofar-making factory, and Rabbi Chaiton taught me. His trick was to put your finger over your lips and seal everything.
"The rebbe told us not only to blow the shofar in the synagogue, but also to reach out. After I became bar mitzvah, on Rosh Hashanah I walked to the apartments where the new Russian immigrants lived. I said, 'Have you heard the shofar yet?' Each apartment directed me to the next. Last year, I went up to OHSU and my nieces and nephews went to senior living centers.
"I'll blow for parts of the service this year, but my father does the main shofar blowing. The hardest part? It's a live performance, and there could be a lot of people. You're always nervous that the sound just isn't going to come out. It's a raw sound, and we are taught that it represents the cry of a child. To me, it's just trying to be present in the moment and allowing the shofar to be the sound of my own heart."