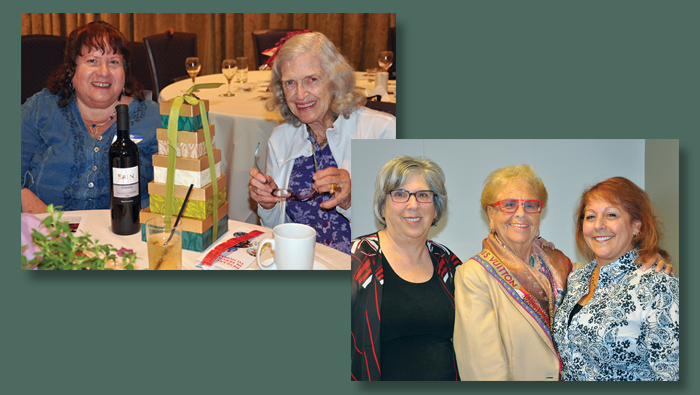 Portland's Hadassah Chapter is important – so important that the director of Hadassah in Israel came to Portland to help re-invigorate the chapter.
Barbara "BG" Goldstein hadn't been in Portland for 38 years. But when her friend, Peg Elefant, president of Hadassah's Pacific Northwest Region, asked, BG came. Peg has deep ties to Portland;  her grandfather, Bert Simon, was born here in 1880.
On Sept. 15 at Hotel deLuxe, BG, Peg and Portland Chapter President Diana Lindemann presented an evening of information, dessert and prizes designed to get past members and a new generation of women interested in Hadassah. The 104-year-old women's Zionist organization supports Hadassah medical and youth and social programs in Israel and advocates for women's rights and Israel in America. Hadassah activity in Portland had dwindled since the chapter's office in Multnomah Village closed about three years ago.
Now Peg and Diana, with BG's support, are inspiring renewed activity. Diana grew up in Hadassah with her mother Ruth serving as Portland Chapter president. She said she was drawn back to the organization when she saw Hadassah's new slogan, "Hadassah: the power of women who do."
And Hadassah does do. Hadassah provided the first modern medicine in the land of Israel over 100 years ago. Since then Hadassah established Israel's first teaching hospital, nursing and dental schools, cancer center, burn unit, trauma unit and embryonic stem cell research center. Indicative of Hadassah Medical Organization's commitment to treating all, Hadassah maintains the only bone marrow registry for Arabs in the world.
"Hadassah by policy serves everybody," says Peg. "Politics stay outside. We treat people."
The evening's program included a video of the breakthroughs in stem cell research to combat ALS, multiple sclerosis, macular degeneration and Alzheimer's. BG says many U.S. hospitals started partnerships with HMO when U.S. policy banned federal funding for most stem cell research from 2001 to 2009.
"Hadassah is the power of women who created a nation after 2,000 years of exile," says BG.
On Hadassah's 100th anniversary, she was asked to light one of the 12 torches representing the 12 tribes of Israel on Mt. Herzl at the Yom Ha'atzmaut (Independence Day) celebration. "I felt the 300,000 women of Hadassah there with me."
BG says she is involved with Hadassah because, "I was handed Israel on a silver platter."
She adds, "But the creation of the state is only the beginning to the total renaissance of the spirit of the Jewish people. … The Jewish state is given to us, but it comes with the privilege of responsibility."
And now Portland Hadassah is once again stepping up to participate in that responsibility. "Portland is renewing," says Peg.
Portland Hadassah
March 1 Program:
Bikkur Cholim Project launch featuring Letty Cottin Pogrebin, author of How to be a friend to a friend who's sick.
Contacts:
Diana Lindemann, Portland chapter
503-312-2530 | pnwregion@hadassah.org
Peg Elefant, Pacific NW Region president
pelefant@hadassah.org | Hadassah.org/pnw