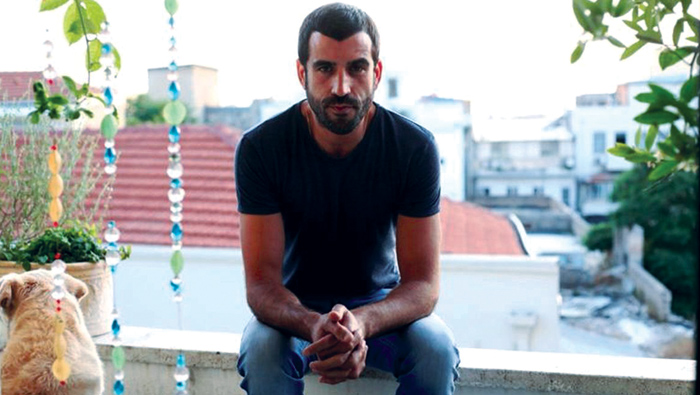 "Do you know how many new songs I have at this moment, waiting in the drawer to be recorded? Zero," says Israeli singer-songwriter Roy Dahan, 37. "I believe that if you write a song, it is meant to be heard."
Roy recently released his third album titled "Through the Woods," five years after the release of his critically acclaimed "Some of This Life" album was described by critics as one of the best Israeli debut albums of the new millennium. This was an especially impressive achievement, because it was written and recorded in English. (His second album titled "The Man in My Head," another success, immediately followed.)
Being born in the peaceful surroundings of the small settlement of Korazim in the north of Israel, not far from Lake Kinneret (Sea of Galilee), influenced the dreamy, folk-rock sound of his music. "I loved growing up in that kind of place," says Roy. "It's funny, but many people tell me my music is connected, in their minds, with driving. They love listening to my songs in their cars during long travels. It's not a big-city music."
Tal Peri recently posed some thoughtful questions to Roy that brought out some honest answers about his successful music career.
Q: Not many new singers get their first break after age 30. What have you been doing all these years?
A: Lots of different things (laughs). I was a magician, performing for kids in parties and family events, and I was working with my brothers importing toys. I was also a piano teacher, which I still do. Looking back, I felt I was at a dead end in my life. I had no money, no long-term plans, no passion for anything but my music. I told my brothers I was leaving the toy business and started performing in small clubs playing the songs I had already written. One of my piano students came to see a show and became my investor. He just said, "Tell me how much you need for recording, because people need to hear your songs" and stayed true to his word.
Q: Did you expect your music to touch so many people so fast?
A: I hoped, but the truth is you can't do much after the recording process is done. I still have no idea which of my songs will make a radio hit single. My PR people have the final say in that. I never thought "Does Anyone Know" [from Roy's debut album] would be a hit and it is still my biggest to date.
Q: Many critics mentioned the transformation from psychedelic folk of the first album to the more rock production in the second – and now something in between for "Through the Woods."
A: I don't want all my albums to sound the same. It is way more interesting for me to explore new ideas; but at the end, it is still … what I bring to the table as a singer and songwriter. In the new album, for example, I really wanted to try different collaborations with several great musical producers. I worked with four of them.
Q: You just shot a video in Berlin for your current single, "Guardian Angel." What is your connection to that city?
A: I traveled there after the release of my second album and lived there for five months while performing in clubs and arenas in Germany, the U.K. and Austria. Great shows. I made many good connections – and above all, I loved Berlin. Now I plan to make the same move with the third album tour and this time stay in London for a while and see what will happen.
Q: In recent years, it has become common for Israeli musicians to write and record in English. Do people ask you about that?
A: Oh, yes. All the time. Not a single interview goes by without me having to almost apologize, in some way, about choosing English as the language of my songs. I experimented a bit in Hebrew in between my second album and the new one. I recorded cover versions for two classic Israeli songs: Meir Ariel's "Neshel ha'nahash (Snake's Skin)" and Naomi Shemer's "Bashana Haba'ah (Next Year)." I mainly wanted to turn them around, and make them sound like my own creation. I'm not thinking yet of writing original songs in Hebrew. English always came more naturally to me, ever since I started writing as a teenager.
Q: Anything you miss about your old life, before becoming a full-time musician?
A: I miss being a magician. It was so much fun. I still practice at home, making sure I [can] still master those tricks. You never know, right?
Buy Roy Dahan's CDs at roydahan.bandcamp.com. You can also find his music on iTunes and listen on You Tube.
Tal Peri resides in Scottsdale. Before coming to the U.S., he worked for some of Israel's leading media groups for over 25 years covering art, music, theater and entertainment.