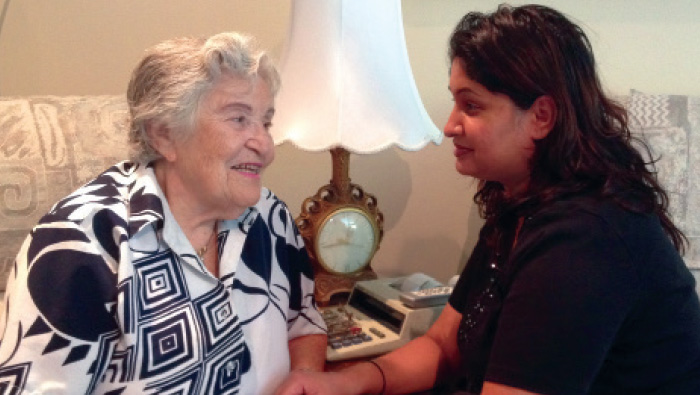 In the olden days, people got old and older and then eventually died at home. The happy stories went like this:
He plowed the north 40, had a big chicken supper and passed on in his favorite chair in front of the fireplace.
OR
She broke her hip and spent her last days in her rocker on the porch, pillows cushioning her as she watched her grandchildren play in the garden.
The less happy stories were of long illnesses. Perhaps there were hospitalizations. Eventually, though, the doctor might say, "There's nothing more we can do. Why don't you take her home?"
I, however, did not grow up in the little house on the prairie, and you probably didn't either.
Our grandmother fell while boarding a TriMet bus in the early 1980s, and she was whisked to the hospital. When it was clear she couldn't take care of herself, she moved to The Robison Home. She stayed there until she passed away. As did my mother-in-law. As did our other grandmother.
And probably yours.
Today parents may not live in the same town as each other, never mind as their children. When we run into health trouble, most of us need help. The Robison Home is still here and, as has already been widely reported, will be expanded and modernized to provide even better care in a beautiful residential home environment. The groundbreaking was held in July.
The will of our community, though, is clear: a lot of us sort of want those olden days. We don't want to move to an institutional home as soon as we are frail. We'd like to stay in our home as long as we can. If we break our hip, we want to get the rehabilitative care we need … and go home again. The good news, of course, is that medical expertise is growing exponentially: people today often live for years successfully managing a disease that was fatal only a few years ago. In addition, today we know more about how to take care of ourselves, and many of us stay healthier longer because of our lifestyle choices.
Still, aging successfully at home is not possible without affordable, reliable services, including those that make house calls. Fortunately, the Jewish community has long been a leader in this effort. Jewish Family & Child Service provides case management for seniors and adults with disabilities, social workers for them and their families, and in-home services. JFCS also has resources and programming for the Holocaust survivors in our community as well as for adults with disabilities and their families. Cedar Sinai Park opened its Adult Day Services in 1999 so that home caregivers can drop off their loved ones for a day of quality activity on the CSP campus and gain some valuable time for themselves. JFCS and CSP joined forces in 2007 to create Sinai Family Home Services (now called Sinai In-Home Care) to add additional in-home general and specialized care. A new Housing with Services program at CSP's affordable apartments for seniors and adults with disabilities downtown brings satellite offices of health and social service agencies into the buildings themselves.
It is the vision of CSP to expand the services people want and need at home while continuing to ensure that the CSP residential experiences are warm, comfortable homes for those who do move in. JFCS, for its part, is committed to continuing its effective programs focused on the vulnerable in our community. Do we have a range of services? Yes. Enough services? Not yet. Seamless? Again, not yet.
That, according to CSP CEO David Fuks, is the work ahead. As a result, the JFCS and CSP boards of trustees voted unanimously at their June board meetings to fold JFCS into the CSP umbrella of services. According to information released by JFCS, each organization will retain its unique identity and keep its separate tax-exempt and nonprofit identity, but administrative functions will be consolidated in ways that will be more efficient and effective. The important work of JFCS in particular will benefit from the resources of the CSP back office.
Their collaboration will also make it easier to expand the programing the community needs while avoiding duplication of services. JFCS has skilled counselors, for example, while CSP offers more limited group counseling to elders and their families. Expanding JFCS counseling resources to CSP can fill an important gap for current and potential residents of CSP and their families. Both JFCS and Sinai In-Home Care, however, send trained professionals to your home to help with home and health tasks. CSP and JFCS will discuss ways the services might be consolidated into one entity or separated into two clearly distinct categories of service.
"We have built a continuum of services that will be shaped into a cohesive system so that services are coordinated efficiently and people are supported consistently," says Fuks.
JFCS Executive Director Carrie Hoops summarizes it this way: "With this consolidation effort, our voice becomes more comprehensive, focused and holistic, with the end product resulting in better service to our clients."
Who knows? I may follow in the steps of my grandparents and end up living in the newly created households at CSP. I've seen the plans and studied the research. That would be a good place for my last home. But it may well be I will know CSP because my family and I will get counseling on elder care choices from JFCS. I may go to The Robison Home for rehab after a surgery. It may be that CSP or JFCS sends someone to our home once a week to check on my medications. It is just good to know that the services will be there and, most importantly, the choices will be mine.
Liz Rabiner Lippoff is a marketing consultant (LizInk.biz) and freelance writer. She also serves on the board of Cedar Sinai Park and the Cedar Sinai Park Foundation. LizRL@rabiner.com