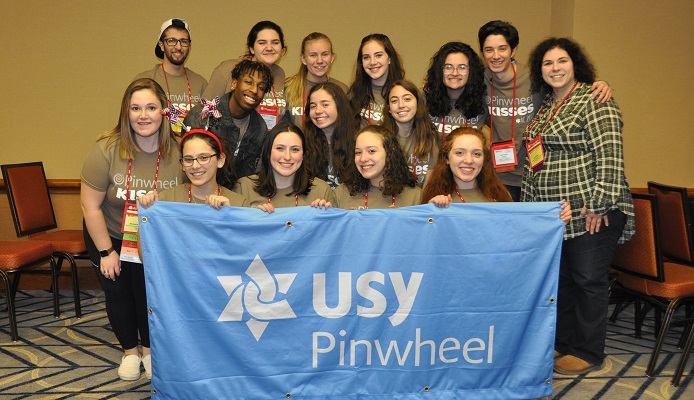 PHOTO: Teens and staff from Pinwheel USY, which encompasses the Pacific Northwest region, pose for a group photo at USY International Convention 2017 in Chicago. Photo by Jo-Anne Tucker Zemlak, USCJ
Five Portland teens were among the nearly 1,000 Jewish teenagers, educators, staff and alumni who gathered in Chicago at the United Synagogue Youth 67th International Convention Dec. 24-28.
The convention brought together young adults from across the globe to experience and give back to the local Chicago community, engage in interactive learning, gain leadership skills and build a strong Jewish future. USY is the youth movement of the United Synagogue of Conservative Judaism.
"The opening session when you run in with your region and sing the regional song in regional shirts – music is blasting, everyone's screaming and hugging and singing Israel songs loudly – it is a great sense of community and a great way to open the convention," says Portlander Mira Katz, 16, who was attending her second international USY convention. Mira is a student at St. Mary's Academy and attends Congregation Neveh Shalom.
Being together as a region at the convention was also a highlight for second-time attendee Abby Glass, 16. "The regional bonding … we got to be together as a region a few times a day, is the best way to get really close and get to know people," says Abby, who sits on the board of the Pinwheel Region, which encompasses the Pacific Northwest chapters of USY.
Abby says the only regional convention she has missed was when she spent a semester in Israel at the Alexander Muss High School. A member of Neveh Shalom and a junior at Wilson High School, Abby is also a member of the Oregon Jewish Community Youth Foundation.
"I think all teens should get in a youth group," she says. "It's a great opportunity for fun with friends, growing as a person and learning leadership."
The convention theme, D'ror Yikra: The Road to Freedom, also inspired the Portland teens. Reflecting on the current political and cultural landscape, the teens examined the concept of freedom through interactive educational workshops focusing on hot topics at home and abroad. Those topics included religious freedom in Israel, freedom of expression, human rights, current refugee crises and how sociopolitical factors affect choice.
"I want to integrate that into my life and my chapter's life," says Mira.
Keynote speakers Rabbi Michael Siegel, senior rabbi of Anshe Emet Synagogue in Chicago, and Pastor Chris Harris of Bright Star Church in Chicago, spoke on the theme, which Abby found very meaningful. "I enjoyed learning about how the religions can work together," she says. "Minorities can work together and support each other."
Translating learning into action, teens participated in hands-on social action projects by volunteering at more than 30 local organizations around the Chicago area on Christmas Day including FCHN Soup Kitchen, The Ark, Lincoln Park Community Shelter, the Anixter Center and H.O.M.E.
"We are utilizing the potential that hundreds of teens collectively possess to make change," says 2017 USY International President Noah Lee. "We are going into the Chicago community on Christmas because we understand the importance of this day to many. I hope to see many local people healthier, safer and better fed on Christmas because of USY's efforts."
The Portland teens volunteered at two projects: making blankets for babies and serving meals at a soup kitchen.
"We served 600 meals on Christmas," says Mira. "We got to talk to people while we were serving the food, and that was really rewarding. They are experiencing homelessness and to feed them a warm meal on Christmas, which I think a lot of those people celebrated, was rewarding. I loved to see the reach and energy (of USY)."
usy.org