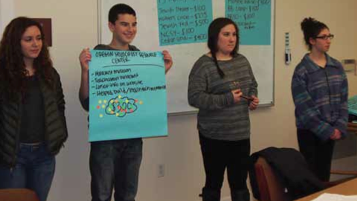 When asked to reflect on the last four years, it's not hard to come up with dozens of experiences that influenced us. Our first encounter with OJCYF was the application process.
DANIELLE: After submitting multiple college applications, I realized that none of these were the hardest application I have ever written. I submitted my hardest application nearly four years ago. This application was to Oregon Jewish Community Youth Foundation.
I remember sitting down at the computer on a warm summer day and staring at a blank document that would turn into my OJCYF application essay. I stared at the screen, trying to find a personal quality I could contribute to the organiza- tion. I ended up writing about the strong commitment I keep for activities I start. While this didn't explain everything I could bring to the group, it is the one quality that has been consistent through all four years. While my commitment has stayed constant, my leadership, work ethic and communication skills have increased. As I've grown with OJCYF, I've increased my participation. I have experience to back up my ideas, which has given me the confidence to excel in OJCYF and other activities.
We thought we could help OJCYF; what we didn't know was how much OJCYF would change us. Monthly meetings taught us about the nonprofit sector, site visits showed us this world first-hand and allocation sessions tied it all together. We saw we are powerful advocates for change, which gave us the courage to take on outside internships.
MAAYAN: OJCYF led me to Camp Odyssey, a teen organization celebrating diversity. During camp, we explored ste- reotypes and the effects they have. Those exercises showed me that many people label the Jewish community as greedy. As we worked to separate stereotypes from reality, we could see all stereotypes are hurtful and unjustified. I know I regularly prove the stereotype wrong by my work with OJCYF. (NWCampOdyssey.org seeks Jewish participants for the free camp in late June.)
When challenged to take on an outside internship, I thought of Camp Odyssey. The organizations share the same mission: o secure and shape the future. I now have two mentor organizations with which I share the vision to alleviate the effects of economic inequality. Both focus on similar fundamental values: respect, social change, community and education.
As fourth-year board members, we will be saying farewell to OJCYF, but we leave it in the hands of younger philanthropists, just as others left it for us. We envision rising members expanding outreach and sparking greater interest among donors and organizations. From OJCYF's simple beginning as a bat mitzvah project, today we reach hundreds, if not thousands, each year. We can't wait to see how much the dedicated new OJCYF'ers will accom- plish, leading the group to even greater heights."
OJCYF Annual Benefit Dinner, 10th Anniversary Celebration –
On May 2, at 5:30 pm the 37 members of OJCYF host their 10th annual benefit fundraiser dinner at the Mittleman Jewish Community Center. This is the main source of funds for the student-led allocations held later that month. The dinner will have an entertaining and lively vibe containing interactive activities and student speakers. Student speakers will direct speeches to this year's theme: past, present, future. the students will explain where the group has been and where members see the group going in the next 10 years. OJCYF has allocated more than $256,000 to community nonprofits, both Jewish and general, since it was founded in 2003.
Eighth grade and high school students are encouraged to attend the dinner. Student tickets are $40, adult tickets are $65.
Register online at ojcf.org. representatives of community nonprofits who want to apply for a grant from the OJCYF, can download applications at ojcf.org/youth-foundation; deadline is april 19.
Danielle Spring, Senior, Lake Oswego High School and Maayan Agam, Senior, Beaverton High School