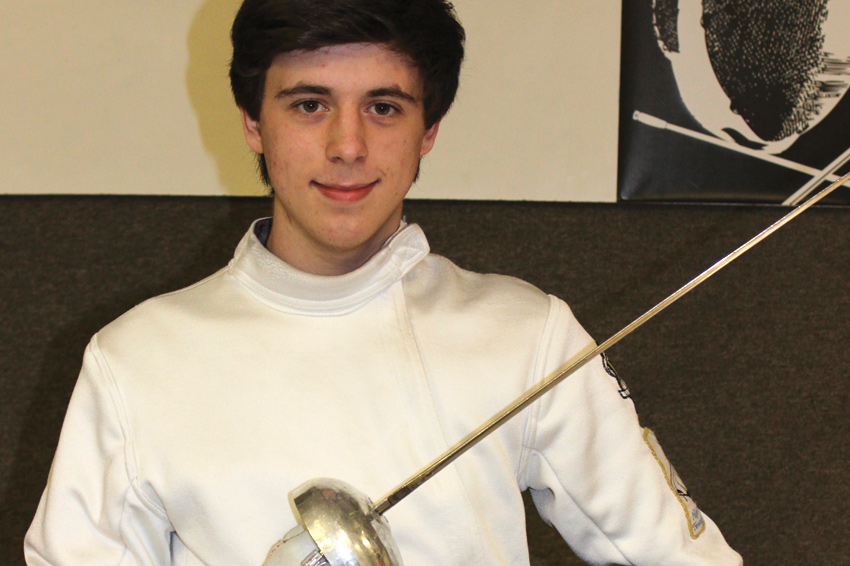 When Jacob Brown was a toddler, his uncle, Robert Marx, a three-time Olympic fencer, put a stick in his hand and challenged him to a duel. Now the 16-year-old Bend resident is bound for the European Maccabi Games in Berlin, Germany, July 25-Aug. 4.
The son of Debra Rycus-Brown and Henri Brown began his fencing career early. On his personal page on the Maccabi USA website, Jacob writes, "I began fencing when I was 10 years old.  Before that, I remember trying to defeat my Uncle Bob with light sabers. I think that he was trying to mold me at this young age, by making me stand in the en garde position and hold the light saber a certain way."
Jacob has fenced at the Oregon State Games every year since 2009, when he took second place competing in the Y10 Foil.
In Bend, where the family moved in 2003, Jacob trains at the High Desert Fencing Club. But he returns to Portland many weekends to train with his coaches at the Northwest Fencing Center in Beaverton.
His aunt, Suzanne, and uncles, Bob and Michael Marx, all trained at the NW Fencing Center (then known as Salle Auriol) when they were young. Both Bob and Michael fenced at the Olympics multiple times and Suzanne was an Olympic alternate one year; Bob is now the president of the NW Fencing Club.
Jacob's interest in the Maccabi Games was sparked when Adam Frank, one of his teammates at the NW Fencing Center, competed at the World Maccabiah Games in Israel in 2013. Now Jacob and Adam's younger brother, Timmy, have their eyes on the 2017 games in Israel.
Knowing his son's interest, Henri submitted an application on Jacob's behalf to Maccabi USA for this summer's European Games.
After Jacob placed 15th at the 2015 Junior Olympics in Richmond, VA, competing with an epee, he was named to the USA Maccabi Team.
Of his upcoming participation in the 14th European Maccabi Games, he wrote: "This is Europe's biggest Jewish sports event and will take place in Germany for the first time in its history. I will be representing the U.S. at these games. This will be my first tournament abroad and will provide me invaluable experience not only in my fencing, but will enable me to celebrate Jewish unity, culture and heritage with athletes from all over the world."
Judaism is a big part of Jacob's life. He celebrated becoming a bar mitzvah on his Hebrew birthday in August with Rabbi Yitzchok Feldman of Chabad of Bend. The celebration continued over the Labor Day weekend when he participated in Friday evening services at Chabad and Shabbat morning services at Congregation Shalom Bayit with Rabbi Jay Shupack.
When he became an Eagle Scout in February last year, he led a team of Boy Scouts to build and donate seven handmade benches to Congregation Shalom Bayit.
Jacob says he enjoys Friday evening services at Chabad, which are followed by conversation about the week's Torah portion during a family style Kiddush dinner.
A junior at Summit High School, Jacob plays trombone in the stage and concert band. For PE, he selects classes such as aerobics and conditioning to increase his fitness level for fencing.
To compete in the games, Jacob needs to raise $5,800 to cover the cost of international flights, hotel, games registration, medical insurance, ground transportation and meals in Berlin.
Donations can be made online at: support.maccabiusa.com/site/TR/Games/MaccabiTeamRaiser?px=1031606&pg=personal&fr_id=1060. You may also mail a check (write Jacob Brown on memo line) to Maccabi USA, 1511 Walnut Str., 4th Floor, Philadelphia, PA 19102. Donations (again with memo noting in support of Jacob Brown) also can be sent to: Chabad-Lubavitch of Central Oregon, 61023 Snowberry Place, Bend, OR  97702.
"I am so honored to be a part of Team USA at these games," says Jacob.