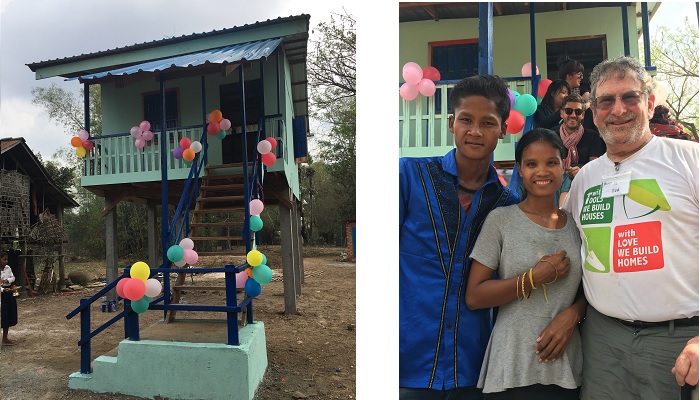 Photo: Portlander Ted Scheinman poses with Hon Ra and her husband, Mab Meong, in front of the home he helped build for the couple and their two children in the O'Trach Village, Cambodia. Meong earns about $80 per month as an unskilled construction worker in Thailand. Ra takes care of her children and some of the animals in the village. They have a small paddy to raise some of their staple of rice. Ra and Meong worked alongside volunteers and two skilled workers provided by Habitat for Humanity.
Tikkun olam and fun keep 73-year-old Ted Schneiman very busy. He is an active volunteer locally and globally; he still teaches a college course or two; and he cross country skis, cycles and kayaks.
This spring Ted spent two weeks in Cambodia on his fourth international Habitat for Humanity build. He has also participated in builds locally with the Neveh Shalom Men's Club and Bilal Mosque. For Ted, Habitat builds satisfy both of his quests – healing the world and having fun.
Growing up in Peoria, IL, his family wasn't religious, but they belonged to both synagogues (Reform and "the other one") and had Israelis or Holocaust survivors stay with them for a couple of months. He moved to Portland 49 years ago and has been a member of Havurah Shalom since the congregation's founding. The concepts of Judaism always have been important to him.
"So this (Habitat) has been normal for me to do," he says. "I have fun and I go places I want to go. I get to do what I like – connecting with people."
Habitat requires that the family the home is being built for helps in the construction. So Ted has worked side by side with families in Cambodia, Vietnam (twice) and Nepal, where he plans to return in October. Though many of the people he meets there speak little or no English, everyone gets along just fine. "Smiles work," he says.
"It's all about making something for the community," says Ted. "They know someone cares about them. You see it is going to change their lives. When they have safe place to live, they can focus on other things."
He's looking forward to his return to Nepal so he can catch up with Ayisha, who was 22 when he helped build a home for her family. He has stayed connected via Facebook and says she is now doing a small business incubator project.
Before discovering Habitat and going on his first international build in 2014, Ted says he tried going on some tours to satisfy his travel bug.
"I get bored looking at so many chapels and ruins," he says. When traveling for a Habitat build he still gets to see some sights; in Cambodia, he went to Angkor Wat, which was built in the 12th          century and is considered the largest religious monument in the world. "So I get to see some of that, but it's not overkill. I do better dealing with the people we are building houses for."
Ted retired three years ago after teaching at Mt. Hood Community College for 40 years. He still teaches one or two economics courses a term "to keep my brain functioning a little."
He keeps his body active, too. He is a member of the Oregon Nordic Club and has taken and organized many of their cross country skiing trips including Yellowstone and Norway. He has cycled around Vancouver Island and volunteers at the annual Petal Pedal at the Oregon Garden. This year he plans to kayak the Willamette River for five days with Paddle Oregon.
He's an active volunteer in Portland's cultural scene, too, ushering for Portland Center State and the Portland International Film Fest. He also volunteers at Feast Portland.
Ted Schneiman clearly has a zest for life and is having a lot of fun in retirement. But he does wonder, "Is it still tikkun olam if you have fun doing it?"
HABITAT FOR HUMANITY
Habitat for Humanity is a global nonprofit Christian housing organization that builds homes with people regardless of race or religion with volunteers from all backgrounds.
habitat.org
Locally, the Neveh Shalom Men's Club teams up with the Bilal Mosque on Habitat for Humanity build events in the Portland Metro area. Every level of experience is welcome. Contact Mike Titelbaum (titelb@comcast.net) or Steve Sirkin (stevejew18@frontier.com) for build dates and more details.