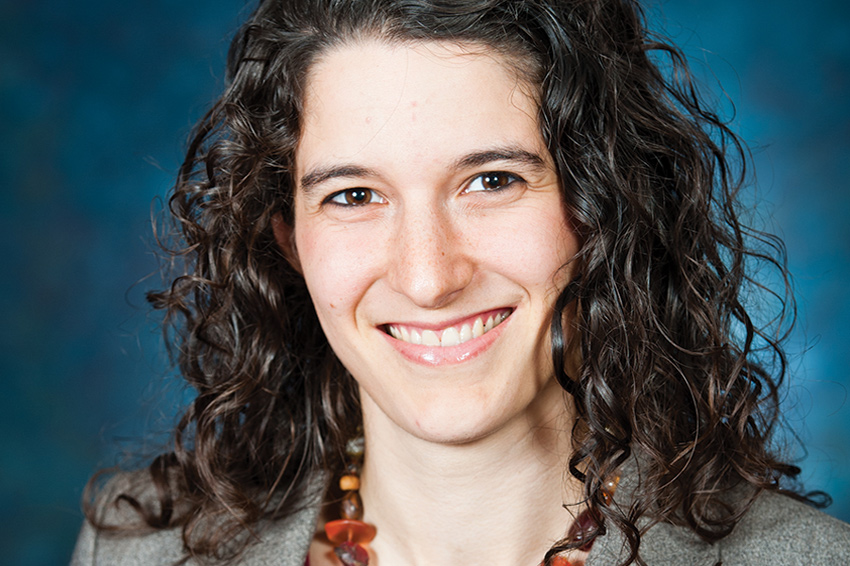 This summer will see major transitions in the rabbinical staff at Temple Beth Israel in Eugene. A fresh new face will appear in the person of Rabbi Ruhi Sophia Motzkin Rubenstein, a musically gifted social activist from Saratoga Springs, NY, and a recent graduate of the Reconstructionist Rabbinical College.
Rabbi Ruhi Sophia has signed on for a three-year contract with TBI starting July 15, 2015. While well-versed in Reconstructionist ways, she's the daughter and granddaughter of Reform rabbis, and her husband, Jacob Siegel, is a Modern Orthodox rabbinical student. In words that could describe her kaleidoscopically diverse family, Rabbi Ruhi Sophia wrote, "We have been building a radically pluralistic, passionately Jewish life together."
Her Reform upbringing helped her link social justice with Judaism.
"My grandfather, Rabbi Byron T. Rubenstein, was arrested as part of a civil rights demonstration in Florida 50 years ago," she says. "And although both my parents are full-time Reform pulpit rabbis, my father runs a community bakery where volunteers learn to bake. My mother is a Torah scribe, writing on deerskin parchment she processes from hides received from local hunters."
It's that rabbinic lineage that informs Rabbi Ruhi Sophia's current aspirations.
"My family taught me how to use seemingly disparate passions to build community," she says. "I learned that spirituality can be found in deerskin, in baking trays and in protest. I found that the kitchen, the backyard and the jailhouse are all places for Jewish education."
While studying at the Rabbinical College, she served at Congregation Beit Simchat Torah, the country's largest LGBTQ synagogue. She engaged in pastoral duties such as counseling members in crisis and leading lifecycle events.
"I've also cultivated the public rabbinate," she says. That has included leading services, teaching classes, encouraging lay leadership and "organizing congregants to participate in the moral life of New York City."
She describes her pulpit work as a "nexus of the personal and the public – an opportunity to both change lives through one-on-one pastoral presence, and to work with and strengthen a community of hundreds of people. To me, the core of being a rabbi is meeting people deeply as individuals and encouraging connections with Jewish text and music, with the Divine and with each other."
She first felt called to the rabbinate when, at age 16, her parents took their sabbatical in Costa Rica. In the absence of a Jewish community, the teen attended a Quaker school, where ironically she realized the importance of her own Jewish practice.
Related to her later attraction to Oregon, she also cultivated a deep connection to the natural world, which led to environmental activism. While studying at Smith College in Northampton, MA, she walked across the entire state in an interfaith protest for climate action.
"Before starting rabbinical school, I interned at a Jewish spirituality retreat center and worked as a Jewish environmental educator in Connecticut, Maryland and Pennsylvania," she says.
It's a sweet connection for Eugene, but TBI is also transitioning through a bittersweet farewell, at least in terms of official duties, for two of its beloved rabbis.
Rabbi Yitzhak Husbands-Hankin has served as TBI's rabbi since 1995, but his involvement began back in 1975 when he became the synagogue's cantor. His 40-year commitment to TBI isn't over however; he will continue as rabbi emeritus. (See story page 52).
Associate Rabbi Boris Dolin, a graduate of the University of Oregon, joined the staff at TBI in July 2011, supervising the Talmud Torah and Shalhevet programs and working closely with b'nai mitzvah students. His wife, Sarah, greatly expanded the popular PJ Library program. Although TBI's budget can no longer support an associate rabbi position, Rabbi Boris and his family hope to remain connected to Oregon.
Meanwhile, TBI President Nathan Philips has created a Transition Committee that will help welcome and assist Rabbi Ruhi Sophia in becoming familiar with our community. That should not be a huge task as she and her husband are both year-round cyclists, she prays traditional liturgy while doing yoga each morning, she self-composes songs and chants, she preserves her own salsa and applesauce, she bakes her own challah almost weekly and she even studied massage in California's Bay Area.
Not surprisingly, she told OJL, "I felt an immediate connection to Eugene, even though I'd never visited the Northwest before. I look forward to this opportunity to learn, pray and sing with the members of TBI."
www.tbieugene.org