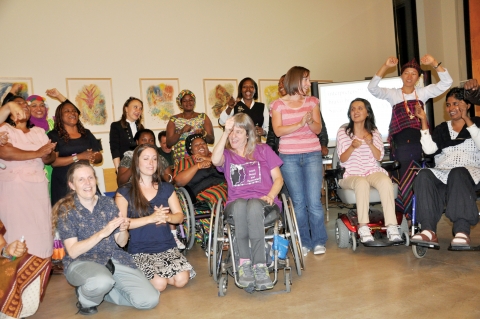 Susan Sygall and her band of 156 WILD women are "Loud, Proud and Passionate" in their efforts to enhance the lives and rights of women with disabilities around the globe.
In August Sygall's Eugene congregation hosted the closing session of the sixth Women's Institute on Leadership and Disability program. Temple Beth Israel is also hosting an exhibit of portraits and vignettes of 30 WILD participants through October. (See sample portraits, page 30).
Having learned the value of resilience as the daughter of Holocaust survivors, Sygall didn't let an accident that landed her in a wheelchair at age 18 keep her from pursuing life to the fullest. In college she won a Rotary graduate fellowship to spend a year in Australia. While exploring nearby New Zealand on a semester break, she spent six weeks hitchhiking around that country in her wheelchair. Before returning to the States to complete her master's degree at the University of Oregon, she spent several weeks touring Thailand, Indonesia and Malaysia on local buses.
Sygall says she never hesitated to apply for the fellowship; she was surprised to learn that few people with disabilities applied for exchange programs in the 1970s. So after she completed her master's degree in therapeutic recreation in 1981, Sygall cofounded Mobility International USA to help other people with disabilities participate in international exchange programs for students and volunteers.
"We started with the idea of empowering people with disabilities through international exchange," says Sygall. Thanks to MIUSA some 2,000 people have participated in exchanges.
In 1995 MIUSA organized a group of 250 women with disabilities to attend the Beijing Women's Conference. In Beijing, Sygall asked the women what they most needed to support their work for disability rights. Their request for opportunities to share ideas and strategies led MIUSA to expand into international development – and thus WILD was born. Sygall decided to concentrate on women with disabilities because "in the developing world women are doubly discriminated against – for gender and disability."
The WILD conferences bring together women already active in disability rights for a three-week program to learn how to: use the media, implement policy and legislation, network, and improve employment and educational opportunities. Women with diverse disabilities from 80 countries – primarily in Africa, Asia and South America – have participated in WILD conferences with the trademark theme "Loud, Proud and Passionate." This year more than 400 women applied for the 30 slots. Due to difficulty in obtaining visas, only 26 of the women selected were able to attend.
"We come from a cross-disability perspective," says Sygall. "For example, people who are deaf need to fight for people with wheelchairs. We can't be fighting separately."
She says she considers it a privilege to be around the women and "the work they are doing sometimes in amazingly difficult situations."
Sally, who has epilepsy, came from Zimbabwe to attend this year's conference. Reacting to the vision of epilepsy as "a curse, a shame in our society," she and other young people in her country created a group called EpiAction to educate people that epilepsy is a medical condition.
Another participant this year, Yusdiana from Indonesia, has been active in a network that focuses on disability and elections in Southeast Asian countries.
"We ask for accessibility in elections," says Yusdiana, who uses a wheelchair. "We ask them to provide Braille ballots for blind voters so they can vote independently and secretly. We ask for voting areas with no barriers. … Also, we encourage people with disabilities to become candidates."
At WILD Yusdiana says she found a new passion – education inclusion. Previously she thought inclusion was permitting students with disabilities to attend regular schools. But she says a visit to Linn Community College during her visit to Oregon was eye-opening. "It made me understand what inclusive education is. I saw teachers understand how to support students, and I saw tools so children can really sow all their potential. After that I want to be a teacher – to be someone who understands inclusive education."
WILD conferences have been funded through the United States Agency for International Development, as well as by MIUSA, a grant from Open Society Foundations, and Eugene/Springfield businesses and families.
All six WILD conferences have been held in Eugene, which Sygall calls a model of accessibility. Eugene buses were accessible even before the Americans with Disabilities Act. Eugene's challenge course and rafting program, both of which WILD participants used as team-building activities, are accessible to people with disabilities. When TBI completed its new synagogue in 2008, it was not only LEED compliant (eco-friendly) but also extremely accessible, with elevators, bumps
marking the transition from sidewalk to street or parking lot and ramps on both sides of the bimah.
"I was on the accessibility committee," says Sygall. "TBI clearly values the environment and accessibility."
TBI's Rabbi Yitzhak Husbands-Hankin met Sygall when she first moved to Eugene and he worked in disability rights advocacy. They became close when Sygall and her partner, Tom Broeker, joined the moshav (cooperative Jewish retreat center) Husbands-Hankin and his wife, Shonna, founded south of Eugene in 1983. The rabbi agrees that TBI values accessibility: "The seeking of shleimut – wholeness as a community – is a value that is expressed through our commitment to work toward accessibility. If individuals who have disabilities are marginalized or, even worse, excluded or embarrassed by our shortcomings in accessibility, we diminish the wholeness of our community. Additionally … to remove barriers that limit the participation in society of people with disabilities is an act of tikkun olam – rectification of the world."
Those values have prompted TBI to open its doors to some of the WILD sessions, provide host families for some of the WILD participants and host the premiere exhibit of "Brilliance and Resilience," 30 images of, and vignettes by, past WILD participants. The exhibit includes photos by internationally known photographers Darcy Kiefel, Brian Lanker and Paolo Giantruco. Kiefel donated her talent again this year to create portraits of this year's participants.
"The exhibit brings attention to the power of disabled women activists and the work they are doing around the world," says Sygall, who hopes it will become a traveling exhibit and ultimately a book.
"This can be a vehicle for social change," she says. "We want young disabled girls to grow up with a strong sense of who they can be and to have strong, disabled women as role models."
Husbands-Hankin likewise praises the exhibit: "In reading the narratives that accompany the stunning photos of women who have participated in the WILD conferences, it is clear that these women have suffered from horrible injustices in their countries. … This exhibit is a precious opportunity to awaken new levels of awareness both about the urgency of working for human rights for people with disabilities as well as to recognize and celebrate the heroic efforts and accomplishments of these women."
Husbands-Hankin also praises Sygall. "I admire and wholeheartedly respect the work she is doing to elevate the human condition globally. She is a brilliant organizer with a warm and fun-loving demeanor. Her work is passionate and visionary, fueled by her yearning to make the world a more humane place. Her parents, of blessed memory, were inspiring survivors of the Shoah who modeled for Susan a positive, confident strength and an ability to overcome whatever challenges life might present."
Sygall says the Holocaust interrupted her parents' education and neither finished high school, though her father was self-taught in nine languages. In 1938 her mother, Lisa (Koenig) Sygall, won a bronze medal in the Austrian figure skating championships and went on to place 12th in the world championships. She fled to Britain, where she became a volunteer on a fire brigade that put out fires in London during the war. Her father, Michael Sygall, lived along the Polish/Russian border. The couple met in London, married and moved to the United States.
Husbands-Hankin adds, "When Susan was severely injured as a young woman, those qualities helped her to find her pathway through the most difficult times. She took up the challenge to utilize her personal experience of disability for the transformation of the social conditions that add so greatly to the challenges of the physical disability itself."
Sygall's vision has been widely recognized by others over the years. She won the MacArthur Fellowship, nicknamed the Genius Grant, in 2000; the President's Award in 1995; Women of Valor Award, TBI, 1995; Disabled Oregonian of the Year, Oregon Disabilities Commission, 1994; and many other awards. She was named to the group of Women to Watch by Jewish Woman Magazine in 2001, and in 2011 she was awarded an honorary doctorate from Chapman University.