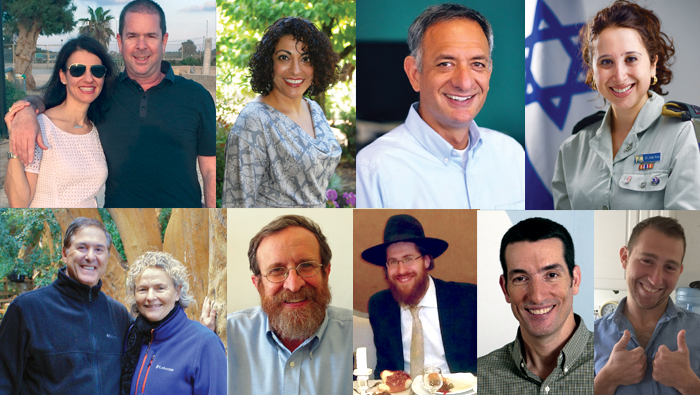 Aliyah rates from the United States to Israel are soaring and Israelis living in the states are at an all-time high.
According to the Israel Central Bureau of Statistics, 140,488 North American Jews moved to Israel from 1948 to 2013. After a surge in aliyah numbers following the Yom Kippur war in 1968, numbers decreased in the 1980s and '90s.
In 2002 Nefesh B'Nefesh was founded to revitalize North American aliyah with the first chartered flight taking olim to Israel that summer. In 2008 NBN and the Jewish Agency for Israel entered a strategic partnership creating a "one-stop-Aliyah-shop" for North Americans making aliyah. North American aliyah rose to 3,762 U.S. and Canadian Jews arriving in the Jewish homeland in 2014.
Israelis have also been moving to North America. Huffington Post and The Times of Israel blogger Adam Milstein writes that some Israelis now make America their permanent home.
We recently receive an email from Adam inviting us to explore his blogs "on issues of central importance for the U.S., Israel, U.S.-Israel alliance and the Jewish people."
"In my capacity as the national chairman of the Israeli-American Council, I am proud to be a part of an effort to engage, organize, and mobilize an estimated 1 million Israeli-Americans all across the United States," he wrote in a recent email.
"For decades, those of Israeli descent living in America kept their suitcases packed," wrote Adam. "We always thought that we would return to Israel one day. Yet, this mentality is changing. Like never before, we are embracing an Israeli-American identity, rooted in the idea that America is our home, but that Israel will always be our Jewish Homeland – and strengthening both countries as a result."
Our cover story this month looks at one family of Israelis who now call Oregon home. Josh and Elana Einstein brought their three children – Shira, Nimi and Adi – to Portland 16 years ago. "Israel is my birthland and being Israeli continues to be a huge part of my identity," says Shira. (See Shira's story, page 20).
In honor of Yom Ha'atzmaut and to put a face to the ties between Oregon and Israel, we present the following mini-profiles as a small sampling of other Israelis who have made Oregon their home and Oregonians who have made aliyah. Each profile includes a Q&A with replies edited for brevity and clarity.
Israelis in Oregon
ESTEE & RANY RAVIV
Estee and Rany Raviv left Israel in 2001 and moved to Reno, NV, where Rany was working as an expat of an Israeli company. In 2007 Rany was recruited by Iberdrola Renewables, located in Radnor, PA. They moved to Lake Oswego in 2008 when Iberdrola was acquired by Portland firm PPM Energy, Inc.
The couple has three children, daughter, Orian, 18; and sons, Roy, 16, and Carmel, 8.
What brought you to your new home?
We were initially attracted to Lake Oswego because of the schools. Orian graduated from Lakeridge High School in 2015 and now attends USC in Los Angeles. Roy (10th grade) and Carmel (2nd grade) attend Lake Oswego public schools. Every summer we go back to Israel to visit family and friends.
How are you making a difference or contributing to your adopted home?
Both Estee and Rany are members of the Oregon Angel Fund – a community supported, professionally managed, investor driven angel fund. Founded by Eric Rosenfeld in 2007, the fund provides investors access to promising startups and early-stage growth companies in Oregon and SW Washington. OAF's active members collaborate in small teams to research, select and manage the portfolio of investments. Rany is a member of OAF's investment committee and Estee is involved with the Women of OAF. Additionally, to share her love of cooking and healthy food, Estee has a vegan food blog, esteeskitchen.blogspot.com, and is in the process of finalizing a vegan cookbook. The book will Estee is self-publishing her book, to be named Oy Vey Vegan, via Kickstarter, kickstarter.com/projects/114421387/oy-vey-vegan-vegan-cookbookublishing her book via Kickstarter, kickstarter.com/projects/114421387/oy-vey-vegan-vegan-cookbook
DORICE HORENSTEIN
Raised in Kfar Sava, Israel, Dorice has called Oregon home since 1986. Dorice and her husband, Bob, have three children, Hadas, Matan and Yariv.
The family belongs to Congregation Shaarie Torah, where Dorice is the education director. Dorice is also active at the Jewish Federation of Greater Portland, where Bob is the community relations director.
What brought you to your new home?
My dear husband, whom I met on an apple picking machine in Kibbutz Kvutzat Shiller near Rechovot during my army service.
How are you making a difference or contributing to your adopted home?
When I came to Portland, I wanted to teach and impart my love for Israel and the Jewish people. I began by teaching Hebrew in different synagogues. Then the principal of Portland Jewish Academy asked me to join the teaching staff at PJA.
For the past 14 years I have worked at Congregation Shaarie Torah in the education and programming department. I also was privileged to bring groups to Israel in 2005, 2008 and 2011!
Have you received special recognition for your work or involvement?
I run an alternative family High Holy Days service at Congregation Shaarie Torah and was awarded the centennial Schechter commendation for innovative service.
We won a USCJ award for our innovative virtual program with an Israeli school in Jerusalem.
Oregonians in Israel
RONY LERNER
and made aliyah in 1984. He studied computer science at the Technion in Haifa and served eight years in the Israel Air Force, retiring as a major.
In 1997 he and his wife, Marta, and their children moved to Irvine, CA, with an Israeli company that had a business partnership with Ernst & Young.
In 2009 the family moved to Portland. Rony was a vice president at Tripwire for six years before joining local startup Cedexis, where he is VP of engineering and IT operations.
Rony and Marta live in Forest Heights. Their oldest son Tom works as a TV producer in Los Angeles; daughter, Kim, is spending a year in Israel volunteering with Masa, after graduating from college in San Diego. Their youngest, Itay, is a junior in University of Oregon.
What brought you to your new home?
I came to Oregon because of work and stayed because of the people. The people, culture and city welcomed us and made us feel like Oregonians. We got more rain our first year here than all the years in Israel and California combined, but that is a small price to pay to live in this beautiful place.
How are you making a difference in your adopted home?
I am still very connected to Israel since my parents and other family are still there. I loved the opportunity to participate in the Oregon Israel Business Alliance because it connected my passion and love for Israel and my adoptive home in Portland. I participated in one of the OIBA delegations to Israel to promote the "Silicon Forest" to Israeli companies. I am still in contact with members of the delegation and the contacts in Israel.
LT. LIBBY WEISS
Growing up in Portland, Libby Weiss attended Portland Jewish Academy and Congregation Neveh Shalom. Her parents, Chana and Jonathan Weiss, and sister, Tammy Weiss, still live in Portland.
After earning her bachelor's degree in political science from Northwestern University in Evanston, IL, Libby made aliyah in 2010. She now lives in Tel Aviv. She is studying for an MBA though the Kellogg School of Business at a program in Tel Aviv University. She will soon be a captain in the Israel Defense Forces.
What brought you to your new home?
My parents are originally from Israel and I always felt a strong connection to the country – to the culture, history, language and people. I quickly fell in love with the culture, as well as felt a strong connection to my personal history in the country.
How are you making a difference or contributing to your adopted home?
Today I serve as the head of the North American Media Department in the IDF. I have the distinct honor of being a spokesperson for the military, and to work with the most recognized news outlets in the world. I have had the privilege of doing this work during operational and routine times, as well as part of the IDF humanitarian delegations in the Philippines in 2013 and Nepal in 2015. The work is extremely challenging and rewarding, and allows me to help strengthen the connection between Israel and America.
Have you received special recognition for your work?
In 2014 I was awarded the Presidential Award of Excellence from President Shimon Peres, awarded to 120 soldiers and officers in the IDF each year.
NOMA FLOOM & DAVID MARCUS
Noma Floom and David Marcus lived in Portland before moving to Israel in the summer of 1987. Noma attended Hillel Academy and the couple belonged to Congregations Neveh Shalom and Shaarie Torah. Noma's mother, Lily Floom, and brothers, Tobin and Jay Floom, and their families still live in Oregon.
Noma and David live in the town of Kfar Saba. They are the parents of Barry, Mira and Rivi Marcus and the grandparents of Dan Marcus, and Nataly and Ethan Lavie.
What brought you to your new home?
Pure Zionism – a window in history to contribute to the great Jewish experiment. My father fought in the War of Independence, one of the highlights of his life, so it was in our blood.
How are you making a difference or contributing to your adopted home?
I am partner in a boutique law firm (BFP & Co.) that advances the "Start-Up Nation." I've worked with hundreds of Israeli start-ups, venture capital funds and investors providing employment for Israelis and sending Israeli technology and innovations around the world.
David's leadership and volunteer roles include serving as president and chief fundraiser for our local Conservative synagogue. After a successful career as an in-house legal counsel for multi-national firms, David is now the CEO of Own the Zone Sporting Goods, the maker of EcoGRIP. Our children all served in the IDF.
Have you received special recognition for your work?
David has pioneered Eco-Judaism in Israel including a solar "Ner Tamid" and a successful campaign to eliminate plastic bags.
SHAUL STAMPFER
Born in Atlanta, Shaul Stampfer moved to Oregon when his father, Rabbi Joshua Stampfer, was hired to lead Ahavai Shalom, which soon merged with Neveh Zedek to become Congregation Neveh Shalom. Rabbi Joshua and Goldie Stampfer, Elana Emlen and family, Carol Stampfer and family, all still live in Portland.
Shaul graduated from Lincoln High School before going to New York City to earn his undergraduate degree at Yeshiva University. He moved to Israel in 1970, earned more degrees and now lives in Jerusalem with his wife, Sylviane. They are the parents of Adina, Tamar, Sarah, Elijah and Shlomo.
He is the Rabbi Edward Sandrow Professor of Soviet and East European Jewry at The Hebrew University of Jerusalem. "By coincidence, Rabbi Sandrow was the rabbi at Neveh (Ahavai) Shalom before my father," says Shaul.
What brought you to your new home?
It is a long story. The only concise way to say it is that I came home and my wife showed me the way.
How are you contributing to your adopted home?
I don't really assume that I make a difference. I think that I receive more than I give.
Have you received special recognition?
The best recognition that I get is love from my family.
RABBI BENJAMIN SINGER
Benjamin Singer was born in Portland, but now calls Israel home.
He and his wife, Gail Singer, are the parents of Zev, Leah, Rivka, Dovid, Yehoshua, Simcha, Reuven, Pinchas Yaakov and Jerry (Levi Shalom), named in honor of his grandfather.
In Oregon, he was a member of Congregation Neveh Shalom. He lived briefly in New York before making aliyah in 2002; he has made his home in Jerusalem since then.
He still has many family members living in Oregon including mother, Sharon Stern; father, Peter Singer; grandmother, Helen Stern; sister and brother-in-law Anna and Eric Kodesch; brother, Jonathan Singer; and many aunts, uncles and cousins.
What brought you to your new home?
The opportunity to study and live in a very special community
How are you contributing to your adopted home?
I head a Kollel (Jewish institution of higher learning) in Ramat Beit Shemesh. This involves teaching Talmud to advanced students and serving as a mentor of sorts.
MYLAN TANZER
Mylan Tanzer, who pens our Oregonian in Israel column, is a Portland native who moved to Israel in 1981. He is the son of "the great late Shirley and Hershal Tanzer, dearly missed by many, many Portlanders and of course by me."
When he was growing up, the family belonged to Congregation Neveh Shalom.
He was the founding CEO of the first Israeli cable and satellite sports channel. Tanzer lives in Tel Aviv with his wife, Yaffa Ben Zur Tanzer, and five children.
What brought you to your new home?
Zionism. I wanted to be a Jew and not need to live in a sub-culture to be one.
How are you contributing to your adopted home?
I am currently a TV and media rights consultant and strategist for the Israeli professional football (soccer) league and also am a senior sales director in the sports and events division for RR Media, a Nasdaq-traded provider of global broadcast and transmission services.Everyone makes a difference here. Things which we are imbued with in Oregon, but in short supply here
Have you received special recognition?
I am pretty well known in television and media, especially in sports media.
AVI BERNE
Portland native Avi Berne made aliyah in 2014.
Growing up in Oregon, he attended Portland Jewish Academy through fourth grade and was a member of Congregation Shaarie Torah. He also participated in NCSY and Young Judaea, participating in a Young Judaea gap year program in Israel after high school. Most of his family still lives in Portland, including parents, Keith and Rosalie Berne; grandparents, Lee and Frank Berne; aunts and uncles, Craig and Jan Berne, and Steve and Peggy Berne; and cousins in the Berne and Fenton families. His sister, Arielle, graduates from the University of Colorado this month.
Avi now lives in Herzliya, on Israel's central coast near Tel Aviv.
What brought you to your new home?
I grew up in a family that taught the love of Israel (my parents met and married in Israel) and going to YJ camps. I have a strong Jewish identity connected to the land. Israel is historically and Torah/Talmudically our home. Archeology proves it is our homeland.
I come from a family that lost people and suffered in the Shoah. Now we have an army to defend ourselves. I feel a responsibility as a Jew to go and serve in the IDF and protect Israel and the Jewish people.
How are you contributing to your adopted home?
I am a paratrooper in the IDF – defending the country and people.