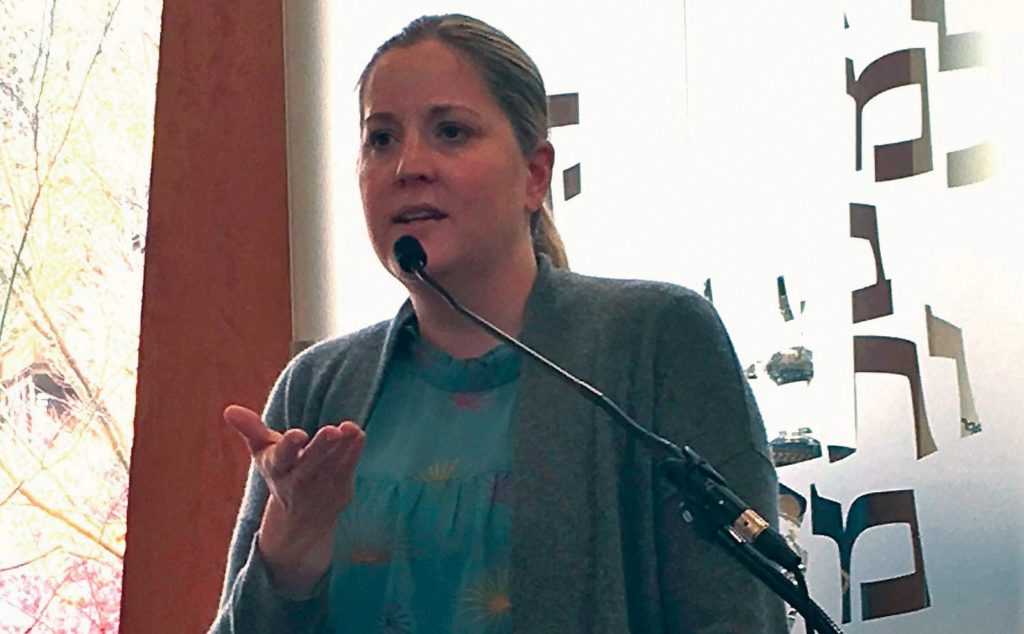 About 25 Wondering Jews gathered one November evening to learn how to stay out of the clutches of scammers.
Part of the Oregon Department of Justice's mission is to prevent fraud and protect Oregonians. The DOJ is led by Ellen Rosenblum, the state's first Jewish and first female attorney general. In November, her Director of Consumer Affairs Ellen Klem came to Neveh Shalom to teach seniors what to avoid. Wondering Jews is Neveh Shalom's seniors group that hosts guest speakers at Congregation Neveh Shalom during the rainy months and organizes visits to area attractions during the summer. The group is open to all seniors in the community.
"The audience was awesome," says Klem. "They were very engaged and eager to learn. I had a blast."
Klem gave seniors a flyer (see box) to remind them when to hang up the phone to avoid becoming victims of fraud.
"It was fantastic," says Daniela Meltzer, Neveh Shalom's membership and community engagement director.
Klem also told the seniors six signs to identify a scam.
"If you remember anything from this presentation, please remember Sign No. 4," she said. "If somebody asks you to wire money or buy a prepaid card, 100% of the time – it is a scam."
The six signs are: 1: Scammers Contact You "Out of the Blue." It could be a knock on the door, a phone call a piece of mail or an email you weren't expecting. For example, you didn't think you owed the IRS or a debt collection agency money, but they called claiming you could be in trouble if you don't pay.
2: Scammers Claim There Is an "Emergency." A scammer might warn that if you don't respond immediately your prize winnings will be lost, or that a relative or friend is in trouble in a foreign country. If something prompts immediate action, be cautious.
3: Scammers Ask for Your Personal Information. Scammers often pose as banks, health care providers and government officials asking for identifying personal or financial information.
Anytime someone asks you for this information, be suspicious! 4: Scammers Want You To Wire Money. You may be asked to wire money or purchase prepaid debit cards. This is the easiest way for scam artists to get their hands on your money, and it's almost impossible to get it back once it has been sent.
Don't do it! 5: Scammers Tell You To Keep It "Secret." By asking you to keep a transaction secret, scammers know you won't have to respond to questions from family and friends who might see through the scam. Check with someone you trust before acting.
6: Scammers Make It Sound Too Good To Be True. If it seems too good to be true, it probably is! Use this simple mantra to help you detect and avoid scams. It's always better to be cautious than to be a victim.
For more information on scams or to file a complaint contact the Oregon Department of Justice online at oregonconsumer.gov or call 1-877-877-9392.
IF THE CALLER…
Asks you to wire money or buy a prepaid card
Says you have won a prize or a gift, but you need to pay fees or taxes first
 Asks you to visit websites or download software
Asks for usernames, passwords, account numbers or your home address • Says the offer is only good for today
 Asks you to keep the call a secret…
JUST HANG UP!