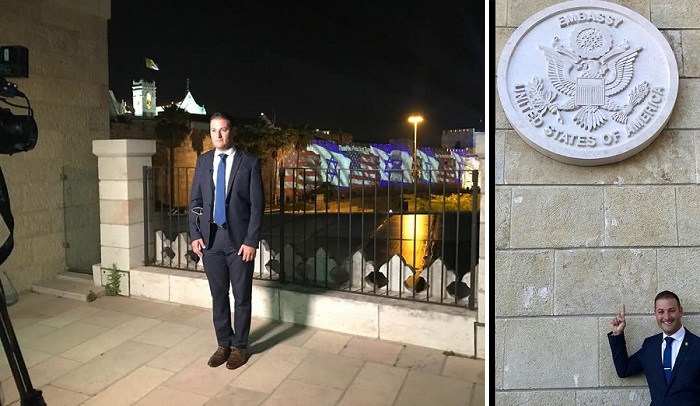 PHOTOS: StandWithUs Israel Executive Director Michael Dickson is interviewed near the new U.S. Embassy in Jerusalem. At right he points to the new embassy emblem.
The following is a press release from StandWithUs, which was featured on the cover of the April issue of Oregon Jewish Life:
Michael Dickson, executive director of StandWithUs Israel, represented StandWithUs at the opening of the U.S. Embassy in Jerusalem May 14, 2018.
SWU unambiguously supports the May 14 dedication of the new United States Embassy to Israel, in Israel's capital Jerusalem.
"Moving the Embassy to Jerusalem formally acknowledges what has already been true for a long time," said Roz Rothstein, CEO of StandWithUs. "Jerusalem has been the most important city to the Jewish people for over 3,000 years. The US Embassy's move to Jerusalem is an example of a historical acknowledgement that everyone should celebrate. It is also nothing new: it has been US law since 1995 that Jerusalem should be recognized as the capital of the State of Israel and that the U.S. Embassy should be moved there from Tel Aviv."
"We hope that Palestinian leaders will use this historic moment to return to the negotiating table. We also hope other countries in the region will accept reality and work together with Israel to achieve a just, lasting peace," Dickson said.
"In recent times, the deeply interwoven connections of Jewish history and civilization with Jerusalem have been challenged in a politicized attempt to erase the Jewish connection to Jerusalem from the annals of the history. By moving its embassy to Jerusalem, the US sends an unambiguous message of opposition to this cynical attempt to rewrite history and deny Jewish history, civilization, and religion," concluded Dickson.
"We applaud the decisions by the governments of Guatemala and Paraguay to move their embassies to Jerusalem later this month," Rothstein said. "We further encourage Honduran President Juan Orlando Hernández to implement the resolution passed last month by the Honduran National Congress to relocate its Embassy to Jerusalem. We also support Czech Republic President MiloÅ¡ Zeman for his efforts to move the Czech Embassy to Jerusalem."
Since King David made Jerusalem his capital in the 10th century BCE, Jerusalem has been the geographical center of the Jewish people. For centuries it was the capital city of Jewish kingdoms, the location of Judaism's holiest sites, and the historical focus of Jewish political life. Jerusalem is revered by Jews, Christians, and Muslims, but only under Israeli rule has there been full religious freedom and access to holy sites for all three religions.