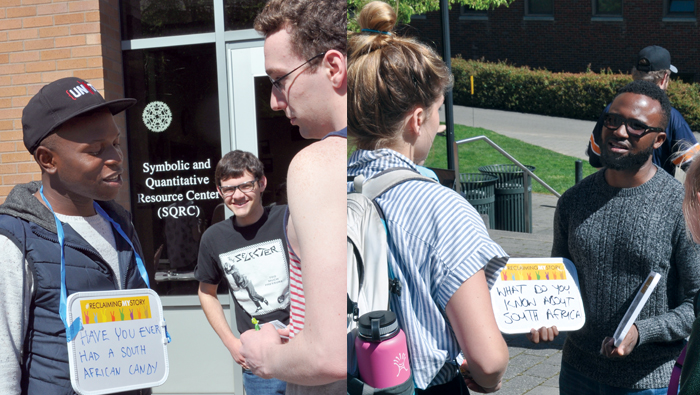 Calling Israel an apartheid state is an injustice to both Israel and South Africa; that's according to two black South African students who visited U.S. campuses this spring, including two in Portland.
Klaas Mokgomole and Jamie Mithi were accompanied by Jewish South African Benji Shulman from the South Africa Israel Forum. Over the past year SAIF has led three trips for young leaders to see the political situation in Israel for themselves. The pro-Israel advocacy group StandWithUs sponsored the U.S. campus tour.
Klaas, a former supporter of the Boycott, Divest and Sanction movement against Israel, says he now believes the BDS movement has "hijacked our narrative." He says when black South Africans hear about apartheid elsewhere, they are easily incited to oppose it.
"My parents grew up under apartheid," he says, adding apartheid laws limited education options, forbade intermarriage and did not allow blacks to go to the same beaches or ride the same buses as whites.
So when SAIF offered him a free trip to Israel, he accepted, even though he thought it would be a propaganda trip. He was surprised when he was allowed to go where he wanted and talk to whomever he wished.
After visiting Israel, he realized, "Every country has injustices, but it doesn't amount to apartheid." In Israel, Jews and Arabs attend the same universities and ride the same buses.
"There are not laws about what Jews can do and Palestinians can't," he says.
After returning from Israel, Klaas helped found a new organization called Africans for Peace, which helps educate people about the conflict. He says his primary goal in speaking out is to encourage students to think for themselves and not blindly accept what one group tells them. He hopes that by giving people a sense of the issues facing each side, he can help encourage engagement rather than boycotts.
Jamie, a law student at the University of Witwatersrand and a highly ranked international student debater, participated in the SAIF trip because he debates on the issue of two states or one state, and he wanted to see the nature of the conflict for himself.
"Basically you have two different peoples who identify with two states," Jamie says. "You may need enhanced security when you deal with hostile neighbors."
Noting he needs a passport to visit the United States, he says it is not abnormal for Palestinians from the West Bank entering Israel to need ID papers.
"It's not the greatest solution, but it's not apartheid either," he says. "At the microscopic level that leads to living conditions that can be undesirable."
Benji says that in South Africa, the Israeli-Palestinian conflict is presented very simplistically. He says most of the young leaders SAIF has taken to Israel return with an understanding of the complexity of the issue. The visit to U.S. campuses enables them to share that understanding in a way that is authentic.
"South Africa is often evoked on this issue without being represented by South Africans," says Benji. "South Africans are able to reach out to minority students and engage with them on this issue in a way they can appreciate."
Benji says it is offensive to South Africans to have "our people's suffering being used for a radical agenda."
The South Africans spent a couple of hours at Lewis & Clark College and at Portland State University on March 31 and April 1, where they "tabled" to engage students walking by common areas. Each evening they spoke at organized gatherings to share their stories.