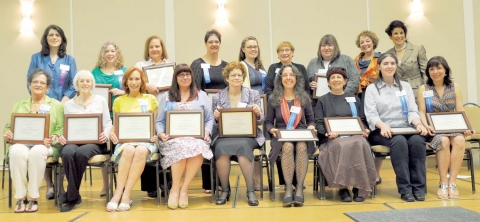 More than 300 people turned out June 3 to honor 18 women at the Jewish Women's Round Table's annual Song of Miriam Award Brunch to celebrate the contributions volunteers make to Jewish organizations.
JWRT President Ellen Beck thanked the record crowd for honoring "those who do so much for our community."
"Without their continuing commitment many of these organizations would not exist or have the strength and depth they do," she added.
JWRT is a group of women representing organizations and congregations in Oregon and Southwest Washington. Its mission is to strengthen the Jewish community by honoring the excellent work of women volunteers and bringing the community together to celebrate Jewish life.
The 20th annual brunch was held at the Mittleman Jewish Community Center.
This year 19 organizations (two organizations named the same woman) from across the region named honorees and provided rich vignettes on the contributions the women have made to Jewish life.
For more information on JWRT and a list of all past honorees, visit www.jwrt.org.
_____________
Caption: Song of Miriam honorees for 2012 are, from left (seated): Teri Giangreco, Enid Beck, Miryam Brewer, Debra Rycus Brown, Barbara Enkelis, Lynn Taylor, Carol Glauber, Rachel Pollak and Dena Gutterman, and (standing) emcee Barbara Barde, Melissa Cohen, Connie Cambreleng, Sheila Weiner, Lauren Fortgang, Miriam Greenstein, Roberta Hellman, Dale Oller and emcee Kim Rosenberg; and not pictured: Barbara Cohen and Miriam Levitt.