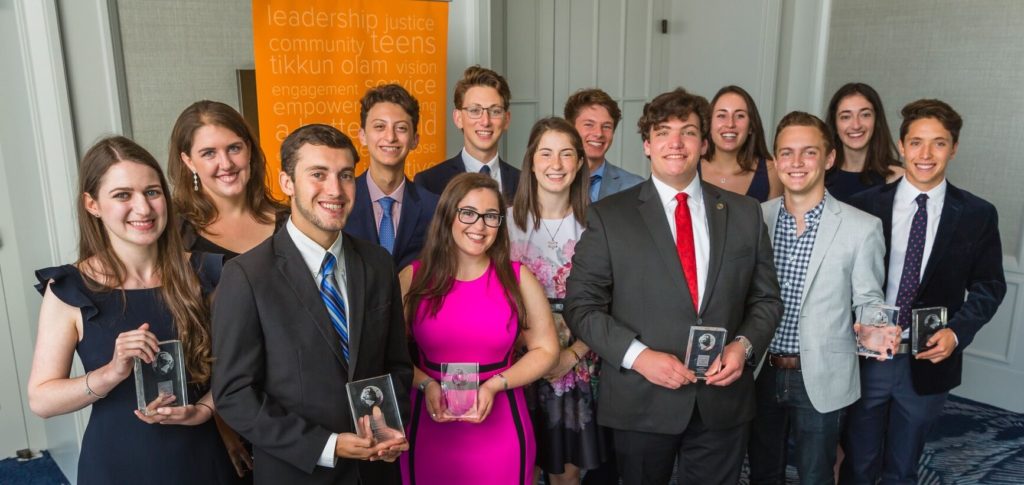 PHOTO: Portland teen Michael Ioffe, back row in glasses, was one of the 2017 recipients of the Diller Teen Tikkun Olam Award.
Jewish teens involved in social action projects are eligible for $36,000 awards from The Helen Diller Family Foundation. Nominations are now being accepted for the 2019 Diller Teen Tikkun Olam Awards. The program recognizes 15 Jewish teens annually with $36,000 each to support an ongoing social justice project or to further their education.
The Diller Teen Tikkun Olam Awards were the vision of Bay Area philanthropist Helen Diller, who sought to recognize the next generation of socially committed leaders whose dedication to volunteerism exemplified the spirit of tikkun olam (repair the world). More than $4 million has been awarded since 2007 to 114 teens in recognition of their vision, innovation and leadership.
In 2017, a Portland teen was one of the winners. Michael Ioffe, then 17, created TILE (Talks about Leadership, Innovation and Entrepreneurship), a nonprofit structured to bridge the resource gap for underserved students by offering them free monthly speaker series on innovation, leadership and entrepreneurship. As of July 2018, TILE had more than 300 locations in 46 countries and was growing by a rate of five new chapters per week, making it one of the world's fastest-growing nonprofits. The TILE community has grown to more than 1,000 chapter leaders. More than 500,000 students are expected to attend a TILE talk in the coming year.
Awardees have been recognized by some of the world's foremost institutions and leaders, including the United Nations Foundation, the White House, the Clinton Global Initiative, Forbes 30 Under 30, The Jefferson Awards, CNN Heroes and the Nickelodeon HALO Awards.
This call for nominations offers the opportunity for educators, civic leaders and teen mentors to acknowledge Jewish teens who are actively working to create meaningful change in their communities and the world.
As many as five teens from California and 10 from other communities nationwide will be acknowledged for demonstrating exceptional leadership and impact in repairing the world. Those interested in nominating a teen, or any teen interested in applying directly, should visit dillerteenawards.org to begin the nomination or application process. The nomination deadline is Dec. 18, 2018; all applications must be completed by Jan. 8, 2019.