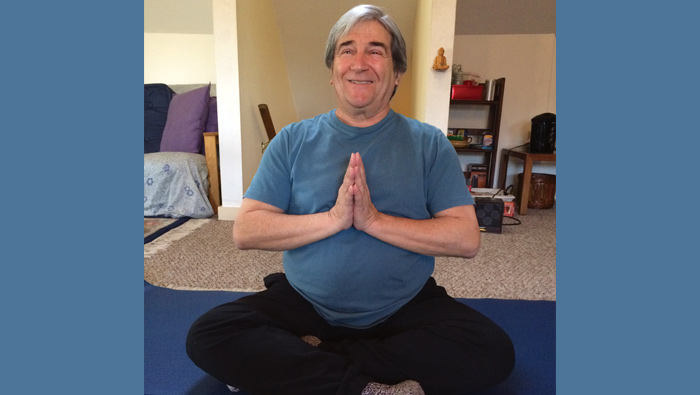 The yoga teacher on the top floor of the house-turned-office building on East Burnside takes his Buddhist practices very seriously. He meditates one hour a day. He is "mostly" vegetarian, uses no drugs (although he enjoys an occasional glass of wine) and is committed to what he calls "a good moral life." He is 75 years old and has been teaching yoga since 1976.
He is also a really nice Jewish guy.
"The yoga philosophy I follow is based on moral principles similar to those of Judaism," says Simon Menasche. "Some of the strongest statements in Judaism sound remarkably like some in Eastern philosophy. Meditation is the equivalent of Jewish prayer, just a different way of approaching the divine. The Judeo-Christian (view) is more dualistic: there's God and there's you, and God is all powerful. The Eastern belief is that you merge with the Being; there is no separation.
"I feel very Jewish," he adds. "I don't feel like I've left Judaism. I am Jewish emotionally, culturally and ethnically. But the Asian part of my life is very important."
Simon's family fled Hitler from the Isle of Rhodes in 1938. They ended up in Zimbabwe, then known as Rhodesia. "They were on a boat with many others, going around the coast of Africa," Simon explains. They knew that other refugees were already in Zimbabwe, so that's where they got off.
He remembers that they led a good life, a "privileged life as white people in Rhodesia." His father spent most of his time in the garment industry. His mom stayed at home as well as serving as the secretary for the local Sephardic Jewish community.
When Simon was in his early 20s, however, the world beckoned, and he decided to give Israel a try. And so his own journey began. (Years later, his parents fled the revolution in Rhodesia and settled in Israel, as well.) Simon's first stop was The Beth Hashita kibbutz in the north of Israel, where he studied Hebrew in the mornings and worked in the fields and the olive refinery the rest of the day. There he met a woman from Detroit who was also experimenting with kibbutz life. They fell in love and, when she was ready to go home, he went with her. This was, he says, "1964-ish." The two lived in the city and studied at Wayne State University. He applied himself diligently to his studies and began what was to become a lifetime of learning. Yet by his senior year, he says, he lost his interest in academics. He was ready to hit the road again.
The two moved to a commune in eastern Washington called Tolstoy Farm, which was similar to life on a kibbutz but much more rustic. (The farm is still there! Check it out: tolstoyfarms.org.) "We grew our own food, built our own cabins and lived off the grid. It was an insular life, though, and I (became) curious about life outside that environment." He and his wife separated (and later divorced), and he and a few friends moved on, this time to a truly migrant life picking fruit in Oregon and California.
Are you following all this? I told Simon we needed one of those maps of the world and a box of colored tacks to keep track of his journey, because from here Simon followed the advice of a friend who had been studying far eastern philosophy and was going to India to learn firsthand with her teacher. She said, "Come along," and he did. After months of very rigorous study, much of it solitary and contemplative, Simon bounced back and forth between India and the states before coming to the realization that what he really wanted was to be helpful to people, to do things that contributed to society. One route to that, he decided, was to become a massage therapist. The school he wanted was in Portland. And so he moved again.
It was here in Portland that Simon's life of learning kicked in, big time. He got his massage certification in 1970. He became a counselor and began teaching yoga in 1976. He also began to study and to evolve from the Sikh tradition of meditation to the Buddhist Vipassana practice. It is, he says, based on wisdom rather than absorption. "In Buddhism, as in Judaism, there is a social aspect; it is more grounded in humanism." He continues this practice today and he incorporates the philosophy into the yoga classes he teaches.
Simon has no regrets, but he does think that he wants to get more political. "I think that spiritual practice and political activity should be integrated together because the world is in a tough position now. People should not 'navel gaze' all the time!"
Today Simon and his wife of 18 years, Luz Villalba, split their time between their homes in Portland and Hawaii. He absolutely loves teaching yoga and sees no reason to ever retire. "I don't need to take a break because my life is already a break. And it is helpful to people." Simon has four children and two grandchildren, all grown up, and they all have been to his yoga classes. "They like it!" he says.
"What do you say to someone has never tried yoga," I asked him. "When someone thinks they may be too old, too sore, too heavy, too tired, too busy?"
"It enlivens your body and opens your emotions. It relieves stress and opens your mind," Simon says, even as he acknowledges that it may not be right for everybody. He believes, though, that "there is always some niche in the vast panorama of yoga culture that will work for anybody. If you want more athletic, it's there. Devotional, it's there. There is a huge menu of possibilities."
Simon gave me a mini lesson in his style of yoga, a hybrid he developed that is a mixture of contemplation, physical activation and meditation. He calls it by the Sanskrit words "Prakriti" (nature) and "sadhana" (practice/work/discipline.) I was game but am inexperienced, and he reassured me that I would do fine, that there was no right way and no wrong way. He sat me on a mat on the carpet in his light-filled studio and, sitting across from me, guided me through the series of eight introductory steps he uses to warm up each class. His calm voice focused my thoughts on how my hands were touching, or how I was sitting, or the slow movements and the careful breathing.
All I could say when we were done was, "Thank you."
Liz Rabiner Lippoff is a marketing consultant, freelance writer and community volunteer. LizInk.biz