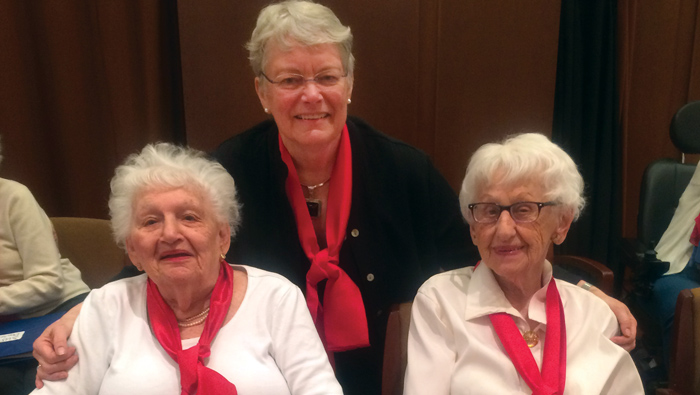 Celebrating its bat mitzvah year of singing success, the Rose Schnitzer Choir will treat attendees at Cedar Sinai Park's June 6 annual meeting to a stirring performance.
"Choral singing is an inexpensive way to help people be healthier, happier and more mobile as they age," says Cantor Barbara Slader, the volunteer director of CSP's Rose Schnitzer Manor's senior choir since its inception.
Barbara, volunteer pianist Barry Lavine, several other volunteers and 25 or more residents gather at RSM every week to lift their voices in song.
"The cool thing is they've found singing in a group lifts everyone who participates, regardless of the quality of their voice," says Barbara. "Music is a universal language of emotion and joy. It is a powerful means of human connection."
A small 2006 study conducted by the late geriatric psychiatrist Gene Cohen found that people aged 65 or older participating in weekly community arts programs, including choir, had fewer trips to the doctor, used fewer medicines, fell less, expressed less loneliness and were more active than control groups.
Now a larger study at the Institute for Health & Aging in San Francisco is exploring the benefits Barbara says she and other choral leaders have seen for years.
"The goal is to provide scientific-based evidence that community arts programs can be used to promote health," cognitive neuroscientist Julene Johnson writes in an article about the study on the University of California San Francisco's Science of Caring website.
The multiyear, National Institutes of Health-funded study will look at 12 community choirs based at senior centers in culturally diverse San Francisco neighborhoods.
Barbara says past studies have shown positive benefits to mental, physical, emotional and social health. "Singing is a boon for everyone, and singing in a group magnifies that. Performing really magnifies the benefits."
Barbara started the RSM choir 12 years ago at the request of resident Malca Muskin, z"l.
Malca's daughter, Portlander Elaine Ball introduced Barbara to her mom when Barbara was seeking music for the Portland Jewish Community Chorus. Malca was the librarian (and founder) of a Jewish community chorus, Shir Shalom, in Grand Rapids, MI. Barbara and Malca stayed in touch for years and met in person at the North American Jewish Choral Festival in upstate New York. When Malca moved to the Manor, she asked Barbara if she would start a choir for the residents.
"My love of Jewish learning and music led me to a third career as a cantor," says Barbara, who had previously worked in teaching and computer marketing.
For 25 years, she has worked as a traveling cantor and teacher, serving congregations in Salem, Vancouver, Bend, Olympia, Spokane, Santa Rosa and Portland. She earned her cantorial ordination in 2003 from Hebrew Union College & the American Conference of Cantors. She has founded and directed adult and youth choirs including the Portland Jewish Community Chorus and the Shaarie Torah Community Chorus.
But when Malca asked her to start a senior choir, she wasn't sure what it entailed. So she went online and found about a dozen senior choirs, most organized by volunteers.
"The first elder choir director I spoke to said, 'Just do it. You can't imagine how glad you'll be,' " Barbara recalls.
"Twelve years ago in June, we didn't know how it would work," Barbara says. But she asked Barry to come play the piano, and the two started looking for music the seniors would enjoy.
"I couldn't have done it without Barry," she says. "At the piano, he is so funny and creative and sparkling. He makes it alive and fun."
RSM Life Enrichment Manager Phoenix Barrow says choir is a big activity at the Manor. In addition to the 25 active participants, other residents often come listen to the rehearsals and sing along when the music is familiar.
"Choir gives residents responsibility, something to look forward to each week and a sense of belonging," says Phoenix. "Choir is carefree, social and fun."
Michelle Gradow, president of Friends of Robison and a choir volunteer says, "Barbara's fabulous! Choir is incredible. Residents love her."
Michelle invited the choir to sing at the Friends of Robison annual luncheon (May 21) and says she looks forward to hearing them again at the CSP annual meeting.
Anyone interested in volunteering with the choir or inviting the choir to perform can contact Phoenix at 503-535-4055 or volunteer@cedarsinaipark.org.