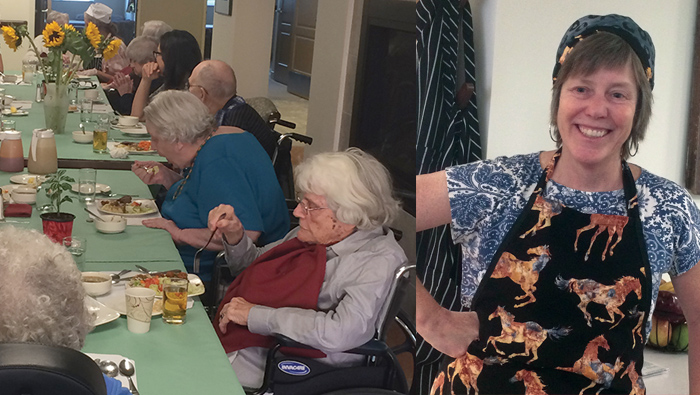 Nobody driving from Raleigh Hills to Hillsdale on the Beaverton-Hillsdale Highway can doubt that there is a whole lot going on at Cedar Sinai Park.
The site is no stranger to new construction. Our community created The Jewish Old People's Home in 1920, we broke ground at the current site in 1954 and members of Sisterhood moved the first residents into the brand new Robison Jewish Home in 1955. The May Terrace Apartments opened in 1981, followed by the Rose Schnitzer Manor in 1998 and the Shlim Wing in 2002. More recently, construction of the Kehillah housing for adults with disabilities drew plenty of attention in 2013, being right there on the highway side of the campus.
The current project, though – two new, beautiful buildings – is much more than a dramatic reshaping of the landscape. The new Harold Schnitzer Center for Living is part of a revolutionary movement called the Green House Project, and while it has nothing to do with growing hot house tomatoes in the dead of winter, it marks the beginning of a whole new paradigm of care for our elders.
The decision to build a new nursing home as well as to remodel the existing building is, according to former CSP CEO David Fuks, "a significant change that is focused on empowering the people we serve, helping them to remain independent and helping them to have the quality of life that they have a right to expect. It grew from CSP's commitment to honor people's desire to live their lives with dignity, personal choice and respect."
"The business of CSP is considerably different than what people would have imagined it to be during the heyday of the old Robison building," he explains. An important survey by the Jewish Federation of Greater Portland reinforced national trends and local anecdotal evidence that showed, Fuks says, "Most people do not want to go into an institution at all, so CSP needed to diversify to allow people to stay home. Sinai Home Care and Adult Day Services are part of that effort. Robison itself needed to shift its focus to short-term rehabilitation to get people back home (after a significant health event). But if people needed 24/7 intensive care because of health considerations or memory issues, it shouldn't be at an 'institution.' It should be in a home where they can live with the comfort and dignity that they were used to."
CSP actually embraced that concept a decade ago by beginning a shift from the traditional "hospital model" to what is called in the industry "patient-centered care." In theory, residents could wake up when they feel like it, eat when they are hungry and spend their days in activities or at rest … whatever suits their abilities and their mood. There were limits to how much that was possible at Robison, however. The double rooms were the first hurdle: you can't really sleep in if your roommate is up watching "The Today Show," and you can't watch Home Shopping Network in the middle of the night if your roommate is sleeping.
The central kitchen and communal dining room were another stumbling block; they meant that meals needed to be served within certain hours, and getting people back and forth all day invariably impacts the time staff can spend on patient care. While CSP did the best they could, training staff to listen to residents and families and adapting their operations to better serve them, it became clear to the CSP leadership and board that, while remodeling Robison and converting the double rooms into singles could turn it into a profitable, state-of-the-art, acute care rehabilitation center, it was not going to be enough to give our community the long-term elder care it deserved. Add to that the fact that the status quo was not a sustainable business model.
Enter the Green House Project, designed to achieve three things: meaningful life, empowered staff and a real home. The first residence opened in 2003 in Tupelo, MS, and today there are 212 Green Houses in 33 states. The one at CSP is the first in Oregon. Each residence is truly a home, with 12 private bedroom/bath units, a large living room with fireplace, a spacious den and a big, open kosher kitchen with a long dining table to seat all the residents, staff, and any family and friends who are invited to join in the fun. When the construction is complete, CSP will have four households for a total of 48 single bedrooms.
Jennifer Felberg is CSP's campus life program director and ensures that all aspects of the program are implemented in all four homes. She is in charge of training the staff as well as helping both residents and staff transition from the nursing home environment to life in a Green House.
She explains that in a traditional organizational chart the administrators are on the top, with lines down to the managers, then supervisors and finally, at the bottom, the people who are actually delivering the care to the residents. In the GH model, the chart is a circle with the resident – who is not on the traditional chart at all – at the center, surrounded by the care staff, called shahbazim (plural of shahbaz, Persian for royal falcon.) Supervisors, administrators, the director of nursing and others form the perimeter of the chart; they give support, not orders, to the shahbazim. The shahbaz job description isn't "make beds," "cook breakfast" or "give medicines," although each does all of those tasks. It is to nurture, protect and sustain the residents. The shahbazim decide among themselves who will do which jobs, which shifts to work and how to resolve conflicts. The residents and shahbazim together decide how the household is managed, what activities to schedule and when, what's for dinner, even whether or not to get a dog.
Between the shahbazim and the administration on the chart is a guide, in this case Jemi Kostiner-Mansfield, who is a combination GH advisor and cheerleader, and a "sage," an unbiased third party who helps the team work through issues without having to go to a supervisor. Charles Jagger, a 14-year Robison volunteer, has completed the training and serves as the first sage. Long-time volunteer Robin Kirsch started training in October to be the sage for the second household. CSP is looking for volunteers to serve as sages in the two remaining households.
Jennifer says this is big culture shift for everybody, but they are making progress, and she can hardly control her enthusiasm. "They ask, 'What time is lunch?' and we ask back, 'What time do you WANT to have lunch?' " she says with a laugh. But she sees encouraging changes. "People who didn't walk much are now walking to the dining room table. They all sit down and eat together, and we see progress in how some are now feeding themselves."
Some improvements are even more significant. "We have two people who were falling almost every day at Robison. One has fallen twice in the three months here, and one has fallen only once," Jennifer says. "Everything is here, in a central family location."
I had a chance to experience the Green House firsthand when I was invited to dinner one night in September. The table was set when I arrived, and I could smell pot roast warming in the oven. I sat between Ellen and Dorothy. There was banter back and forth: pass the salad dressing, do you want more potatoes? Somebody opened a bottle of wine, and Gene tried his darnedest to show us his cork-in-the-bottle trick. Ellen told me that she comes from Massachusetts, moved to Billings and finally came to Portland to live with a friend. We went on to chat about books. Three different women told me they loved living there: their room is beautiful and the people are nice. Tony worked the crowd, encouraging people to eat, joking around and serving root beer floats for dessert. Steve got up to help clear the table. I learned that two of the residents came from the memory care unit at Robison, but I couldn't tell which they were. (I also will not tell you who in this story is a resident and who is a shahbaz.)
Dorothy ate slowly and deliberately, so the root beer floats were all cleared away when she was finished. "Do you want a root beer float?" I asked. No. "How about some ice cream?" She nodded yes. Tony called out from the kitchen, "How about some chocolate sauce?" An enthusiastic yes. I hopped up to bring it to her, and she dove right in. It was a pleasure to watch.
After dinner, Jennifer and I sat in the den where we could still easily hear Colleen playing the piano in the living room, and she shared one of her favorite anecdotes:
Pam never went into the dining room at Robison because it was too much for her: all the activity, all the tables. She ate by herself at the end of the solarium every day. Now she has a place at the table; everybody sits together. It's the first time she's actually had "dining" instead of just "meals" – conversations! – with other residents.
One evening, Natalie and Pam were sitting chatting at the table after dinner and Natalie said, "I think you're my best friend." Pam replied, "I think you're mine. It's nice to have someone you trust."
So! What's up with Robison?
Residents who are still at Robison are a part of the GH experience even as they await their own new, shiny households. Coordination among the GH, Robison and the Rose Schnitzer Manor has meant a full roster of activities despite the construction. Robison residents are invited to the Green House for activities and events, like bingo, crafts, an ice cream party. With fewer communal spaces available at Robison as it undergoes its own renovation, both Robison and Green House residents go across the street to the Rose Schnitzer Manor for activities, events and Shabbat services. There are field trips for Robison and Green House residents. Evidently some mischief makers from the Green House and Robison went downtown together in September to see "The Lion King." They enjoyed the downtown ambiance afterward, had a drink at Huber's and dinner at Fogo Du Chao, and didn't get home until almost midnight. I can't imagine the shenanigans when all 48 Green House rooms are full!
The rooms at the new Robison will be dual-certified, so current Robison residents who do not want to move into the Green House, or for whom there isn't yet space, can live comfortably in the single rooms at Robison. In addition, the staff at Robison and the Rose Schnitzer Manor have already begun extensive training, called CORE, which will segue them to a job description in an organizational chart that more closely resembles that of the Green House model. The goal, says CSP CEO Sandra Simon, is to have the Green House philosophy of real home, empowered staff and meaningful life extend to the entire organization.
"CSP, as leaders in elder care, embraces this innovative model," she explains. "We know that our elders want choice. We also know that committing to the staff training and support this culture change requires puts us way ahead of our competition."
It was also a strategic business decision. A double-room, shower-down-the-hall, decades-old facility cannot compete with more modern facilities for post-acute care patients, and the profits from post-acute care must support the Green House care at the Harold Schnitzer Center for Living. "Over the past five to 10 years we have seen an uptick in the number of new homes being built in our market, and we are facing competition that we did not face in the past," Sandra says. "By investing today in this model, we will continue to be a center of excellence for elder care – Portland's first choice when thinking of nursing home care – and also have a sustainable business model with a viable future. All of this ties into our organizational values and makes perfect sense for us."
Of course, for now it is still a construction zone.
"The Talmud says, 'All beginnings are hard,' " quotes Ivan Gold, former chair of CSP's Quality Management & Corporate Compliance Committee. "Our work to begin a new Robison Home has been a good example. Construction is on time and on budget, but it has disrupted daily life for some of our residents. Some are jubilant in their new modern Green House homes, but some are still in Robison's outdated facilities. The synagogue is being rebuilt, so it's temporarily gone. The dining rooms and kitchen are being totally redone." Committees composed of staff, residents and family members are identifying issues and working together on solutions.
Paul Sonnenschein is the current QMCCC chair. "Sandra and her team are working incredibly hard to minimize the impact on residents and their families and to maintain the highest standard of care and support." Paul appreciates everyone's patience and understanding during this period of growth and change.
The Green Houses at the Harold Schnitzer Center for Living will have their grand opening in February 2017, and CSP will host celebrations galore when the shiny new Robison opens in February 2018.
Liz Rabiner Lippoff is a marketing consultant and has been a freelance writer for Oregon Jewish Life since its first issue. She currently serves as president of the Cedar Sinai Park Board. LizInk.biz