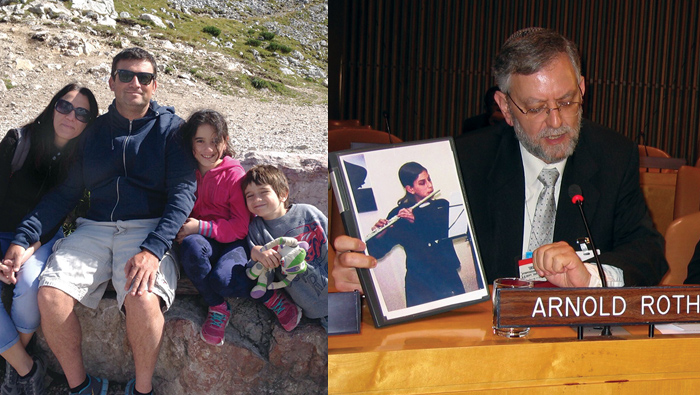 Brian Suher and Arnold Roth share a connection no one wants to have – they both lost loved one's to a terrorist bomb.
Arnold Roth, whose 15-year-old daughter was killed in a 2001 bombing in Jerusalem, seemed a natural choice for the first Yoni Suher (z"l) Memorial Scholar-in-Residence program, according to Yoni's uncle, Brian, currently a member of Congregation Neveh Shalom's board.
Born in Portland, Yoni was one of three Israeli tourists killed in a terrorist bombing in Turkey in March.  The father of two was on vacation with his wife, Inbal, to celebrate his 40th birthday. Inbal was also wounded in the attack and spent nearly 30 days in the hospital.
Roth will present a series of talks Nov. 11-13 at Congregation Neveh Shalom (see box). The weekend is sponsored by the The Stan and Ethel Katz Briller Jewish Education Fund in memory of Yoni Suher (z"l).
"We don't imagine terror will be the only topic in the future," says Brian. "Future programs will look at timely topics. This year we are starting with Arnold Roth, a knowledgeable, involved speaker who brings a different perspective. Nobody seems to have answers on a global basis."
Following Malki's murder, Roth and his wife, Frimet, immersed themselves in researching, writing and speaking about terror. The couple jointly blog about This Ongoing War (thisongoingwar.blogspot.com). Roth has written and spoken extensively about terrorism's impact. He has been an invited speaker at the United Nations and the US Congress.
But this inaugural year will also reach beyond terrorsim and include a lecture by Roth on one of his other interests.
"He's very involved with chesed, Jewish values," says Brian of Roth. "We wanted to share his interest and mission to work with families with severely disabled children and find alternatives to institutionalization."
As a memorial to their daughter, the Roths created Keren Malki, the Malki Foundation, in September 2001. It provides substantial practical support to thousands of Israeli families (Christians, Moslems, Jewish and Druze) who choose to care at home for their special-needs child rather than hand the child off to institutional care.
Yoni's father, Randy Suher, was a member of Neveh Shalom. Yoni's grandmother and Brian's mother, Ethel Suher, was a longtime director of the congregation's Foundation School; she now lives in Seattle. Yoni was born in Portland.  The family were members of Neveh Shalom, but moved to Israel when Yoni was 1.
Brian's family has long been active in Portland's Jewish community. His father, Ted, z"l, served as president of Neveh Shalom. Brian, who is married to Barbara Atlas, has one son and two step-sons. His stepson Walker Clark is active with the Oregon Jewish Community Foundation and Neveh Shalom.
When Brian heard of Yoni's death, he the first flight he could get on for Israel. He says Neveh Shalom Rabbis Daniel Isaak (emeritus) and David Kosak asked if he wanted to have a memorial service in Portland when he returned, but "I asked if we could think of other things.
"I talked to the family and we decided this (memorial lecture) was a much more meaningful way to move into the future," says Brian. Since the family has a deep commitment to education, "Bringing a scholar and helping us all be more enriched was our solution."
Scholar-in-Residence Weekend
SCHEDULE: Nov. 11 & 12 (Shabbat services): Terrorism Through the Eyes
of the People it Impacts; Personal and Communal Reflections.
Nov. 12, 7 pm: Out of the Screaming Silence: In the Crosshairs of the Terrorist's Weapons.
Nov. 13, 3 pm: Keren Malki Foundation.
Expanding options in home health-care for families with severely disabled children. Healthcare professionals, social workers and parents are encouraged to attend.
WHERE: Congregation Neveh Shalom, 2900 SW Peaceful Lane, Portland.
CONTACT: 503-246-8831