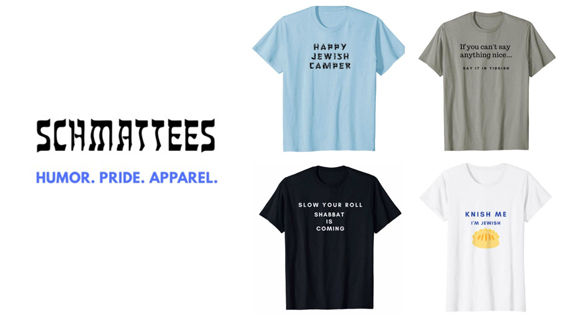 Hipster or Hasidic? There's no need to chose sides when you wear a shirt from Schmattees, a new apparel line whose designs combine a little bit of cheekiness and a whole lot of chutzpah.

The 10-piece line of humorous t-shirts and sweatshirts combine Jewish culture and rituals, Yiddish expressions, eye-catching graphic design with current meme-linguistics.  "If You Can't Say Anything Nice…Say It In Yiddish," "Happy Jewish Camper," "Slow Your Roll. Shabbat Is Coming" and "Knish Me. I'm Jewish" are among several of the designs.

Schmattees is a playful take on the Yiddish word schmatta, which literally means "rags," but has come to refer to the fashion trade, most specifically New York City's Garment District, where tens of thousands of Jewish immigrants took their first jobs as American citizens.

The online apparel venture is the creation of Deborah Muller. With a background in fashion, publishing and public relations in New York, Los Angeles and Arizona, Muller has always had a pulse on what's fashionable and on trend.

Pride, promotion and shtick come naturally for Deborah, who grew up surrounded by sunshine and Jewish people in Southern California and became a bat mitzvah in Israel. "I am so proud to be Jewish and really want to make it cool for others to proclaim that same pride in a hip, fashionable and fun way," says Deborah. "With the unfortunate rise in anti-Semitic words and actions, wearing Schmattees is a one way to do that and not show fear in your cultural and religious identity."

Schmattess can be dressed up or down for any occasion. With workplace dress codes becoming more casual, wear a tailored "Slow Your Roll. Shabbat is Coming" under a blazer on Casual Friday. Send your kids off to Jewish sleepaway camp this summer with a "Happy Jewish Camper" tee and show them overnight is alright. Gift your BFF with a "Party Like a Lox Star" shirt for her 21st birthday. 
 
Schmattees is sold online for a not too chai price of $18 (shirts) and $36 (sweatshirts) at Amazon.com.