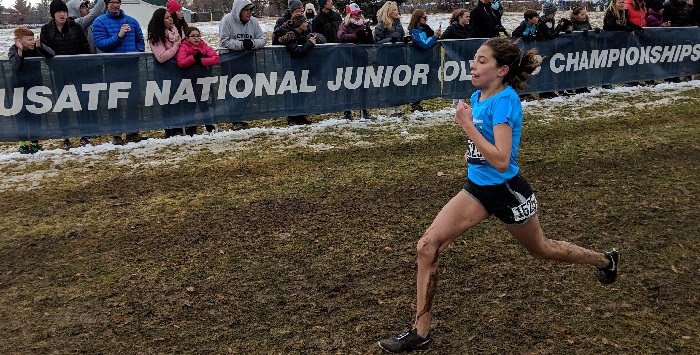 PHOTOS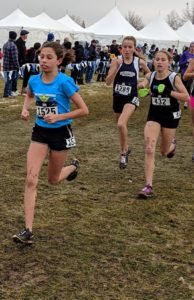 : Sadie Drucker runs through the mud to take third in the 4K race for 13/14-year-olds at the USA Track & Field National Junior Olympic Cross Country Championships.
Portland Jewish Academy eighth-grader Sadie Drucker won a bronze medal in the 4-kilometer race for 13/14-years-olds at the USATF National Junior Olympic Cross Country Championships in Reno, NV, Dec. 8.
"The experience of running at nationals was very special because I have never had an experience like it," says Sadie. "Despite being very nervous, I was excited to represent Portland and PJA. … I enjoyed every moment of it."
Sadie is the daughter of Andrea Sanchez and Benjamin Drucker.
"I am so grateful for the opportunity to run at nationals," says Sadie. "I had an amazing time, and I appreciate everyone who helped me get there."
PJA Preschool Director and Cross Country Coach Erika Saiers and three of Sadie's cross country teammates continued to run with her for weeks after the school's season had ended to help her train for regionals and nationals. This year more than 20 students participated on PJA's cross country team.
"It has been such an honor to coach such a talented athlete," says Erika. "It is every coach's dream to work with someone who is dedicated, committed and driven to always do their best. What I appreciate most about Sadie is her humbleness as a top athlete and the way she encourages and supports her teammates and always applauds her competitors."
Sadie's road to nationals began when she finished in the top 25 at the state meet in October. She then finished second in the USA Track and Field Oregon Association Junior Olympic meet at Corban University in Salem to qualify for regionals. In November she again finished second at the Region 13 USATF meet held in Yakima, WA. The top 30 runners qualified for the USATF National Championship meet in Reno.
During the regular season and at the state meet, Sadie competed in the 3K. But at regionals and nationals, she competed in the 4K, which is the standard USA Track and Field distance for 13/14-year-olds.
Sadie has been running and attending PJA for most of her life.
"I started running when I was pretty young with my mom," says Sadie. "My mom and I trained for the Shamrock 5K when I was about 6 or 7 years old. I started running and I kept at it because, quite simply, I love it."
Sadie has competed in several 5K races with her mom, Andrea. She started competing in cross country for PJA when she was in fifth grade. Before that she competed with the Foot Traffic Youth XC Club, which has meets for beginning runners starting in third grade.
"Sadie has always had a natural talent for running and running fast," says Andrea. "She is a natural athlete. She also swims and plays soccer year-round for Portland Aquatic Club and Portland City United."
Sadie has attended PJA since beginning preschool there at age 2.
"I will miss PJA a lot next year when I'm in high school," says Sadie. "But I am also excited for the next chapter of my life. Wherever I go to high school next year, I am definitely planning on running cross country and hopefully track."
"I love running, and it brings me a lot of joy. I plan to continue running for as long as I can."