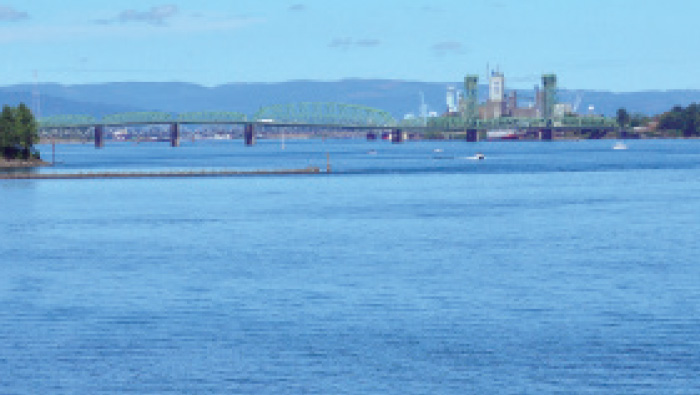 Photo: In Oregon, it is easy to find running water for the Rosh Hashanah ritual of tashlich.  "Tashlich" means "casting off" in Hebrew and involves symbolically casting off the sins of the previous year by tossing pieces of bread or another food into a body of flowing water. Just as the water carries away the bits of bread, so too are sins symbolically carried away. Photo by Deborah Moon
The year 2015 just might go down in history as the year of the Hollywood reboot. Venerable cinematic franchises such as "Jurassic Park," "Star Wars" and "The Terminator" have returned to the silver screen to reach a new generation of fans. What's old is new again as Tinseltown makes good on Arnold Schwarzenegger's signature catchphrase, "I'll be back."
However, reboot is more than just a Hollywood buzzword. With the arrival of the Jewish High Holidays, G-d offers us an opportunity to reboot our entire lives. Beginning with Rosh Hashanah, the Jewish New Year, and concluding 10 days later with Yom Kippur, The Day of Atonement, The Days of Awe, as they are collectively known, are a time of reflection for Jews around the world. At this season Jewish people examine their lives both as individuals and as members of the larger Jewish community. For those of us with children, the High Holidays are also a time to ponder our parenting skills.
Parenting, much like the Peace Corps, is the toughest job you'll ever love. I did not fully appreciate just how hard my parents had to work until I had children of my own. There is perhaps no greater challenge than shepherding the next generation of Jews toward adulthood. Yet despite the best of intent, or kavanah in Hebrew, as parents we sometimes miss the mark, saying or doing the wrong thing, often without even realizing it. The thoughtless word or deed cannot be unsaid or undone but can be made right, through repentance, or teshuvah, and a sincere commitment to change.
However, committing to change doesn't necessarily mean reinventing the wheel. The best of the movie reboots retain the essence of the original while jettisoning only those elements that hold back the narrative or are no longer relevant to a modern audience. At Trader Joe's, where I am currently employed, we frequently invoke the concept of "kaizen," which is the Japanese term for continuous improvement. We are encouraged to improve ourselves a little bit each day. Aiming for slow and steady progress over time has the added benefit of being a more readily attainable goal. We don't need to change every aspect of our lives overnight. If we identify and "kaizen" even a single goal each day, we have made worthy progress.
Part of the beauty of The Days of Awe is that they compel us to take a break from our everyday lives and to look within, providing a much needed reality check. When we look at the proverbial man in the mirror, what we see is often lacking. It's all too easy to resolve to spend more time with your children or to decide to be more patient or gracious. Such promises come quickly to the lips. Whether you make New Year's resolutions on Rosh Hashanah or January first, we all know that anybody can make a resolution; the trick is keeping it. Real change is hard work. It is not easy to break with long-established patterns of family dynamics. Fortunately as Jews we have access to a wealth of rituals that help to reinforce our kavanah. The intrinsic value of ritual is that it helps us to bridge the gap between the spiritual and the material worlds.
Long ago, when the Temple still stood in Jerusalem, each year on Yom Kippur the High Priest would symbolically place the sins of the Israelites upon the head of a goat. This "scapegoat" would then be sent out into the wilderness, figuratively absolving the community of their sins. The ritual helped the Israelites to face the New Year by letting go of the baggage acquired in the previous year. While this particular ritual is no longer observed, others have developed that serve a similar purpose.
One of my family's favorite Rosh Hashanah rituals is tashlikh, which means "casting off."
Not only is it a fun family activity, it really helps our children to visualize the changes they wish to make in the coming year. I find it helps to sit down together with your children in the days leading up to Rosh Hashanah and write down things that you each wish to change, eliminate or work on. Next, locate a nearby body of water, preferably a flowing one such as a river or stream. Bring some old bread and give a piece to each child. A passage from the Book of Micah in the Tanakh, or Hebrew Bible, Micah 7:18-20 is recited at the beginning of the ceremony: "You will cast all their sins into the depths of the sea." Then take turns tossing the bread into the waters as each child recites something they hope to change about themselves in the year to come. Take some time afterward to discuss with your children the things they hope to change in the new year. Many synagogues now offer opportunities to visit a local body of water and perform the ritual of tashlich as a community.
Rosh Hashanah is also a day of judgment. G-d is said to judge each individual based on their actions in the previous year and determine their fate in the year to come. As I write this article, my children have just received their school report cards, and I have just had my review at work. In a sense the Jewish High Holidays are G-d's annual review of his children. As it is said in the liturgy, "On Rosh Hashanah it is written. On Yom Kippur it is sealed." Or in the words of "Northern Exposure's" nebbishy Dr. Joel Fleischman, "What happens is you have basically 10 days between Rosh Hashanah and Yom Kippur to reverse the call. You examine your soul; you atone for your sins." As a child I was terrified of G-d's judgment. As an adult I see it as a chance to better myself, and as a parent I see it as an opportunity to double down on my commitment to my kids.
Our family spent the Fourth of July at the beach this year in Gearhart on the Oregon coast. My son Leo and I spent a lot of time in the water. As I watched the waves crash into us time and again, my thoughts turned toward the future. The ocean is an apt metaphor for life. Waves of opportunity and adversity hurtle towards us, an unstoppable force, interspersed with moments of joy and clarity. We cannot stem the tide, but we can gird ourselves against its ceaseless onslaught. We cannot control the waves – only our reaction to them. As I watched the Pacific Ocean pummel my son over and over, I began to realize just how strong and resilient kids really are.
As parents, we face the promise of 5776, while contemplating our own personal reboot. With one more year under our belts, and no help from fellow member of the tribe J.J. Abrams, I am reminded of the catchphrase from 2015's "Terminator Genisys" as Arnold Schwarzenegger's aging cyborg character repeatedly describes himself as "old, but not obsolete."  We may all be one year older, but on Rosh Hashanah we are born anew.