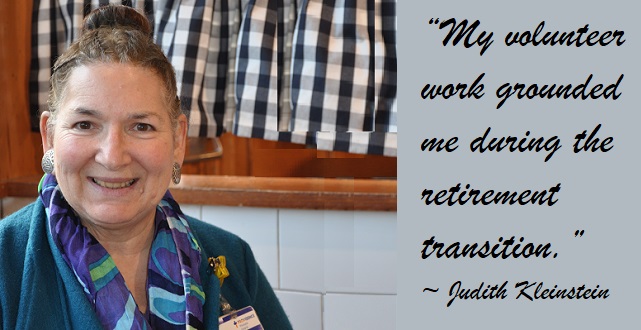 When Judith Kleinstein retired in 2004, she drew on the skills and interests she had cultivated during 31 years as a Portland teacher to craft a rewarding and active life.
Even before she retired, she already was active as a lay leader at Congregation Beit Haverim and at Providence Milwaukie, where she volunteered in the pastoral care program.
"My volunteer work grounded me during the retirement transition," says Judith.
So it's no surprise that over the next 15 years she has dramatically expanded her volunteer work. As a volunteer she helps seniors, cancer survivors, hospital patients and her congregation. She also has continued to work as a substitute teacher for Portland Public Schools and as a hospital chaplain.
Before retiring, she had spent a year studying with Rabbi Larry Halpern for a group adult b'nai mitzvah at South Metro Jewish Congregation, which later became Beit Haverim. When the congregation affiliated with the Reform movement in 2001, Judith was selected to attend a para-rabbinic course at the Hebrew Union College Jewish Institute of Religion in Cincinnati. She extended her stay in Cincinnati to take several workshops in synagogue music, as well.
In 2006 Beit Haverim honored her with the Song of Miriam Award, presented annually by the Jewish Women's Round Table to honor the extraordinary volunteer contributions women make to the Jewish community. She continues her congregational service as a choir member, secretary and Beit Haverim board member. She also is active in Torah study and helps out as a lay leader.
She also volunteers as an AARP Tax Aide Counselor; a Senior Health Insurance Benefits Assistance (SHIBA) Medicare/Medicaid volunteer for Clackamas County; a patient advocate for the OpenNotes Consortium; and a research advocate for Facing our Risk of Cancer Empowered (FORCE). She recently topped 6,000 hours as a volunteer at Providence Portland Medical Center, where she has played her recorder for patients on "Musical Monday" for 22 years.
She has volunteered for AARP's tax aide program for eight years. The training for this year's tax season was especially hard given the changes to the tax code.
As a SHIBA volunteer, she helps people one on one who request help at a senior center or county offices. During open enrollment, she does a lot of presentations as well as being paired with those requesting help.
In 2012 Judith was diagnosed with advanced ovarian cancer. She calls her survival rare: "Only 15% survive disease free."
That experience inspired her to volunteer for FORCE. As a research advocate, she reviews materials prepared for patients. For five years she has been involved with OpenNotes to help patients access their medical charts. OpenNotes believes providing ready access to notes can empower patients, families and caregivers to feel more in control of their health-care decisions.
Her work as a hospital chaplain began as a volunteer. After having both hips replaced in 1997, she was very impressed by the support of the Providence chaplains' program. She completed the four-week pastoral visitor training program, which is no longer offered, and then volunteered Sunday evenings as an on-call chaplain. After retiring from teaching, she enrolled in PPMC's yearlong chaplain residency program. She is now an on-call chaplain for two Providence hospitals evenings and weekends – Milwaukie and Willamette Falls.
To illustrate how rewarding her chaplaincy work can be, Judith likes to tell how a nurse called her one day and said a woman in labor did not want to have her baby. When Judith arrived at the birthing unit, she says the woman was frantic. Her husband, a long-distance truck driver, could not be reached and was unaware she was in labor five weeks early after her water broke. Judith calmed her down and helped her reach her husband's relative, who was able to assure the woman her husband would understand.
"She felt OK about having the baby then," says Judith. "Amazingly, she asked me to stay and hold her hand and do what her husband would have done."
Judith was later able to meet the grateful husband and see the happy family of three.
Much of her volunteer work is rooted in skills she gained during 31 years of teaching. She was an elementary classroom teacher at the Metropolitan Learning Center, an alternative K-12 public school in Portland, until she took an around-the-world travel sabbatical in 1991-92. "When I got back, the principal asked me to do global studies for high school," says Judith. She also taught personal finance, economics and two electives – music survey and child development. In 1996 she moved to the district's drug and alcohol rehab program for students in sixth to 12th grade, where she tutored small groups of students. "I loved tutoring," she says. She later tutored students through another district program for teen parents.
"Fifteen years after formally retiring, I seem to be busier and more involved in the community than ever before," says Judith. "Chaplaincy, substitute teaching and my various public service volunteer works allow me to gently touch the lives of others and know that I am bettering my world."