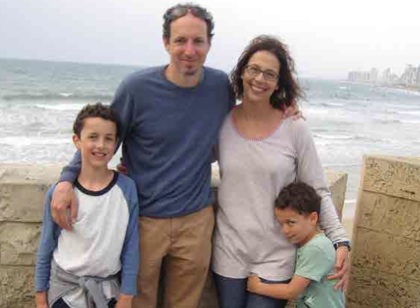 As a nurse practitioner, Lisa Weiner's favorite thing was patient education to help people make positive changes. When she and her husband, Andrew Cohen, had their first son, Ezra, 10 years ago, she decided to leave her practice to spend more time with her family. Now with Ezra and his younger brother, Reuben, 6, both at Portland Waldorf School all day, she uses those education skills to teach other parents some of the skills she learned both in practice and through two training courses in Simplicity Parenting, a worldwide movement devoted to protecting families from the stresses of modern life.
"There is an undeclared war on childhood," says Lisa. "There is too much, too fast, too soon of the grownup world. Simplicity Parenting is a movement to protect childhood and allow kids to be kids. … it's about making more time for connections and for parenting in ways that are more aligned with our values."
Raising her own sons without television or computers, she discovered children are less stressed when they are "unplugged."
"They know how to knit, they are great tree climbers and build forts," she says. "The 10-year-old's latest feat is learning to ride a unicycle. And they bake with me. I do my computer work when they are in school or after they go to bed, so it does not have a central role in family life."
She also discovered that the natural rhythms of Jewish life help provide a structure and routine that children find comforting. The family belongs to P'nai Or of Portland, which they joined years ago when the Renewal congregation was led by Rabbi Aryeh Hirshfield, z"l.
dailytramadol.com
tramadol-info.com
cialis-onlinepurchase.com
In the summer of 2013, Lisa attended a training program in Massachusetts and became certified as a Simplicity Parenting coach by the Center for Social Sustainability. As a parenting coach, she offered seven-week Simplicity Parenting classes and one-day workshops on specific topics such as meaningful holidays and the teen brain. In the summer of 2014, she completed an advanced training distance learning program to become certified as a counselor so she could work with parents one-on-one.
Now, in addition to classes and workshops, she also works with parents to tackle specific issues. A common request she gets is to help organize the home and the child's bedroom.
"I organize with an eye toward making space for more family connections," says Lisa. "If stuff is taking up so much space and so much time to put away, that takes time from connecting as a family."
One recent day she visited a home while the child was away and went through the piles of toys their child could never seem to clean up. She says about half the toys were broken or had missing pieces.
"We kept what worked, was age appropriate, had no batteries and didn't drive them crazy," she says, noting it is a parent's right to discard a toy simply because it drives them crazy. "When he could just play, cleaning up the room was easier."
Surprisingly, she says, parents have never reported that the disappearance of things has been a huge issue.
"It has had a huge effect on the child's play and care for his toys," says Lisa. "It's not just a junk pile, so the child has more of an attitude of care."
One parent who took Lisa's fall parenting series says that just talking about decluttering encouraged her to tackle it at her own home. "It was big inspiration for me to declutter my house and especially my kids' play area," says Andrea Livingston, whose children are 10 and 2. "We had way too many toys and books, mostly unused, and by simplifying their toys and books and being more deliberate about what we have in the house – it actually made it feel better. It has been much easier for them to play in an organized way, independently, for longer periods of time."
Having met Lisa at the Waldorf School, Andrea decided to take the class because, she says, "I liked the concept in general AND we were facing issues in the area of creating weekly rhythms for our family to follow – so that the kids had predictability. Something as simple as creating a weekly breakfast plan and putting it on the refrigerator has helped alleviate things like morning stress … the kids know what to expect."
Lisa notes, "A lot of what I teach is creating dependable family rhythms." She says that makes it a natural fit for Jewish families, because "The Jewish calendar is perfect for that."
Another Waldorf parent whose older son is in the same class as Lisa's son Ezra says several years ago he had read Simplicity Parenting: Using the Extraordinary Power of Less to Raise Calmer, Happier and More Secure Kids, the best-selling book by Kim John Payne on which Simplicity Parenting is based.
"I certainly was excited by its clear and gentle logic," says Zachary Diamond, who also has a 4-year-old in Waldorf 's youngest class. "Reading a book is one thing, the act of implementing practical daily changes suggested in that book is something else entirely. Easy for some, challenging for us. Then this fall I saw a flyer advertising that Lisa was teaching a Simplicity Parenting class."
In her classes or one-on-one, Lisa says she focuses on a concrete plan for small, doable changes that can have satisfying results. She also offers parents who take the class the option to retake it again for free if they need a refresher. "What I am doing is so satisfying," she says. "I can help parents deal with controlling behaviors, picky eating and all the regular culprits."
Simplicity Parenting Classes
WHEN: Seven-session class meets 10 am-noon Fridays beginning Jan. 16
WHERE: Tabor Space, 5441 SE Belmont, Portland
INFORMATION/REGISTRATION: HandmadeParenting.com