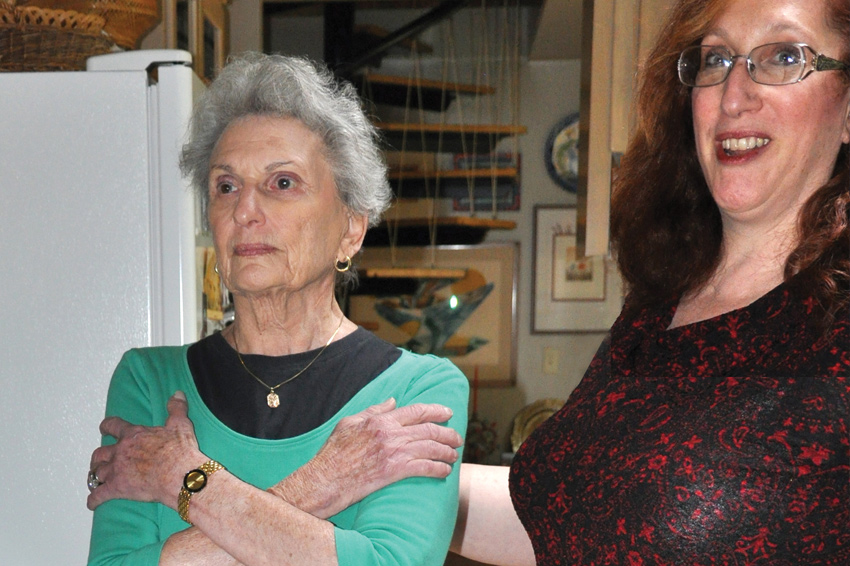 Before lung cancer struck, 82-year-old Jody Klevit was an avid tennis player and an active member of the Jewish community.
A member of Congregation Neveh Shalom and a past president of the Oregon Jewish Museum, Jody has also been active in Hadassah and the National Council of Jewish Women through the years. But following surgery to remove the upper right lobe of her lung, the nonsmoker says most of those she met in the medical community told her she needed to slow down.
But Jody is determined to keep moving and return to both the tennis court and an active role in her community. To do that she not only needs to improve her lung capacity, she needs to regain her sense of balance. Fortunately, she met physical therapist Bayla O'Brien, who has been busy advocating a new paradigm of seniors as strong, resilient, vibrant and active.
Bayla is the first PT in Oregon to be certified in all three of the Center for Disease Control's senior fall prevention programs: Tai Chi Movement for Better Balance, Stepping On and Otago. She has taken the message about how seniors can prevent falls and remain more active to senior facilities around town, including two programs at Rose Schnitzer Manor on the Cedar Sinai Park Campus.
Preventing senior falls is especially important in Oregon, where seniors fall at one and a half times the national average. In fact the CDC gave the Oregon Health Authority a five-year grant for fall prevention.
The program has created a website (healthoregon.org/fallprevention).
"Falls are prevalent and the consequences can be devastating, but many falls are preventable," says Lisa Shields, senior falls prevention program coordinator for the OHA. "The top four ways to prevent a fall are: exercise to increase strength and improve balance – tai chi is particularly good; medication reviews by your health care provider or pharmacist; regular vision checks; and make your home safer."
Following her surgery Jody discovered she didn't have the endurance or the balance to participate in the tai chi class she had previously enjoyed. But after working with Bayla for less than two weeks, she was able to return to her class. She even shared one of Bayla's "tricks" for maintaining balance: "Look at a vertical line," because it helps the brain regain a sense of vertical. Jody says her tai chi instructor now tells all his students to look at a vertical line if they have trouble balancing.
While there really is an age-related decline after about age 35, it can be slowed dramatically by staying or getting fit. Bayla is a member of Chabad with four children who are active in the Jewish community, including the oldest who is studying in Israel. She says she really wants to share the message that seniors can stay strong with "my community."
"You must keep moving," says Bayla. "Don't resign yourself that to get older is to decline and become weaker. Be proactive."
She quotes numerous studies that show the benefits of exercise at any age. With 50 hours or more of exercise within 12 to 24 weeks, seniors can regain 15 to 20 years of function.
One study showed that seniors doing three sets of 12 reps of thigh exercises three times a week for 12 weeks showed a 174% increase in strength and a 9% increase in thigh diameter, proving that seniors can rebuild muscle mass. Participants also achieved a 43% increase in gait speed, showing that the new strength translates into improved function.
Gait speed is important for seniors, notes Bayla, because to cross the average city street on a traffic light's walk cycle, you need to be able to walk 1.5 mph for 30 seconds.
Upper body strength is also important to maintain independence. Bayla says that 28% of men and 66% of women over the age of 74 can't lift more than 10 pounds (the weight of an average bag of groceries). Rebuilding that strength enables seniors to continue to do their own grocery shopping – an important task for those wishing to remain independent.
"The more you slow down, the less you are able to do," says Bayla. "If you don't keep moving, you fall into the decline normally associated with aging."
"Regular participation in moderate physical activity, 30 minutes, three times a week, can reduce physical decline by as much as 50% and delay age-related physical deterioration by 10 to 20 years," Bayla says numerous studies show.
"What do you want old age to be?" asks Bayla. "Do you want to golf, play tennis and travel alone or with your family? You need physical reserves just as you need financial reserves."
Bayla, who typically works with clients in their own homes, says she loves to work with clients like Jody. "I love her mindset. She believes independence is normal. … She will play tennis again."
Contact Bayla and similarly minded physical therapists: Fitnessandfunction.com, or 503-267-1030.
*****************Fall Facts*****************
Falls are the leading cause of injury death among adults age 65 years and older.
Of 639 fall deaths in Oregon in 2013, 87% were among adults age 65 and older.
In 2013, over 5,800 Oregon adults age 65 years and older were hospitalized as the result of a fall at a cost of more than $219 million.
Falls are not an inevitable part of aging – many falls can be prevented.
As many as 30% of older adults who fall suffer significant injuries which may limit the ability to live independently.
Screening older adults for falls in healthcare/social services can increase assessment referral, and increase patient/client awareness and engagement in prevention.
Exercise programs that focus on decreasing falls, increasing strength, mobility, coordination, balance, and physical fitness, can reduce fall risk by approximately 20 to 60%.
For more information: healthoregon.org/fallprevention
******************************************