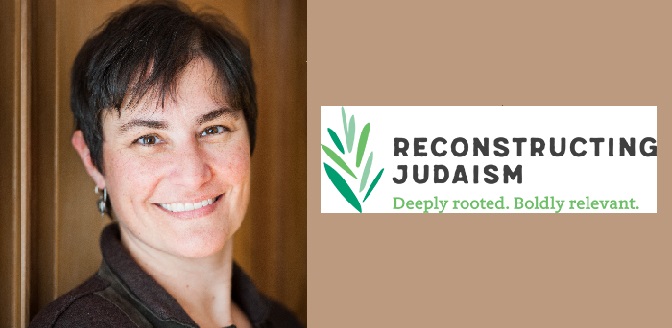 Reconstructionist communities in Portland, Bend and Ashland will welcome Rabbi Deborah Waxman, Ph.D., president of Reconstructing Judaism, the central organization of the Reconstructionist movement, the week of Jan. 21.
Temple Emek Shalom in Ashland and the Congregation Shalom Bayit in Bend are the two newest congregations to affiliate with Reconstructing Judaism, which includes nearly 100 affiliated congregations in North America, Europe and the Caribbean.
"I look forward to welcoming these two vibrant communities to the Reconstructionist movement. And I'm excited to return to Portland's Havurah Shalom, one of the fastest growing and dynamic communities in the Reconstructionist movement," says Waxman, who has visited more than 60 Reconstructionist communities since assuming the presidency in 2014. "Together, we are reconstructing Judaism for our time. It is through community that we most effectively repair the world and most fully come to know ourselves."
On Jan. 23 at 7 pm., Rabbi Waxman will speak in Portland at Havurah Shalom about the Reconstructionist movement and resiliency in Judaism. Rabbi Waxman is committed to visiting all Reconstructionist communities in the United States. She is  the sister of Havurah member Andy Waxman. For more information, call Havurah at 503-248-4662 ext. 4.
The following evening, she will hold a Q & A session at Shalom Bayit in Bend.
On Jan. 26 she will be in Ashland for Shabbat. Emek Shalom will begin the day with Torah study at 9 am. Services at 10 with the d'var Torah by Rabbi Waxman will be followed by a luncheon catered by  Noah Werthaiser. There will be Q&A with Rabbi Waxman after lunch. Please RSVP  by Jan. 21 (we need numbers for our caterer so there will be enough food!).  Call or email 541-488-2909 or office@emekshalom.org.  $18 covers the cost of lunch, however all are welcome to pay what you can.
Rabbi Waxman, a groundbreaking leader and thinker, is the first female rabbi to lead a major branch of Judaism She is a forceful advocate for the role that Judaism in particular – and non-fundamentalist religion in general – can play in helping individuals live more meaningful lives, and in empowering communities to build a more just society.
She has worked to eradicate barriers to positive Jewish experience and ensure Jewish spaces embrace previously marginalized people such as: Jewish of color, individuals identifying as LGTBQ, and non-Jews seeking to participate in Jewish community. Through her podcast Hashivenu, Rabbi Waxman explores how Judaism contains tools to help people build personal resilience in the face of adversity.
Reconstructing Judaism is the central organization of the Reconstructionist movement. It manages the sole accredited Reconstructionist rabbinical seminary, and staffs teams dedicated to supporting its nearly 100 affiliates, fostering experimental new expressions of communal Judaism and providing thought leadership on temporal and spiritual issues relevant to today's Jewish communities. It also operates a small publishing house. It is closely linked to Havaya Summer Programs, which operates two Reconstructionist summer camps, Camp Havaya in Pennsylvania and Havaya Arts in California.
Reconstructionist Judaism is an outgrowth of the thinking of Rabbi Mordecai Kaplan, who taught that Judaism is not just a religion, but an evolving civilization, encompassing art, music, literature, food and customs. Regarding his approach to Jewish tradition, Kaplan famously said that, "The past has a vote, but not a veto."