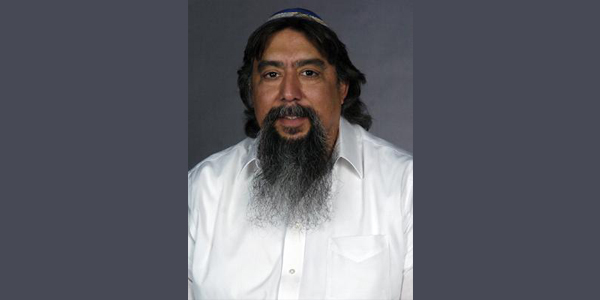 Rabbi Yosef Garcia died June 17 at age 62 in Arizona, where he moved in 2005 from Portland. Rabbi Garcia cofounded the Association of Crypto-Jews of the Americas with Neveh Shalom Emeritus Rabbi Joshua Stampfer. The two later created the "Ceremony of Return," which includes a Certificate of Return that is recognized by the Ministry of Interior of the State of Israel for purposes of making aliyah.
"I recall with great fondness the many times I met with Rabbi Yosef Garcia In Portland and Phoenix on issues of the crypto-Jews," said Rabbi Joshua Stampfer after hearing of his friend's death. "He had great devotion and drive to serve this unique community. He reached out all over the Southwest to enable crypto-Jews to regain their heritage. He was a treasure of inspiration to his people."
Rabbi Garcia opened his first congregation called Avdey Torah Hayah in Portland about the year 2000. After nine years in Oregon, he moved to Phoenix in 2005 and opened Avde Torah Jayah, a Sephardic synagogue in Chandler serving Spanish-speaking Jews.
Following is an article I wrote in March 2002 for the Jewish Review newspaper:
"We can't do anything about the past, but we can do something in the present that will enable our children to do something in the future." ~ Rabbi Garcia.
Portland is the home of a new congregation for descendants of Jews forced to convert to Catholicism 500 years ago in Spain and Portugal. It is, very likely, the first of its kind in this country to aid Crypto-Jews interested in reclaiming their Jewish heritage.
Though the congregation often has 30 adults for weekly Shabbat services, they maintain no membership list – due to the vestige of fear inspired by hundreds of years of persecution.
"There is a residual fear among the members; they don't want to be listed anywhere," said Rabbi Yosef Garcia, who founded Avdey Torah Hayah after meeting a number of Crypto-Jews in Portland who had explored churches, messianic congregations and synagogues seeking a place where they fit in. "But they couldn't find a synagogue where they felt they could ask questions."
Despite the fear and lack of knowledge about their Jewish heritage, Garcia said that many Crypto-Jews have begun to explore their roots in the past 20 years.
"Their love of God overcomes their fear of being discovered and they feel being in the United States they have enough religious freedom to not be persecuted," said Garcia.
According to Portland's Rabbi Joshua Stampfer, co-founder of the Society for Crypto-Judaic Studies, that effort to return to Judaism is gaining momentum.
"The yearning for roots is a phenomena which is not easily explained but is certainly there," said Stampfer. He said Garcia's story of return (see box) is similar to scores of stories he's heard in recent years.
Stampfer said most Crypto-Jews who seek to return to Judaism have told him they have had a feeling of "being unfulfilled as Catholics."
"They were preserving patterns and rituals (such as lighting candles on Friday night) without understanding them and when they heard the patterns might indicate Jewish elements in their ancestry, many have become intensely interested in finding out who they are," said Stampfer.
But that quest has not always been easy, as Garcia and other Crypto-Jews in Portland have discovered.
"The Crypto-Jews coming out of Catholicism need time to learn Hebrew and learn the prayers and learn the rituals and the significance of what it is we do and how we do it," said Garcia. "They need time to ask questions."
"The idea of Jesus Christ, the Trinity, the New Testament and other Christian thoughts need to be discussed openly so they realize who God is from a Jewish perspective and not from a Christian perspective," he said. "They have a lot of questions about what they have been taught about who God is from a non-Jewish point of view."
"Catholicism has been so much a part of their life, it's as if their eyes are opened after being in a cult for hundreds of years," he said.
Garcia said he sees Avdey Torah Hayah as a stepping-stone.
"I see the necessity of having a group like us because it gives the Jews in the area a place to come and worship God and to understand we are part of the community and to transition back into the mainstream Jewish community," said Garcia.
Stampfer said that he hopes as word gets out about the Crypto-Jewish congregation it will be emulated elsewhere. He said the idea of a transitional congregation makes sense to him especially with the Latino element being the fastest growing population in America, among whom, he said, there must be quite a number of people with this background.
"I would feel pretty confident that when word of this phenomenon spreads, more such groups will emerge," said Stampfer.
"I'm so excited," said Stampfer. "This is the first case in the United States where you have a whole community made up of such Jews. Nobody else in the Jewish community has the faintest clue they exist. I'm wondering if such a phenomenon exists elsewhere and we just don't know about it."
If anybody would know, you'd expect it to be Stampfer, now rabbi emeritus of Portland's Congregation Neveh Shalom. In 1985, Stampfer went to Portugal in search of a reported Crypto-Jewish community in Belmonte. After weeks there, he was finally shown a hidden trapdoor leading to a basement where services were still conducted in secret centuries after the end of the Inquisition. Two years later he returned and led the first open Jewish services in Belmonte in centuries. The Jewish Agency then sent two rabbis to live in Belmonte resulting in the conversion of about half the community back to Judaism.
After that experience with the secrecy of the Crypto-Jewish culture, in 1990 Stampfer and Professor Stanley Hordes, historian for the state of New Mexico, co-founded the Society for Crypto-Judaic Studies. Stampfer said that many early Hispanic settlers in the American Southwest were actually Crypto-Jews fleeing the Inquisition in Mexico.
The Society now holds an annual conference, which always includes individuals telling their story of discovering and reclaiming their Jewish identity.
In the Southwest, Stampfer said those individuals have often found acceptance in the Jewish community and have joined established synagogues, though usually they are required to undergo conversion. But elsewhere in the United States, as in Brazil, that acceptance has not always been forthcoming.
In Brazil, several Crypto-Jewish congregations have formed in response to that rejection. An April 1997 article in "Western States Jewish History," notes that the group SHEMA has conducted workshops for more than 2,000 returning Jews in 10 cities.
"The reality of Crypto-Jews today is not an easy one," wrote Judith Fein in an introduction to that article. "Not only for 500 years have they struggled to keep their religion alive, but the resistance they encounter when they come out can be devastating."
Garcia and Stampfer agree with that sentiment.
Garcia said some who have come to his congregation eventually return to Catholicism in a quest for family harmony. He said they receive pressure from their families, their friends and the community they live in to return to the Catholic Church.
"One man was eliminated from family functions and family gatherings so he decided to go back," said Garcia. "We feel a lot of pain for those (who go back)."       Stampfer said the personal stories of return told at the Crypto-Jewish Conferences are often heart wrenching.
"It breaks up families," said Stampfer. "Some follow that direction (to Jewish life), others don't want to. It's complex psychologically."
For those who stay, Garcia said he tries to teach them as much as he can. Often he encourages them to enroll in Hebrew courses at other congregations, such as the Hebrew course created by the National Jewish Outreach Program and taught at various Portland congregations. He said some of his congregants already have gone on to join other congregations.
"I hope to work with the (Oregon) Board of Rabbis to enable Crypto-Jews to be accepted in the Portland area, and in the United States as well," he said.
He said he believes with more information the Crypto-Jews will be accepted as part of the community.
Stampfer said he also hopes Crypto-Jews find acceptance.
"It is human nature that we are not as ready to welcome people who are different," said Stampfer. "Many will be reluctant and suspicious of regarding them as real Jews. However, I would hope the spadework I've been doing over the years with Crypto-Jews might help with more acceptance. On the whole I think Portland is an accepting community."
Stampfer said the debate on the Jewish status of Crypto Jews is similar to the debate over the status of Jews from Ethiopia and the former Soviet Union. Many Crypto-Jews do not feel a need to convert, but many rabbis disagree.
Stampfer said many rabbis require a formal conversion for those returning to their Jewish roots, while others perform a "return" ceremony. While conversion is a straightforward, established ritual, individual rabbis define a return ceremony, he said.
"A return ceremony is an acknowledgement of the historical fact that the person's origins are Jewish, but because of circumstances beyond their control, they were deprived of their Jewish identity and are now reclaiming it," he said.
It's not a new debate. An article on the Society for Crypto-Judaic Studies website looks at "Rabbinical Responsa to Attempts of Conversos to Return to Judaism 1390 to Present." The article includes diverse viewpoints ranging back to those converted during the Crusades. For those forcefully converted during the Crusades, Rashi wrote that various deeds of penance were required for them to return to Judaism. Yet Maimonides wrote that those wishing to return to Judaism should be welcomed and no penance of return or conversion should be required.