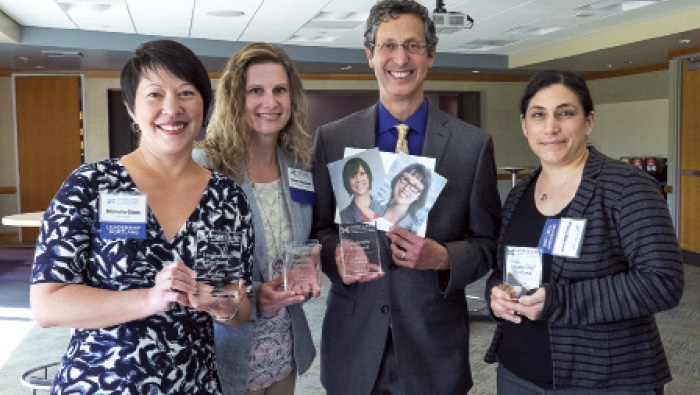 Rabbi Michael Cahana and his Impact Project Group developed "Business for Culture and the Arts," a training platform for future arts group board members. The BCA group was, from left, Michelle Glass, Allison Rowden, Rabbi Cahana and Parna Mehrbani, as well as in photos held by Cahana Jessica Getman (left) and Emily Teplin-Fox.
In 2003 the Portland Business Alliance developed a nine-month leadership program to build civic leaders from the business community. This year, for the first time an active clergyperson, Rabbi Michael Cahana, graduated from Leadership Portland.
Admission to the 36-member cohort is via a competitive application process designed to select "upper level leaders," says Mari Watanabe, the executive director of Partners in Diversity and director of Leadership Portland. "We would like the business voice to be heard in civic matters. … PBA members work for what is good for the state and business.
For Rabbi Cahana, the senior rabbi at Congregation Beth Israel, participating in the program offered a "connection into the larger community where we have shared interests … concerns about safety and security and economic vibrancy of our community."
"I think that all of our organizations have a tendency to be in our own world," he says. "Religious groups talk to other religious groups. … Beth Israel has a very nice relationship with Trinity Episcopal Cathedral and St. Mary's Cathedral." The three congregations are within a few blocks of each other and share parking and neighborhood security initiatives, as well as joint programs where clergy share three perspectives.
He applied for the BPA leadership program seeking similar connections beyond religious institutions.
"The religious and business community don't often talk to each other," says Rabbi Cahana. "Religious groups often lobby government (on issues such as homelessness). Government also often works with businesses when they want to get something done."
Rabbi Cahana believes the three can and should work together.
"If government, religion and business work together on social issues, it is a huge opportunity for social change," he says. "That is why I wanted to be in the Leadership Portland program."
As an example of what can be accomplished when the three sectors come together he pointed to a planned project in Couch Park, across the street from Beth Israel. In conjunction with Portland Parks and Rec, 17 religious, nonprofit and religious organizations are working to bring a Harper's Playground inclusive play plaza to what now a mostly empty play area in the park. Founded by Beth Israel members April and Cody Goldberg, the first Harper's Playground was built at Arbor Lodge Park with another playground slated for Gateway Park, a brand new city park on Portland's eastside. Couch is the third project "to unite diverse sectors of the community to inspire vital communities by creating innovative playgrounds for people of all abilities."
Rabbi Cahana would like to see that level of cooperation on other projects and issues. His participation in Leadership Portland inspires him to believe that is possible.
"The people were really fantastic, dedicated, hardworking and imaginative," he says of the cohort.
Before moving to Portland, he participated in a similar program Leadership Rhode Island, where he was also the only religious participant. When he participated in the Rhode Island program, he was just starting out; he came into the Portland program having already established government, arts and even a few business connections, "so this was a richer program for me."
He gained two important things from his participation in Leadership Portland: a broader understanding of how different institutions in this community work and a connection to individuals and the institutions they are connected with.
He says those connections extend beyond his own cohort. Leadership Portland has an alumni network.
"I hope because I'm the first religious leader that they (alumni) will be open to reaching out to me and aksing me how they can get the religious community on board with whatever project they are working on," says Rabbi Cahana. "If I can be a conduit, great. … I don't think it is natural for business to think of religious institutions as partners."
He hopes the connections he has forged over the past year can help change that.
"I think social change requires a moral voice and I think that is what religious institioutions can provide," he says. "We exist without profit motive and without elections so we have a voice that can be a different voice at the table."
Rabbi Cahana recommends other religious leaders apply for future Leadership Portland programs. "I think it is really incumbent on us to understand our community and I think it is useful fo the general community to understand what we do as religious organizations and how we can work together to benefit our community."
For more information on Leadership Portland, visit portlandalliance.com/programs/leadership-portland. The nine-month class is open to upper level employees of alliance member organizations.