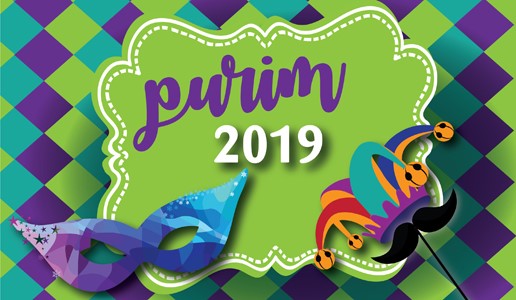 On Purim people gather to hear "the Megillah," also known as the Book of Esther, which tells how the Jews in ancient Persia were saved from the wicked Haman through the leadership of Queen Esther and her cousin Mordecai. When the name of Haman is read, people stomp their feet, hiss, boo or shake noisemakers called groggers to obliterate his name. Some congregations ask people to bring pots and pans to bang and then donate the kitchenware to people in need. Gifts of food – mishloach manot – are also common. The holiday takes on a carnival-like atmosphere with many dressing in costumes.
This year Purim begins at sundown March 20. But events get under way early with a Purim Festival at the Mittleman Jewish Community Center this Sunday. Festivities continue with Purim Carnivals and PurimSchpiels galore. Here are some of the local celebrations:
Annual Purim Festival March 17
Come One Come All. Celebrate Purim in style! Enjoy awesome activities, a fun show and a puppet Megillah story.
Magic Show for All Ages, Costume Contest, Indoor Playground, Puppet Show, Craft, Food Drive and Volunteerism, Carnival Booths, Cotton Candy and Purim Storytelling
Co-hosted by Portland Kollel, PJ Library, and the MJCC
March 17, 2-4 pm, MJCC, 6651 SW Capitol Hwy., Portland
Cost: $7 Ages 3+ | $28 family max
https://portlandkollel.org/purim-festival
P'nai Or Purim Celebration March 20
P'nai Or has some fun in store for families that you won't want to miss. Wear your costumes! Drown out the name of Haman, be in a rhythm band parade, bring your stuffed animals for a stuffed animal petting zoo, bake gluten-free chocolate chip hamantaschen, and more! This event will be downstairs in the indoor park. Sponsored by the P'nai Or Education Committee. Carnival: 5-6:30 pm (Doors open at 4:30) – Puppet show upstairs in the Sanctuary; finger food (and hamantaschen) potluck in the Jarrett Wing. 6:30-9 pm: Finger food potluck and hamantaschen, songs, Purim shpiel, megillah and merriment!
March 20, 5- 9 pm at P'nai Or of Portland, 9750 SW Terwilliger Blvd., Portland
Free.
Info: 503-248-4500, admin@pnaiorpdx.org, http://www.pnaiorpdx.org/
To the Chai Life! Havurah Shalom Purim Celebration
Come one, come all, for a night of joy, masquerade and retelling the story of the courageous individuals from long ago whose valor saved the Jewish people. We will have pizza and vegetarian potluck, Megillah chanting, spieling, a costume parade, Hamantaschen contest and dancing.
Wear a costume, if you have one, or pick out something from Havurah's collection.
6:15 pm – Pizza will be provided by Havurah. Please bring a salad or vegetarian side dish if your last name begins with A-L. Please bring a dessert if your last name begins with M-Z.
6:45 pm – Costume parade with paparazzi
7 pm – Spiel/Megillah
8 pm – Dance Party and Hamantaschen Judging
Bring Hamantaschen for the contest! Havurah High will do the judging.
Havurah Shalom, 825 NW 18th Ave., Portland
Free
Please RSVP here and sign up to bring a salad, veggie dish, or dessert to share!
ESTHER! A Megillah Reading & PurimSchpiel at Beth Israel
Don't cry for me, Sushan, Persia! Enjoy the comedic and musical talents of Congregation Beth Israel's clergy, staff and lay leadership. Free and open to the public.
March 20, 7- 9 pm, at Congregation Beth Israel Main Sanctuary, 1972 NW Flanders St., Portland.
503-222-1069
PJA PurimSchpiel 8 am March 21
The annual Portland Jewish Academy's PurimSchpiel – "The Whole Megillah"– is an original rock opera written by fifth grade teacher Rand Raynor and music specialist Kim Schneiderman. PJA's fifth grade class has been rehearsing diligently and will be singing the whole Shpiel from beginning to end.  And in true "shul of rock" form, a house band consisting of fifth-graders will accompany the performance for the live show! Raynor and Schneiderman have teamed up in the past to write a musical as part of the third grade Portland curriculum.
The program is scheduled for 8 am, Thursday, March 21, in the MJCC Ballroom. The performance is open to the public!  This is a rock show you won't want to miss!
Pjaproud.org