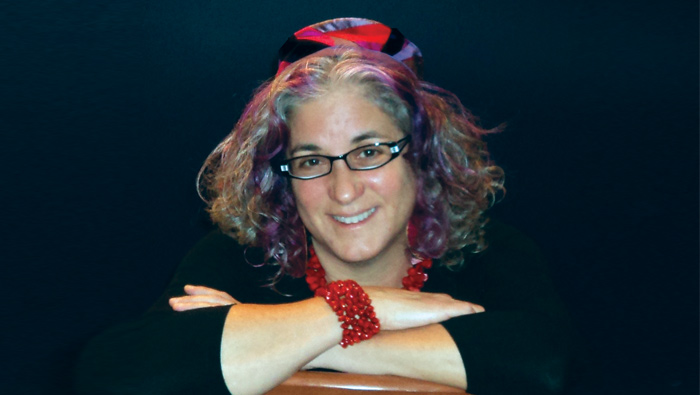 When Rabbi Debra Kolodny wanted to serve Portland's Jewish community, she started by considering why people come here. Connecting the dots between the city's low percentage of affiliated Jews on the one hand and political, artistic and environmental activism on the other, she hit on the concept of the UnShul, a way of providing teaching for people who are not necessarily drawn to congregation life but want to be involved in Jewish practice. After launching two exploratory sessions at her home in January, she has already found enthusiastic interest.
"We give people out-of-the-box experiences and dip into what they're excited about," she says. "This is not Judaism light, but it is accessible. Last night we had our first interspiritual text study. How many opportunities are there for Jews, Christians and Muslims to study Hebrew and Christian scriptures and the Koran together? We have ecstatic dance. Dance Davening and the Friday Night Gathering are great for kids. And, if people are intermarried and want to bring their spouse from a different tradition, that would be fabulous."
The UnShul offers two Torah hikes per month, one for families and one for those who prefer to walk faster. "We explored a Mincha service on our hike last week," Rabbi Debra says. "We'd do a prayer, and I'd ask questions. Then, I gave a drash on the week's Torah portion.
"It was the week we left Egypt, so I asked about the plagues. The ninth plague was darkness, and a Midrash tells us the Egyptians were glued to the spot. They couldn't eat, drink or sleep for three days. I invited people to look around the natural world and see something emerge from what looks like death, like moss growing on dead trees. Was there an experience in their lives where that happened? This darkness terrified the Egyptians and Israelis, yet after those plagues, liberation came for us and for many of the Egyptians, as well."
Rabbi Debra has found her new concept attracts an eclectic mix, with some coming to every event and others when something is of special interest. She emphasizes that this is an addition to, not a replacement for, synagogue life. There are no bar/bat mitzvah classes, daily minyans or regular Shabbat services. And, just as the offerings are flexible, the approach to financial support is, too. Choose a membership or pay as you go for the individual activities.
"We have events all over the city because Jews live all over the city," Rabbi Debra says.
In addition to monthly events (see box), the UnShul also plans a second night seder and pop-up social action events supporting Black Lives Matter, Climate Change, Living Wage, Homeless Awareness and other themes determined by what is happening in the moment.
Rivka Gevurtz is the UnShul's secretary. "I love bringing Judaism into different environments," she says. "The UnShul turns everywhere we go into the home of the divine. For instance, on our Shabbos afternoon hike, we infuse the prayers of Mincha with the beauty of creation. The UnShul is a paradigm-shifting way for people to explore Judaism, a doorway that hasn't been opened."
MONTHLY ACTIVITIES
Please check facebook.com/groups/Pdx.UnShul for the location, cost and to register unless otherwise noted.
SHABBAT
Dance Davenning: Second Saturday, 5:30-7 pm (Maariv and sometimes Havdallah). Beginning with an intention from the Torah portion, pray and dance to high-energy melodies in a nonstop flow with a short Torah discussion after the service. Cosponsored by the MJCC. oregonjcc.org/dancedavenning.
Torah on the Wild Side: Third Saturday, 2 pm, for families: Hour-long hike geared to families. Enjoy Mincha prayers and chants and child-focused Torah discussion. At 3 pm at the same location: a faster 2-hour hike with Mincha prayers and adult Torah conversation. Locations vary.
Friday night with the Rabbah: Fourth Friday night at someone's home. The host picks the attendance limit, the theme/topic and the kashrut level for the potlucks. RSVPs are mandatory
MONDAYS
Kol Isha: Second Monday, 7-8:30 pm songfest. Learn and share liturgical melodies and other Hebrew and/or Jewish songs. Refresh your prayer experience by creating or adapting melodies. Cosponsored by the MJCC. Register at oregonjcc.org/kolisha.
TUESDAYS
Reading Torah Through the Eyes of a Mystic: Third Tuesday, 6:30-8 pm. Open to the deep well of wisdom in Torah by viewing it through the lens of the Zohar, Sfat Emet and Degel Machane Ephraim, grandson of the Ba'al Shem Tov. Rabbah D'vorah's home. Contact her at RabbiDebra@AsTheSpiritMovesUs.com to RSVP and get address.
Great Minds Think Alike (sometimes…): Fourth Tuesday, 7-8:30 pm. Interspiritual text study – discussing what you might have thought was undiscussable, reading complementary and competing texts in the Jewish, Christian and Muslim traditions.
WEDNESDAYS
Fringe of the Fringe: First Wednesday, 6:30-8 pm. Portland LGBTQ Jews gather for a rotating mix of text study, conversation, poetry, ritual and social activity. Email UnShulLGBTQ@asthespiritmovesus.com.
Shiviti Shechina l'negdi tamid: Second Wednesday, 6:30-8 pm. Learn and practice a variety of Jewish visual, aural, musical and breath meditations with Torah contemplation.
unshuladmin@asthespirimovesus.com