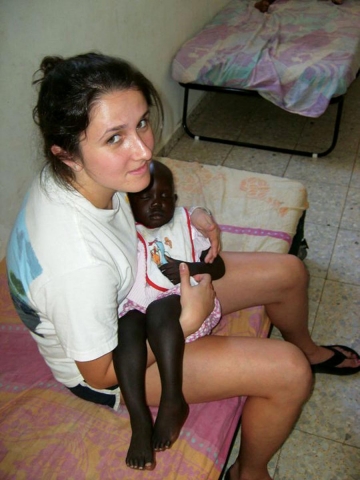 Before Portland-native Tova Cohen began college, she knew she had to participate in Young Judaea Year Course, a Masa Israel-accredited service and academic gap year program.
"Aside from being very involved in Young Judaea growing up, I had also spent a year preparing to work with Sudanese refugees in Israel," said Tova. As a senior in high school, she planned a fundraising dinner in Portland for the refugee community in Israel.
As a Masa participant, Tova took her service work to a whole new level, participating in a rally for Gilad Shalit in Bat Yam and volunteering with Sudanese refugees in Arad. "One day, my friends and I decided that the Sudanese gan (kindergarten) wasn't conducive for children, so, in two days, we painted the whole thing," said Tova.
While living in Jerusalem, Tova interned at the Jerusalem Center for Public Affairs, which inspired her to study politics at the University of Colorado at Boulder.
"I realized that while volunteering enables you to help a small group of people, politics is the best way to make a big impact."
Now on campus in Boulder, CO, Tova enjoys attending Shabbat dinners with other Year Course alumni. She is also looking forward to studying abroad in Israel.
"My gap year in Israel gave me experiences that set me apart from my peers," says Tova. "I came to campus knowing what I'm passionate about."
Masa Israel Journey connects young adults, ages 18-30, to immersive five- to 12- month internship, volunteer and academic programs in Israel. Masa Israel is a project of the government of Israel and the Jewish Agency for Israel. Visit MasaIsrael.org for more information.