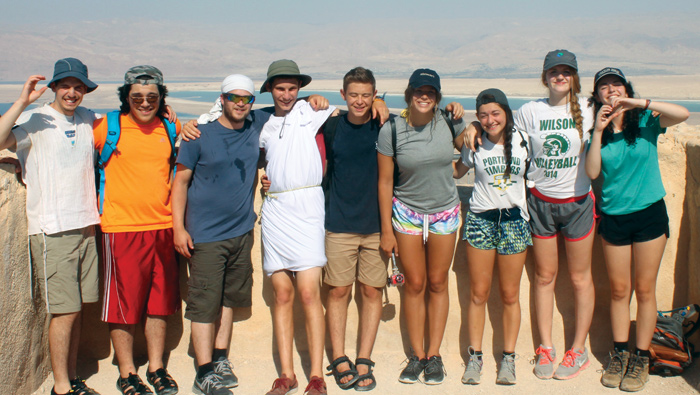 Next year in Jerusalem
Seven Portland teenagers had the time of their lives in Israel last summer. Now they are encouraging friends and classmates to sign up for next summer's The Jerusalem Journey.
Isabel (Izzy) Dreyfus says she promotes the trip "every chance I get. I'm already working on convincing one of my friends."
Mai Texerman is equally enthused: "I would encourage anyone to address me with any questions and try to find out more about this amazing trip."
Izzy, a junior at St. Mary's Academy and a member of Havurah Shalom, learned about the trip when taking an SAT prep course through NCSY. "I applied because I knew that I wanted to deepen my involvement in the Jewish community, and 'the best summer ever' couldn't have sounded more fun! I was in for the adventure and the amazing opportunity."
She says she was most surprised by "how small the country is, yet how vast it seemed at places like Masada or the Lebanon border."
Izzy says the trip had many amazing moments, but the experience that really resonated occurred in the Negev Desert when the group stayed in Bedouin tents.
"I know it sounds cheesy, but it honestly changed me," she says, explaining each teen was instructed "to walk far away from everyone around us and have a conversation with ourselves. … From that little conversation that I was so lucky to have with myself in such an amazing place, I came to the realization that at the end of the day, I'm the only one completely there for myself, and that's all I need to be happy in life."
Mai also calls the Negev stay a highlight of the trip. "I particularly liked staying the night in a Bedouin tent and singing around the campfire under the stars after a day of hiking."
Mai, who also enjoyed meeting the most amazing people and exploring the land of Israel, is seriously thinking about making aliyah after high school. She says she had previously considered it, but the "sense of the community all throughout the land" has made her feel even stronger about moving there.
This year the high schoolers were on a West Coast bus, but Oregon NCSY Director Meira Spivak hopes to recruit 40 Oregon teens to fill an entire bus next summer.
"Can you imagine the effect on our city if we took 40 teens?" she asks, noting that a 2014 study showed 92% of past TJJ participants identify as being emotionally attached to Israel, and 86% say they believe it's very important to raise kids as Jewish.
The trip is nationally subsidized, bringing the cost for the one-month program down to a maximum of $3,299 per person, but Meira has been fundraising to make the trip even more affordable for Oregon teens. So far she has received a grant to offer scholarships of $1,500 for the first 10 teens to register.
"This trip is tailor-made for kids from public or non-Jewish private schools," says Portland NCSY Director Doovie Jacoby, who accompanied the Portland teens on the trip. "On days we have something educational, like a visit to the Knesset, we always do a fun activity on the same day, like a hike or raft trip."
"It's low-pressure Judaism in a fun, relaxing environment," Meira adds.
Doovie knew all of the teens from Jewish Student Unions in local high schools or Shabbatons organized by NCSY. But he says the trip created a real feeling of family among everyone in the group.
"When you spend a month together, you really get to know someone."
He says everyone in the group now cares deeply about Israel, but he also saw a lot of personal growth in the teens, "not just Jewish growth."
The connections and growth were especially apparent on the day teams of teens built rafts to paddle onto the Kineret, says Doovie.
For more information on next year's TJJ, contact Meira at 503-757-3037 or meira@ncsy.org.