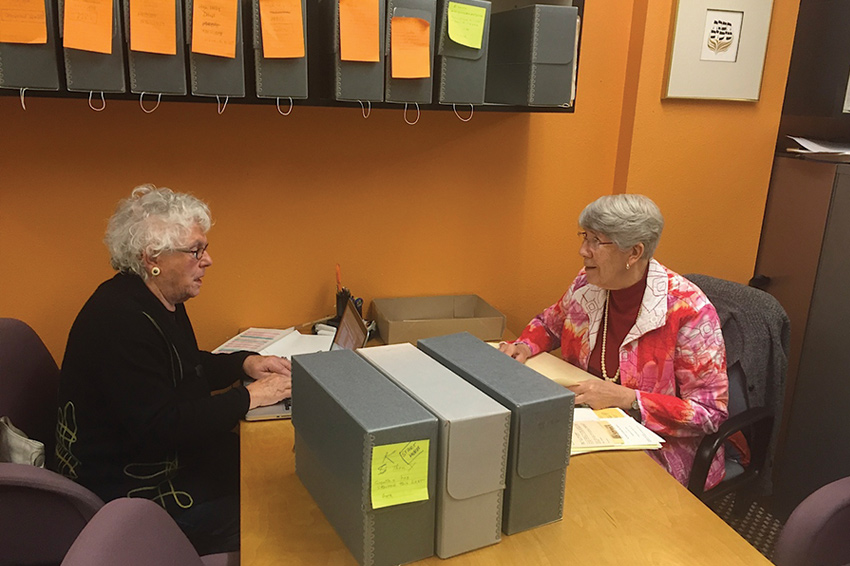 After 118 years of serving women, families, children, immigrants and others in need, the Portland Section of the National Council of Jewish Women has been formally dissolved; but the group's legacy will continue in perpetuity.
"It saddens me we have to close, but we have a changing world," says Meryl Haber, who served as section president for the organization's final seven years.
For more than a century the Portland NCJW leaders  identified needs and then created programs or provided the funding and/or volunteers to faltering programs to meet those needs. (See timeline below and story on Neighborhood House, page 24).
"NCJW-Portland Section graced our city for more than century and its departure leaves an indelible mark," says Judith Margles, director of the Oregon Jewish Museum and Center for Holocaust Education. "My most heartfelt gratitude goes to the women of NCJW, from the remarkable founders, each of them committed to the good and welfare of our community, to the amazing group of volunteers who have been working in the museum archives each Tuesday morning for the last eight years."
In the section's early decades, many women who served as NCJW board members gained valuable experience and skills that enabled them to find paid employment. These days with many women entering the workforce as soon as they graduate, fewer women have the need or the time to volunteer to run organizations; many prefer to devote their limited volunteer time to specific programs. So while the section has closed, many NCJW volunteers remain active at other organizations and programs across the city that they became involved in through NCJW.
"One of the things NCJW has historically done is start a program and then spin it off," says Meryl. She notes those programs, many still aided by NCJW volunteers, will continue to serve the community. For instance she notes that the food pantry and backpack food program run by Lift Urban Portland will continue with NCJW life member Nikki Director continuing to volunteer.
Nikki has been involved since NCJW gave funds to what is now Lift UP to take over the "food box program" from Friendly House, which had lost the funding for the project.
"NCJW continued to help fund it and provide volunteers," says Nikki. "That funding support continued until NCJW dissolved, but the volunteers have remained a vital force in the program's ongoing growth."
"I became a life member of NCJW as a young mom and was actively involved for many, many years," says Nikki. "Once I returned to the workforce, however, my interest declined."
But in 2007 her mentor Eve Rosenfeld asked if she would help with the food box program NCJW was considering funding. "I thank my relationship with NCJW for helping me identify my passion," says Nikki, who is emblematic of today's volunteers desire to focus on a project they are passionate about. "NCJW was so important in funding and providing volunteers for many ongoing programs still alive and well in this community…  NCJW's imprint is felt in so many places."
While NCJW women continue to volunteer for specific projects, Meryl says the section board could not find women willing to commit the time needed to run the section. For the past few years the dozen board members have rotated in three-month shifts to keep the organization operating.
In 2014 the board sent a letter to section membership requesting a vote on the board's decision to close the section. "We have been highly successful in matching our membership with volunteer opportunities," wrote Meryl in the letter. "However it has become apparent over time that we cannot muster the resources that are necessary to continue. The officers of the organization have been unable to recruit replacements who will take on leadership roles …"
In June 2014 members overwhelmingly concurred that it was time to close the section, with those who dissented nonetheless not stepping forward to accept leadership posts. Life members continue to be members of the national organization as members at large.
Acknowledging how sad and hard it is to close, Meryl says she is pleased to have been a part of NCJW for decades – ever since her mother, Rosemarie Rosenfeld, gave her a life membership. "My mom was a life member of Hadassah and was involved in federation (Jewish Federation of Greater Portland)," says Meryl. "But she got me a membership in NCJW so I could strike out on my own and not follow in anyone's footsteps."
Meryl served kosher meals to seniors at the MJCC from 1982 until the program moved to Cedar Sinai Park in 2005. Her now-grown children, Josef and Rachel Haber, frequently accompanied her to the senior lunches. She also served as an NCJW board member at various times, and in 2007 she chaired the committee that recommended how to disperse the funds from the sale of Neighborhood House. She is a member of Congregation Beth Israel and the MJCC; she also runs Lakeside Bicycles with her husband, Gordon.
It's clear that Portland NCJW will always be near and dear to Meryl's heart. "I think we created a lasting legacy in the community," she says."
NCJW TIMELINE
1893 National Council of Jewish Women founded
1896 Portland Section of NCJW founded
1904 Neighborhood House started with boys' club, religious school, sewing clubs
1905 First Neighborhood House built
1910 Moved to Neighborhood House on Second Avenue with free clinics and kindergarten classes
1927-33 Endowed beds for indigent patients at three hospitals
1939 Foreign born committee helped people abroad locate relatives in U.S.
1950 Program for Aged started to provide leisure activities for seniors
1964 Opened Council Thrift Shop staffed entirely by vounteers;
Started Women in Community Service
1965 First Angel Ball to encourage donations to Thrift Shop
1971 Established Jean Rustin Scholarship for nursing students;
Provided funds for Florence May Apartments at CSP
1973 Started Oral History Project
1976 Contracted by city to run SW Youth Service Center
1978 Founded Russian Culture Club
1980 Established May Judaic Studies Visiting Professorship at Reed College
1982 Youth Service Center moved to Multnomah Center
1992 Created life-skills program for incarcerated women
2003: Provided funds to keep MJCC Therapy Pool open
2006 Donated records to Oregon Jewish Museum with bequest from Hilde Drum
2007 Provides funds to keep MJCC Therapy Pool open
2007 Thrift Shop closed after few volunteers required shift to paid staff
2009 Proceeds from sale of Neighborhood House provided $450,000 in grants to OJM and Kehillah Housing at CSP; and funds for Goose Hollow Shelter, food pantries and bus tickets for domestic violence shelters
2014 Membership voted to close section
2015 Section formally dissolved by National NCJW office
2016 Expected opening of interactive exhibit of Oregon Jewish history at OJMCHE funded by NCJW